A fresh wave of COVID hit Chinese Mainland with force at the beginning of December 2022, with infections spreading rapidly. This led to a sharp decline in household purchases, and a reduction in spend on non-essentials, which resulted in a 4% drop in FMCG sales in Q4.
Looking at 2022 as a whole, the national lockdown and zero-COVID policies put enormous pressure on consumer spending, with consumption growing by just 1.8% year-on-year according to National Bureau of Statistics. FMCG value growth was even lower, at 1.4% year-on-year – yet this was still higher than in 2020, indicating a high level of resilience. Infections had reached their peak by the end of December, and the market started to show signs of a quick rebound.
The outbreak in Q4 once again created higher demand for convenience food categories, with sales of both instant noodles and frozen food jumping by more than 20%. Consumers sought to boost their health and immunity, which pushed up sales of nutritional supplements. In addition, increased usage and development of new usage habits drove the growth of the tissue category by 12% in Q4.
Modern trade faced challenges while proximity channel continued to fly
The performance of different modern trade formats diversified even further in 2022. Footfall in offline stores, especially hypermarkets, was severely impacted by mobility restrictions. In Q4, sales in hypermarkets and supermarkets fell by 10.9% and 11.7% year-on-year, respectively. Meanwhile, the proximity channel – small store formats conveniently close to communities – kept winning a higher share of wallet. Small supermarkets reported stellar growth of 11.3% in Q4 as consumers stayed at home and shopped nearby for daily staples. They also started to buy products which improved their quality of life, creating new growth opportunities for proximity stores.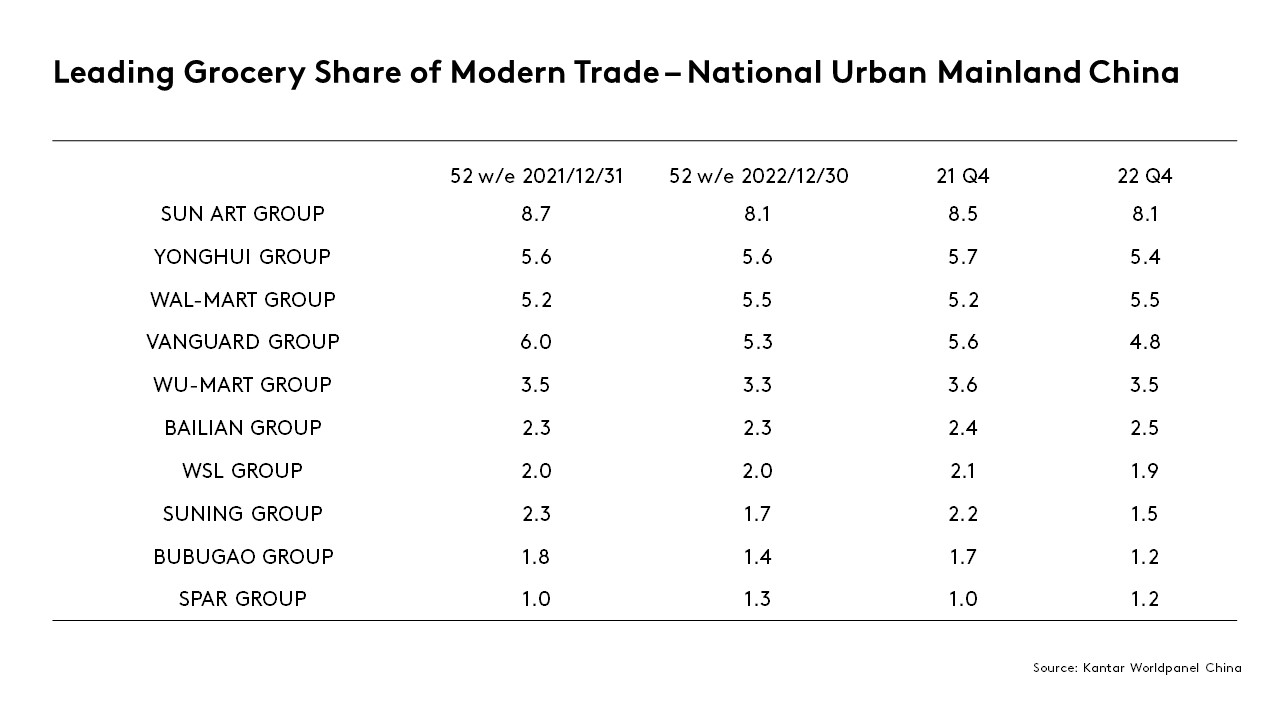 The overall weakness of offline stores created more intense competition amongst the leading players. Most lost market share, a trend that was even more marked for Sun Art Group, Yonghui and Vanguard Group in Q4. At the same time, the strong performance of Sam's Club helped Walmart Group gain 0.3% in share, as the store grew more attractive due to its distinctive value proposition and supply chain strength. Walmart overtook Yonghui to become the second largest retailer. Suning Group (a holding group for Carrefour in Mainland China) and Bubugao Group, however, saw sharp declines in share, as they accelerated the closure of loss-making stores and retrenched from their past expansions.
What's in store for Mainland China in 2023?
1. The FMCG market will recover despite ongoing challenges
Governments have pledged measures to create more incentives to spend and new consumption occasions. We can already see evidence in Worldpanel's weekly purchase barometer report of a fast recovery of consumers' FMCG purchasing within major cities. With a strong desire to get back to normal life, and a return to mobility during the Lunar New Year time, the out-of-home market and bricks-and-mortar stores saw a quick pick up of traffic.
However, uncertainties over further waves of infection, as well as global economic turmoil and geopolitical tension, remain potential hurdles to a full economic recovery. Early Worldpanel analysis indicates that Chinese shoppers are more price-sensitive and more value driven, whether they shop offline or online. Consumer confidence is also yet to be fully restored. However, there are plenty of promising opportunities for brands that offer health, convenience, pleasure and indulgence, especially in lower tier cities and towns.
2. Heated competition amongst membership stores calls for a new route to growth
In 2022, the race amongst existing and emerging players in the membership store channel remained heated, as the popularity of the sector increased. Metro, Hema and other local retailers joined the game for the first time, while Sam's Club and Costco increased their footprint. Sam's Club maintained its advantage with its distinctive private label offerings, while expanding its offer to non-food categories. Hema X differentiated itself with store design and customer experience. More membership stores opened in densely populated urban districts instead of suburban areas, and these will have to compete effectively with existing neighbourhood stores that focus on daily needs rather than 'stock-up' shopping.
3. Bricks-and-mortar stores will strengthen their delivery experience, while discount stores continue to emerge
Over the past three years, Chinese consumers developed a preference for shopping locally, and the habit is here to stay. Small format stores, including convenience stores, is the only channel growing within modern trade.
Consumers also developed a habit of shopping on their mobile phone. The latest Sun-Art trading report revealed the online channel contributed 35% of its FMCG sales, with its '1-hour delivery' service reporting outstanding performance. The acceleration of digital transformation, while building excellent omni-channel experiences, should remain a strategic priority for all offline retailers.
In the context of slow economic growth and reduced consumer spending, Chinese retailers also started to launch discount formats – despite some unsuccessful experiments in the past. Wumart, for instance, opened its first discount store, Meitao, in August 2022. Whether the hard discount format will succeed in competing directly with mainstream retailers remains to be seen. Emerging players will have to build extremely high levels of operational efficiency and brand power to win the minds and wallets of Chinese shoppers.
4. The evolving O2O model will shape the growth of online retail
O2O (shop online + delivery from offline stores) became a mainstream way of shopping for many Chinese consumers in 2022, with 56% of urban households purchasing FMCG through O2O. Although they bought fewer products as they came out of lockdown, they increased shopping frequency, placing 15 orders yearly on average, similar to the average number of visits made to large supermarkets.
A few of Mainland China's local community group buy (CGB) platforms failed to sustain their business model profitably in 2022. However, some digital giant-based competitors maintained steady growth – including Meituan, which further upgraded its offer to cover more categories. This helped the channel as a whole to grow its buyer base by 23% year on year. Key O2O aggregators continued to strengthen their offer in 2022, by increasing the breadth and depth of categories to meet everyday consumer needs. Their local delivery capability was also an advantage over mainstream ecommerce platforms. In 2023, O2O aggregators will further improve their delivery efficiency and category coverage to compete with other digital commerce models, and build a modern local retail ecosystem with offline retailers.
5. Interest commerce will compete directly with online supermarkets
While ecommerce reported a noticeable slowdown in 2022, overall shopping frequency remained stable.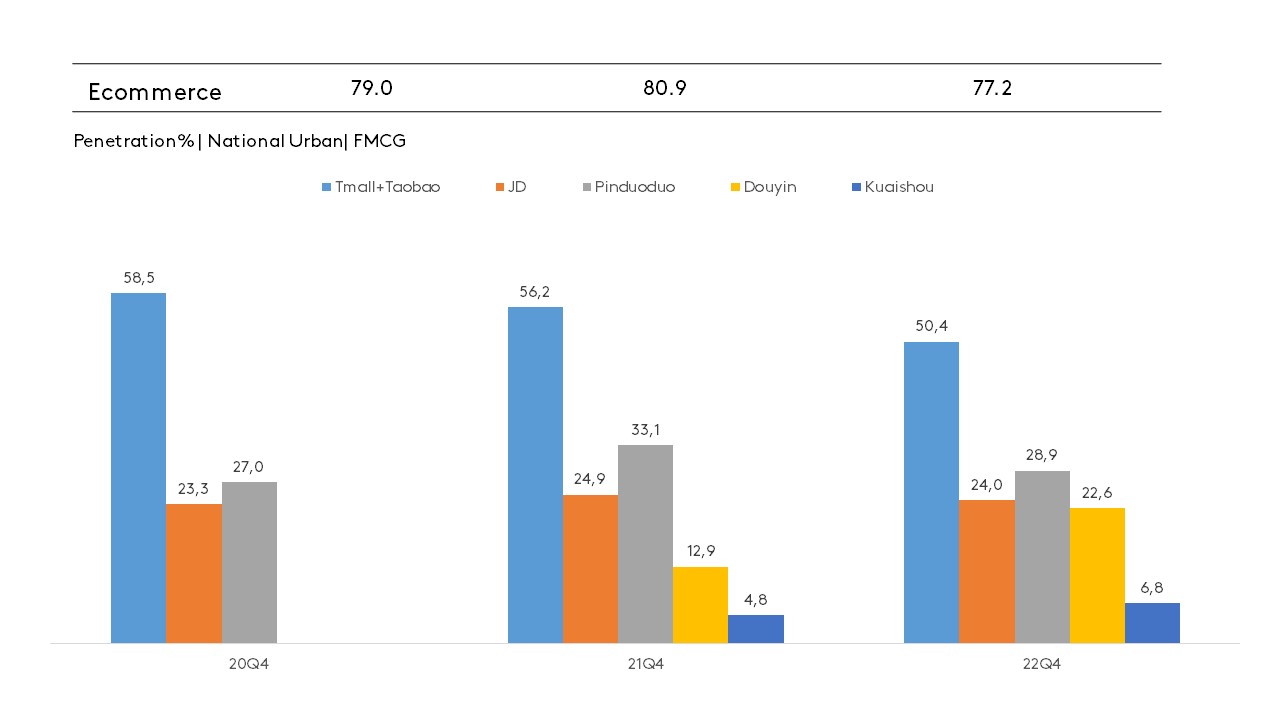 Interest ecommerce', however – which grew off the back of short-form video content and online influencers – achieved remarkable growth. 33% of Chinese consumers bought FMCG products through Douyin in 2022, with the number of buyers almost doubling compared to 2021. Douyin's move to a direct search-based shopping model means it is now competing head on with the like of Tmall and JD. A full conversion from interest commerce to ecommerce, where platforms are able to cover consumer needs across all occasions, depends on their ability to deliver richness of product offers and strong delivery capability.
If you would like to learn more about how the FMCG market is evolving in Mainland China, please get in touch with our experts or access our data visualisation tool to explore current and historical grocery market data.