Since the start of 2022, value and volume consumption in the fast-moving consumer goods (FMCG) markets in France have been moving in opposite directions. On the one hand spend has grown by 1.1%, driven by accelerated inflation, and on the other there has been a 0.2% decrease in volumes purchased – rising to a drop of 1.4% year-on-year.
This trend is due to the continuing after-effects of COVID-19, following a period of strong growth that lasted until September 2021, when remote working and curfews encouraged greater at-home consumption.
However, food markets are resilient, and consumption levels are still higher compared to 2019, with a 4.5% increase in volume.
Since the start of this year, the average household FMCG budget in France has risen slightly to €2,392, compared with €2,380 last year, as shoppers employ strategies to adapt to increasing inflation and demonstrate very tangible changes in behavior.
A shift to lower-priced product ranges
65% of consumers have decided to change the products they buy, rather than switch to cheaper shops or buy more discounted products.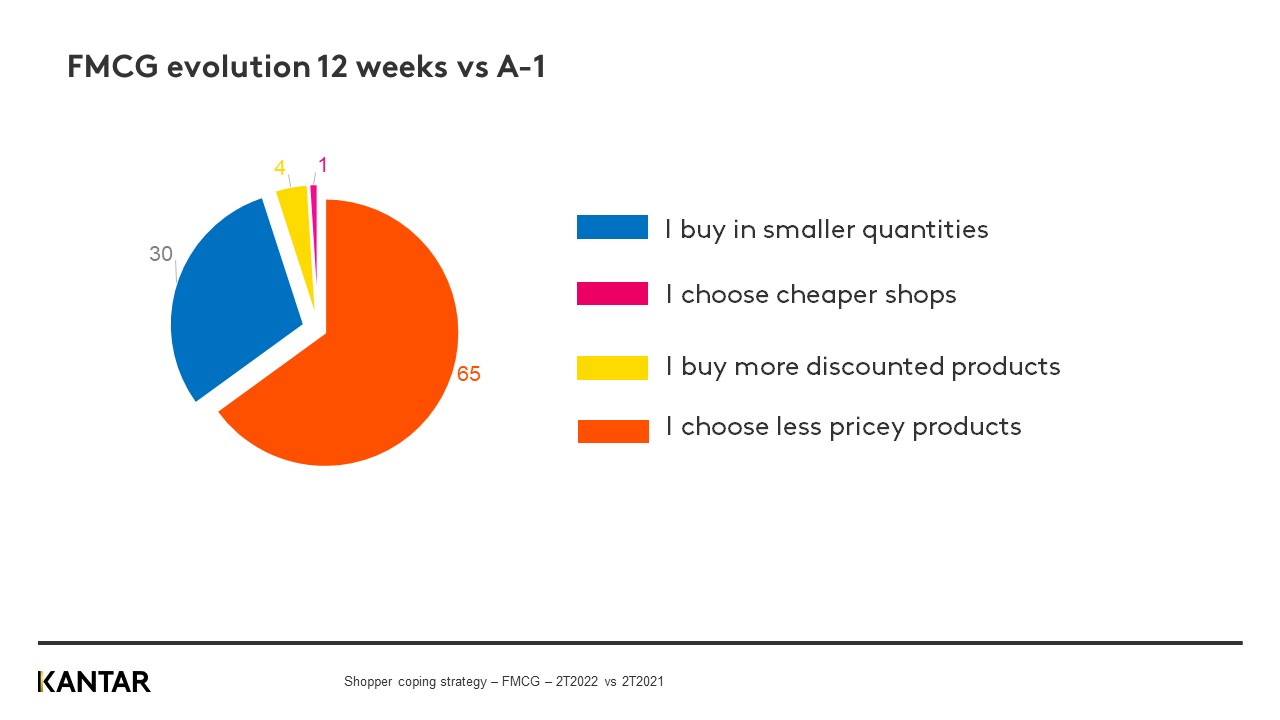 In contrast with the strategy, they adopted during the COVID-19 crisis, French households now shop more often, making four extra visits a year: 84 visits in 2022 compared with 80 in 2021. However, they are leaving with smaller baskets – spending €28.50 per trip compared to €29.60 in 2021, and €27.30 in 2019 – and filling them with lower-value items than before. This is due to the increase in prices, which has brought to an end the tendency for shoppers to favor more expensive items, such as branded products, local products, smaller brands, and fresh or organic produce, which lasted for several years.
Despite the pressure on household finances, the trend towards 'eating better' has held up rather well thanks to a sharp rise in sales of ecological and nitrate-free products, and foods in these categories still capture 22.4% of the value in France's FMCG-SSFF market.
However, price is the main criteria once again when it comes to consumers' choices. They are turning to the lower-priced end of the market – with cheaper chains holding 1.8% of the total market share (+0.3%) and retailers' own brands, which now contribute 25% of the total market share (+0.4%). Consumers are not currently prioritizing promoted products, owing to the fact that shortages of certain products and increases in raw material costs have discouraged manufacturers from investing more in special offers.
Shoppers are returning to hypermarkets – which now possess 29.9% of the market share (+0.2%) – after these retailers unleashed a whole raft of measures to gain traffic, such as anti-inflation shields, lower pump prices, and promotions. Having been in decline for the past 15 years, this channel is benefiting from a post-pandemic rebound effect as well as the impact of inflation.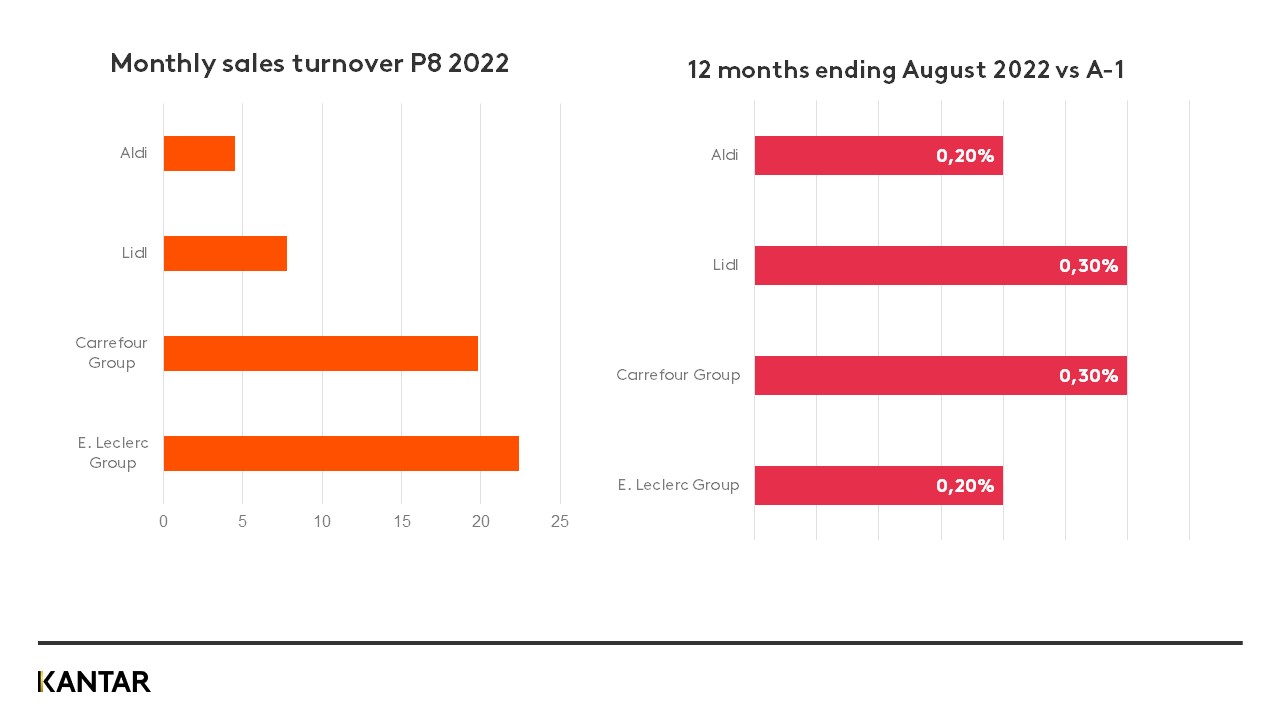 Households consume less and waste less
The products that have been sacrificed the most are those in the traditional fresh produce category, which has seen a 6.4% decline in volume as French consumers continue to drastically reduce their purchases.
In terms of total FMCG, the number of products purchased has inched down by 0.6%. This is not a huge drop because households are still not eating in restaurants as often as they did before COVID: footfall was down 11% year-on-year in the first quarter of 2022.
Marked drops in numerous categories also indicate that households are making changes to the composition of their meals, with simpler recipes and a focus on the main course, with fewer starters and desserts.
A two-tier France is looming large. The households with the most modest incomes are most affected and have been forced to tighten their belts when spending on the categories they need to cook at home, including flour, butter, mustard, and pasta, and on products from key markets such as meat (-15.3% in volume) and fish (-18.5% in volume).
Environmental concerns are on the increase, with 85% of households wanting to buy less to avoid waste. The last few months have seen a new trend emerge: Re-commerce – or reverse commerce – which involves more recycling, reselling, and repairing. A quarter of French consumers now intend to have repairs made to their footwear or their clothing; once a sign of poverty, repairs are now a mark of environmental awareness.
Early indications of a steeper downturn in volume
51% of French households feel that their financial situation will get worse, and 59% state that they do not feel like treating themselves when they do their regular shopping.
Their perceived purchasing power is at its lowest level since December 2012, during the previous period of inflation experienced by the FMCG market¹. The gap between purchasing power and the desire to purchase is widening in vulnerable households, while households that have previously been more comfortable see their purchasing power as being on the same level as their desire to purchase. This indicates that more and more shoppers will need to rein in their FMCG spending in the coming months.
If you would like to learn more, please get in touch with our experts or access our data visualisation tool to explore current and historical grocery market data for your region.