Sales of fast-moving consumer goods (FMCG) in China in Q3 2021 fell by 1% compared to the same period last year. Under the dual impact of sporadic outbreaks of the COVID-19 delta variant and floods in a few regions, the total FMCG market experienced further weakness compared with Q2, with East China suffering the most.
The market had steadily recovered since the second quarter of 2020, but the stagnation in the recent two quarters has created uncertainty about the growth prospects for 2021 as a whole. In the latest quarter, the food and dairy sectors reported a weaker performance, with sales down by more than 2%, while the home care sector remained the bright spot, with a year-on-year growth of 6.2%. This indicates some permanent shifts in consumer choices, in this era of the 'new normal'.
China FMCG Performance by quarter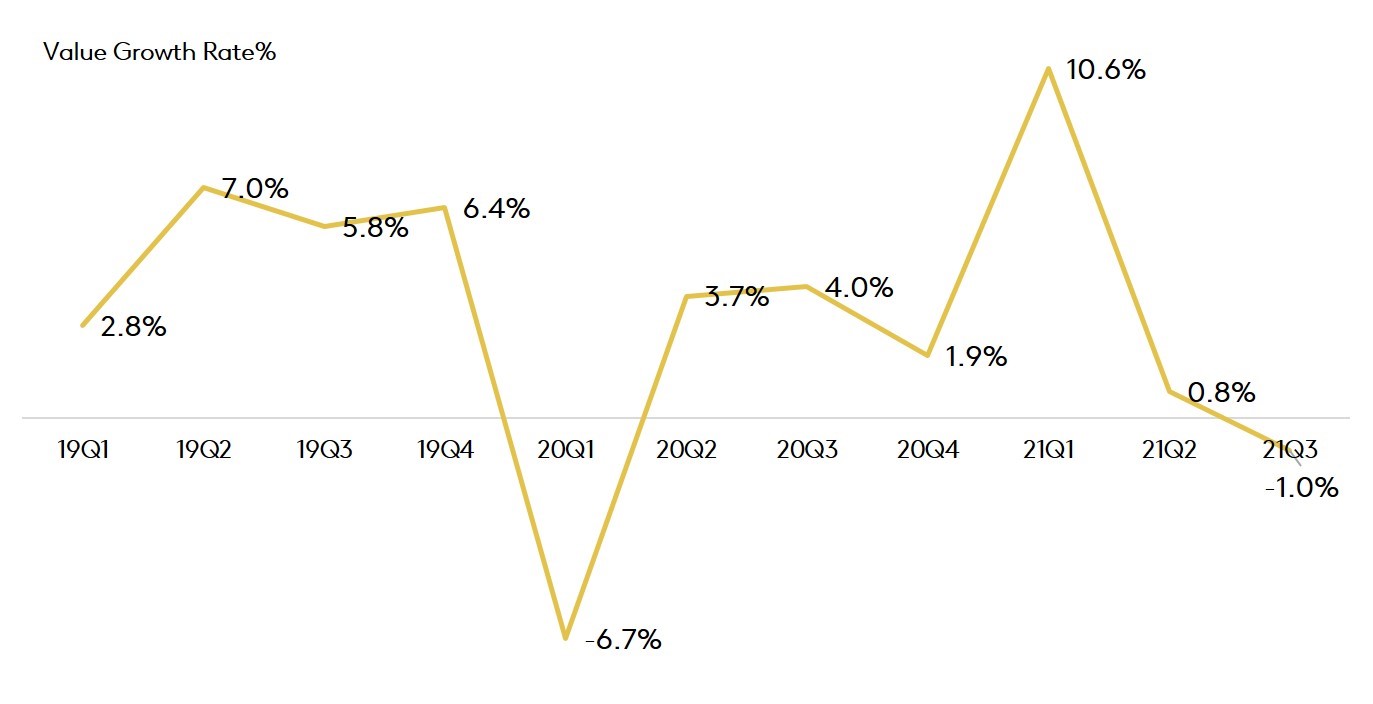 Source: Kantar Worldpanel Urban Household Panel China
The out-of-home food and beverage market in China's upper-tier cities continued to rebound, with a year-on-year growth of 4.4% in Q3. Beer, packaged beverages and on-premise drinks were major contributors to growth.
Tea-based drinks are one of the important driving forces behind the booming outdoor consumer market. Driven by strong demand, the consumer base of tea-based drinks expanded by more than 10% year-on-year. At the same time, office consumption occasions continue to thrive, leading to new growth opportunities for many categories and brands.
Membership stores and omnichannel digitalisation accelerate the transformation of modern channels
Modern trade (including hypermarkets, supermarkets, and convenience stores) experienced a 2.9% fall in sales, compared to the same quarter in 2020. Sales in large supermarkets and hypermarkets declined by 5.4% and 6.1% respectively year on year.
Small supermarkets are the only growing channel, with a year-on-year increase of 7.9%, driven by rising shopping frequencies. Clearly, consumers still have a preference for local shopping, even as they get back to their normal lives. Intensified market competition, emerging business models (frontend warehouses for fresh foods and community group buy) are taking more shopper traffic from large-format stores.
Leading Grocery Share of Modern Trade – National Urban China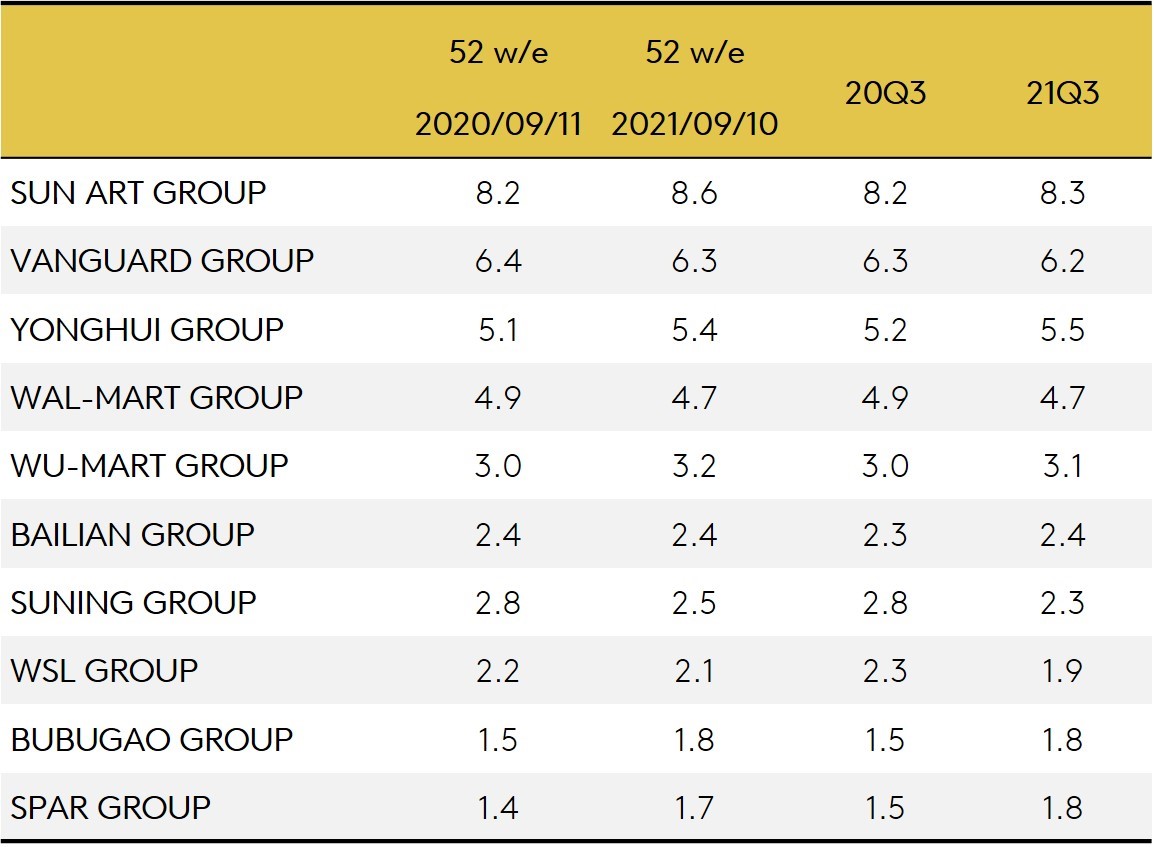 Source: Kantar Worldpanel Urban Household Panel China
Among the major players, Sun Art Group continued to lead the market with a value share of 8.3%. Vanguard Group followed closely behind with a 6.2% market share in Q3. Vanguard has introduced innovative formats in recent years, such as Vanguard Mart, Vanguard City, etc. to target specific customer needs while re-focusing their resources and investments in selected regions within China. On the back of their supply chain strength, they used packaged foods rather than fresh foods as a key traffic builder to lure shoppers back to their stores.
Membership store models are one of the most popular formats launched recently by retailers. The latest flagship store of Sam's Club in Shanghai immediately became a popular shopping attraction among middle class shoppers, as it offered differentiated merchandise and a high value-for-money proposition. Hema X, Alibaba's first membership wholesale store, is also joined by Metro, Carrefour and Beijing Hualian in the new battle of membership store formats. Retailers' supply chain strength and knowledge of shopper insights are being challenged by the demand to continually launch innovative and highly differentiated own-label products.
Among regional retailers, Wu-Mart Group's share grew 0.1pt year on year in the third quarter. After the acquisition of Metro, Wu-Mart continued to digitise its store operations with the empowerment of Dmall. At the same time, its own brands and imported goods continue to generate more sales.
Both Bubugao Group and SPAR Group increased their market share by 0.3pt year on year to 1.8%. The online penetration of Bubugao rapidly increased following the outbreak of COVID-19 and its deployment in the community was further improved.
O2O further integrated online and offline operations
Instant retail online to offline (O2O) has maintained strong growth since 2020. Our latest report indicates that 57% of urban households used O2O home delivery services to purchase FMCG in the first nine months of this year. The penetration rate reached 65% in upper-tier cities and 52% in lower-tier cities.
The number of O2O users in South China increased faster year on year than in any other region. Compared with the peak during the pandemic outbreak, consumers using the O2O platform in China spent less on each shopping occasion, but they placed significantly more orders. This shows that O2O has gradually moved from high-frequency and essential categories, such as fresh food, to include all categories and all occasions.
JD and Tmall launched their own enhanced versions of instant retail, with the promise of "One-Hour Delivery", utilising platforms such as Dada Group and Taoxianda to deliver the products stocked in the shops nearby. This indicates a deeper integration of online search with products and logistic capabilities in the offline world. Our data suggests that O2O brings different levels of incremental sales opportunities depending on the category. Through the effective use of online traffic, retailers can effectively upgrade their existing businesses, which allows them to meet the needs of consumers on more occasions and to recover from the challenging shopper losses.
Our analysis also reveals that the community group buying (CGB) market has suffered from strict policies and market supervision. It stopped growing in Q3, with some players phased out of the market. However, almost a third of consumers in urban China still purchased FMCG through community group buy platforms in the latest 12 weeks, indicating that the consumer base remained solid.
Leading ecommerce companies are also transforming their group buying model under the new policy, in line with their strategies of developing local community ecosystems. As CGB steps into the next stage of development, key players will turn from price competition to full competition in the supply chain and operation excellence.
The omnicommerce era in virtual shopping
The online shopping channel continued its growth trajectory, with a 11% year-on-year rise. The growth of upper-tier cities rebounded and their performance was better than that of lower-tier cities.
The latest report shows that the online shopper base is still expanding. Although consumers shop with smaller baskets, they placed more orders compared to last year.
By Q3 2021, ecommerce held around a 29% share of the total FMCG market in China. Three quarters of Chinese urban households purchased FMCG online during this quarter.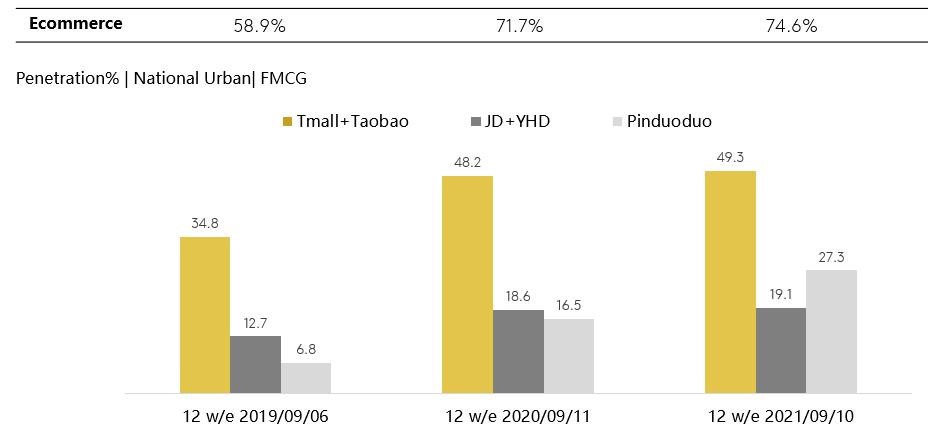 Source: Kantar Worldpanel Urban Household Panel China
Alibaba platforms are growing at a slower rate, but they still attracted 49.3% of Chinese urban families in Q3. In order to improve the online shopping experience of buyers in lower-tier cities and to roll out one-hour delivery of general groceries, Tmall Supermarket has deployed frontend warehouses in 132 tier 4 and 5 cities across the country.
Pinduoduo continued its strong expansion, with more than 27% of Chinese urban families buying FMCG on Pinduoduo at least once in Q3. Pinduoduo had almost 850 million annual active buyers in H1 2021 and its users are becoming more active and engaged.
In addition to traditional ecommerce platforms, ecommerce services developed on the back of short video platforms is developing rapidly and becoming more popular in lower-tier cities. Based on content, short video ecommerce attracts customers with specific interests and actively promotes products to boost conversion and repurchase. This opens up new growth opportunities for FMCG brands.
Access our data visualisation tool to see what is happening to the grocery market in your region.