Inflation is rising in South East Asia (SEA) and shoppers are starting to feel the pinch. We're already seeing changes in behaviour across the region as shoppers - particularly those on low incomes - adapt as their household budgets are increasingly squeezed by rising prices.
The rising inflation in South East Asia
Although the inflation in SEA isn't as extreme as in Europe, it will still have a significant impact. The latest predictions from the IMF are that global inflation will rise to 8.3% by the end of the year compared with more than 10% in the UK. The figures for Vietnam, Thailand and the Philippines are 3.5%, 5.2% and 4.9%, respectively.
The reasons for the rising prices are pretty similar around the world:
The post-Covid recovery
Increasing energy costs
Staff shortages and supply chain issues
The conflict between Russia and Ukraine.
In SEA markets, the shopper response varies by market, by category and by cohort. And it's only by understanding the trends in detail that brands can identify the best way to respond. There is no one silver bullet that brands can apply across all markets, categories, and shoppers.
How SEA shoppers react to inflation
Many brands are already seeing the impact of rising inflation or considering how they will respond to it.
In our recent study, we found that consumers are moving away from impulse purchases in favour of more planned purchases. But while it creates obvious challenges for brands, we discovered that inflation also presents opportunities for some marketers.
We think there are three factors that marketers should consider as they develop their strategies for these inflationary times:
1. Changes in shopping baskets, channels, and brands
Shoppers will have different strategies to cope with rising prices. They can buy less or buy bigger packs of key products; they can change where they shop; or they can trade down, switching to private labels or non-branded products.
2. As price gaps shrink, premium brands can gain
If mainstream or value brands have to raise prices due to rising production costs and smaller margins while premium brands remain at the same price, the price gap between value and premium brands shrinks. And this allows shoppers to consider premium options.
3. Keep more stock for essential products during shopping season
Shopping behaviours can also change around key celebration events. For example, during Vietnam's Lunar New Year in January, consumers in urban cities made more branded purchases and shopped in more channels. This significantly reduced after the event.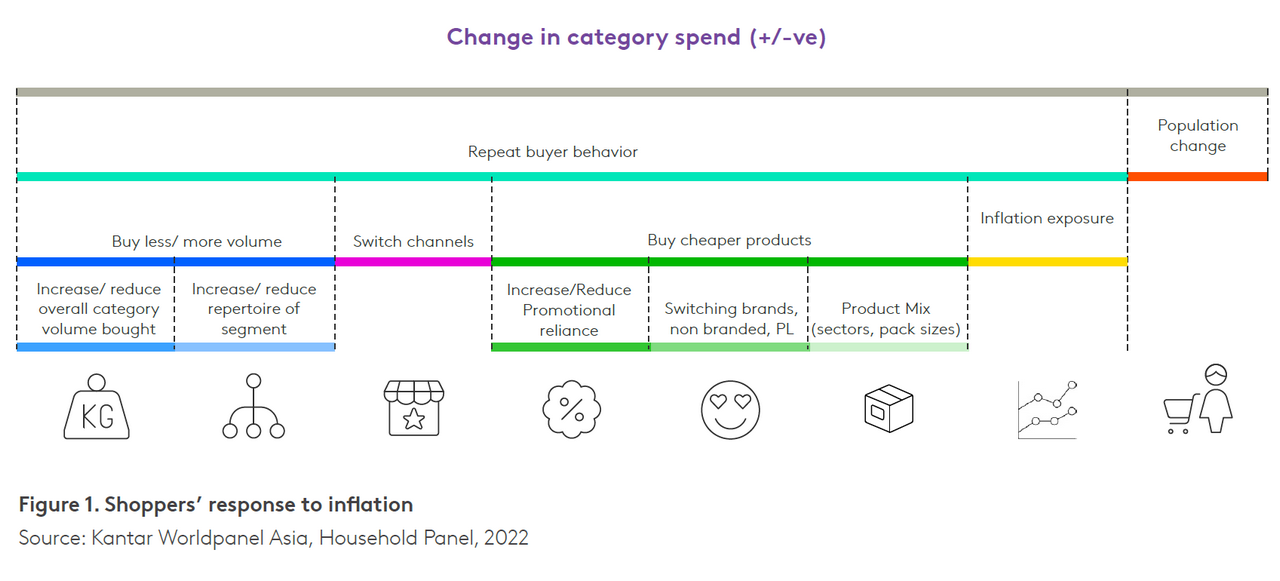 Download our Inflation Playbook for FMCG – SEA 2022 Edition
In Kantar's "Inflation Playbook for FMCG – SEA 2022 Edition", we will walk you through the major impacts of inflation on the FMCG markets in SEA, while taking a deep dive into how brands should react to it.
The playbook covers the following:
Shoppers' reaction to inflation
Understanding markets, categories and shoppers
How brands can choose the right strategy