In times of financial crisis, shoppers prioritise FMCG products because of their essential nature. Latin American FMCG spend in 2021 was 37% of their total household expenditure, compared to 34% in 2020. If we consider households with children, this number rises to 41%. But consumers across the region are now facing one of the greatest difficulties caused by inflation: the loss of purchasing power.
In Chile and Bolivia, where FMCG baskets had been growing continuously in volume since the start of the pandemic, we are now seeing sharp drops in consumption. On the other hand in Brazil, where shoppers had been reducing consumption, there are signs of a slight recovery, while Mexico and Peru are doing even better. It remains to be seen whether this growth will be sustainable, however.
Omnichannel: the new shopper behaviour
Households are employing a number of strategies to enable themselves to maintain their level of FMCG consumption without compromising their budgets. Reducing basket size is one of them, but the impact this has depends a lot on the macroeconomic context of the country.
Latam shoppers' main strategy is to increase the number of channels they visit – and households from both high and low socioeconomic levels have increased their channel repertoire by 10% since the pandemic first hit. On average, this equates to adding one extra channel to their purchase options over the last year.
In addition, there has been a drop in the frequency of visits to the point of sale, as well as the amount spent per trip. Every shopping trip counts for brands, manufacturers and retailers, because they happen less often and cost less.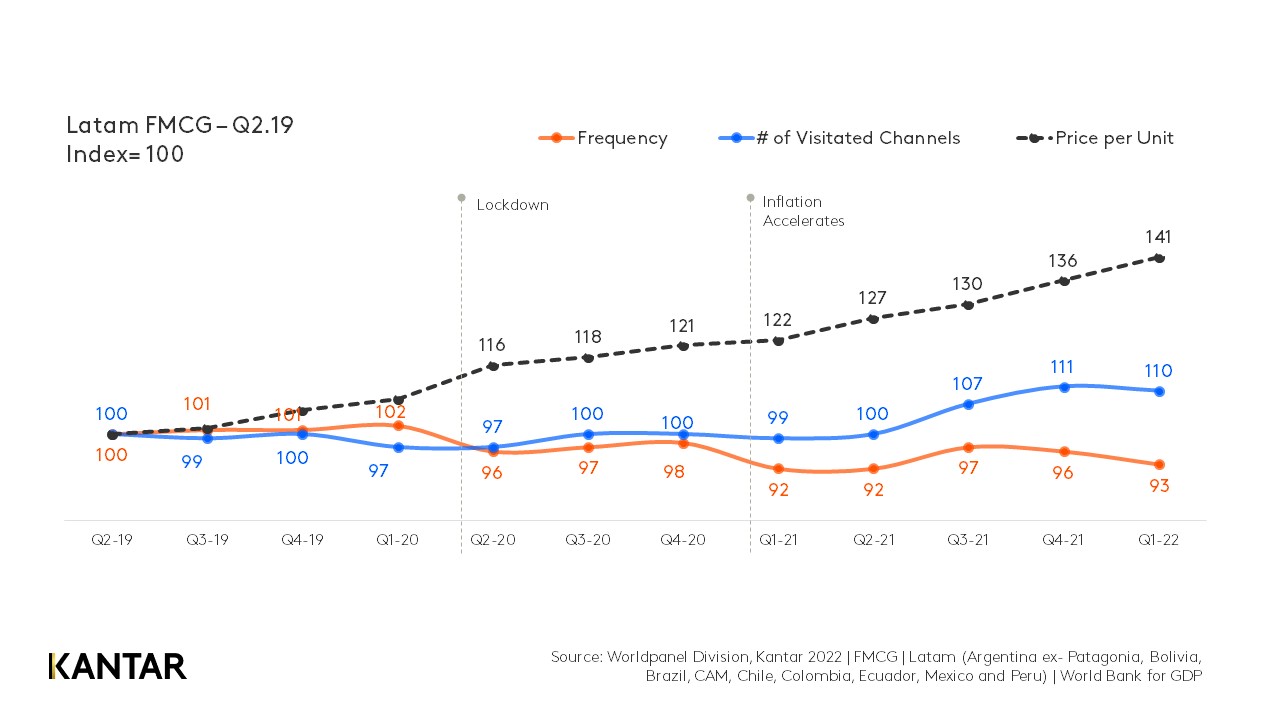 Where do Latins shop when the economy is fragile?
The channels shoppers visit to stock up on FMCG products have attracted more households, although they are making smaller purchases: units per buying mission have decreased 12% due to the need to reduce expenses.
The advantage of supermarkets and hypermarkets, wholesalers and independent stores is that they currently offer the best prices and assortment. Due to this, the amount of money shoppers are spending remains the same, but inflation means that retailers are suffering a loss in real terms.
At the same time, the rise in relevance of smaller missions has driven the development of channels that shoppers visit to fulfil specific needs, which have gained more buyers and also increased the amount they spend.
Driven by new shopping occasions and the purchasing of more categories, Latam consumers are spending 10% more on their daily shopping missions. The channels they visit on these trips – specialised stores, pharmacies, convenience stores and online – have attracted consumers away from traditional channels. Because shoppers don't invest a large part of their budgets at these points of sale, so they don't feel as inhibited by price increases as they would with larger weekly shops. They are willing to spend more per unit when it's just a few items.
As an example, 89% of FMCG categories are gaining in penetration through pharmacies. Besides buying products that are core to the channel, such as make-up, which attracted 4.9 million new buyers in Q1 of 2022 compared with the previous year, or infant formula (+2.7m buyers), shoppers are also now picking up products such as sports drinks (+1.3m) and sweet biscuits (+0.9K). Retailers should consider taking advantage of this trend, increasing the number of categories offered to expose shoppers to more options.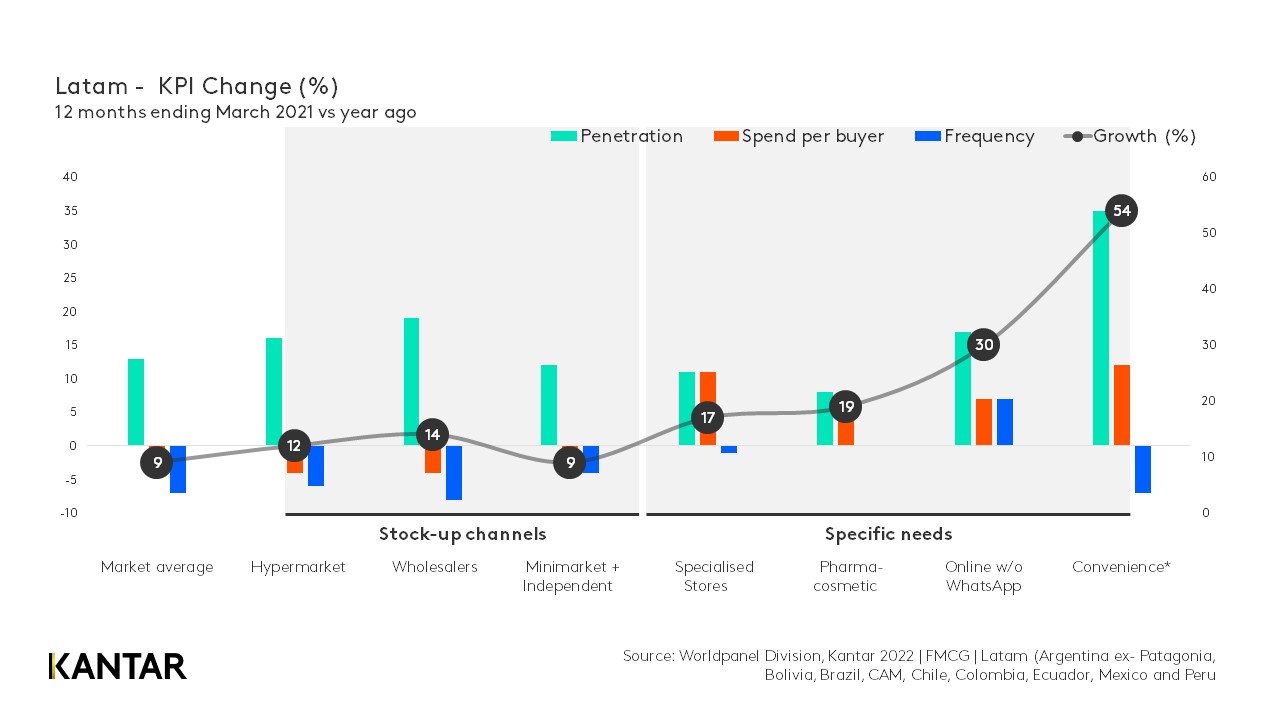 Penetration and spend – that is, winning more buyers and increasing how much they invest in the retail environment – are the essential areas of focus for brands in Latin America in these times of fewer shopping trips. Watch the video to understand where to prioritise your actions, and contact our team to discuss a tailored strategy for your needs.
Episode 1