Lidl is the fastest-growing supermarket retail chain this year, having achieved a 6.5% share between January and August 2023. This is up 0.6% on the previous year and secured the German retailer the third spot in the rankings, according to Worlpanel's Grocery Market Share publication.
Lidl's growth was rooted in a strong first-quarter performance, during which it increased its market share at the expense of all its competitors, most notably Mercadona. This happened in a buoyant retail environment with 8.3% overall growth, encompassing both in-home and out-of-home consumption, driven by a general rise in prices.
While Mercadona had a rocky start to the year, the company increased its market share from April -reaching 26.1%, an increase of 0.3% on the previous year.
The Valencian chain's reaction coincided with its announcement to make price cuts across 500 of its products. However, its market share recovery extended beyond the categories where prices were lowered to six out of 10 product categories.
With a market share increase of 0.2% to 9.9%, Carrefour retained second place in the ranking. The group's solid performance was driven by its hypermarkets, whose popularity continue to grow post pandemic.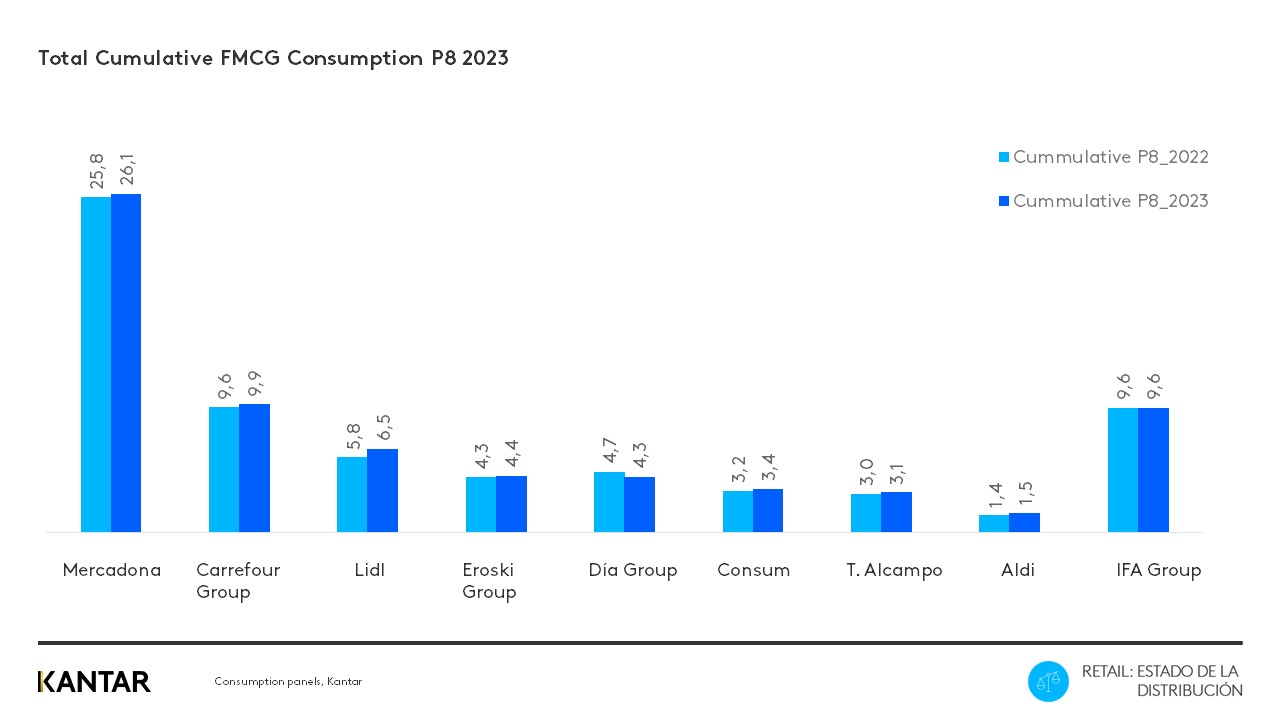 DIA recorded the largest drop in market share, down 0.4% to 4.3%. This placed the group in fifth place nationally. These figures are somewhat misleading, as the decline was primarily due to the sale of assets. The group does, in fact, perform better in terms of constant surface area.
Eroski's market share nudged up 0.1% to 4.4%, which was enough to climb to the fourth spot in the rankings. Its success owes much to the strong performance of Vegalsa in the northwest where it is strengthening its commitment to local suppliers. In addition to its growth in the fresh produce sections, Eroski is increasing its market share in FMCG, in line with the shift of fresh produce away from specialty markets.
One of the primary challenges that regional chains face is leveraging their position to effectively expand into other categories and capitalise on the opportunity presented by fresh produce.
Private-label products now account for 43.5% of FMCG spending
Conversely, the analysis highlights how sustained inflation is cementing certain changes in shopping habits. This is driving the rise of private labels as people look for ways to stretch their grocery budgets further.
Private labels occupy more and more shelf space and now account for 43.5% of FMCG spending, up 2.2% from last year.
Shoppers are less impulsive and purchase less per trip, even if it means they need to shop more often. As a result, they tend to shop at a wider range of chains, and changes within the retail industry are picking up pace. The challenge for the retail industry is to maintain the loyalty of customers who shop around in multiple chains. Retail is more competitive and category management is becoming more important.
The changing face of shoppers
Shopping habits are changing as more and more factors come into play, such as convenience, health, sustainability and consumers' reactions to rising prices. They all influence purchase decisions. This is why assortment management is more important today, exemplified by the need for 10% more varieties to cover 70% of household purchases compared to five years ago.
Against this backdrop, it is vital to look more closely at the expectations of shoppers. If chains are able to develop a clearer understanding of the different demand moments and how they have evolved in recent years, they will be able to build an optimal assortment, given that 73% of households make purchases on the basis of their chosen recipes or menus.
Point-of-sale initiatives are also becoming more important. Consumers place greater value on promotions during the purchasing process, with 59.7% saying they were willing to buy a brand they would not normally select just because it's on sale". This is a 7.1% increase on 2021. In today's environment, instant price discount initiatives are gaining prominence. Nonetheless, to maximise the promotion's impact, it should be customised to suit both the market and the target buyer.