As life returns back to normal, we are seeing Spanish consumers make adjustments to the habits they developed during the pandemic, such as the increase or their online purchases or the search for promotions and private-label produce.
A feeling of uncertainty is prevalent among fast-moving consumer goods (FMCG) shoppers in Spain. This is due to a drop in the gross domestic product (GDP), a rise in unemployment, and a rise in prices due to raw materials. There is a decline in consumer confidence and households are being impacted differently by these factors.
As for retailers and brands, the number of promotions and the growing market share for own-brand products are noteworthy changes, as they return to pre-pandemic levels. Market share for own-brand products was 39.7% in the last 12 months to September, one percentage point higher than in the same period last year. Meanwhile, the proportion of promotions increased by 0.5 points, reaching 12.9% of total market share.
Ecommerce is consolidating
During the last 12 months to September, discounters (channels that stock mostly own-brand products) and large retailers have recovered some of the market share they lost during the health crisis. In the same period, online sales have stabilised as restrictions relax.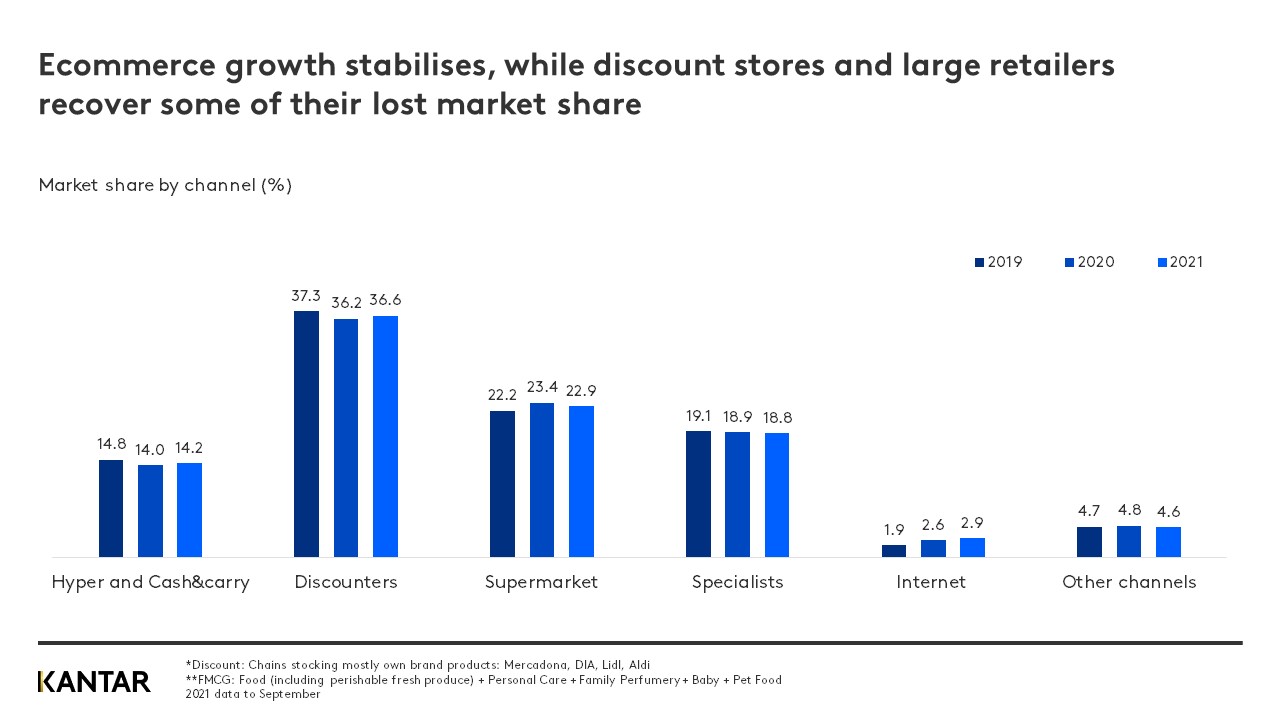 While the acquisition of new customers has levelled off, ecommerce has been used more often by those who already shop online.
Lidl, Carrefour and Mercadona are growing
What has happened to the grocers in the latest 12 months ending September 2021? With the gradual return to normality, the market share of the top three Spanish retailers has started to rise again. Mercadona is still the leader at 24.8%, showing glimmers of improvement, although it hasn't yet fully recovered the market share it lost during the pandemic.
On the other hand, although shoppers have returned to Mercadona, they are now more likely to shop at other retailers too. Filling the shopping baskets of its valued regular customers and increasing its sales of fresh produce are the two big goals for Mercadona in order to recover its 2019 market share.
Carrefour has maintained second place, with a 0.7 point increase in market share year on year, standing at 9%. In this case, its recent acquisition of Supersol and the development of its ecommerce channel have enabled Carrefour to attract multichannel shoppers.
Meanwhile, Lidl consolidates as the retail chain with the third highest market share, at 6.7%, having increased 0.8 points year on year. Not only has it attracted more customers, but these customers are increasingly loyal. Its capacity to reach its customers and personalise its offer via Lidl Plus plays a fundamental role.
Since 2020, DIA has lost 0.7 points of its market share, which is 5.2% in the last 12 months to September. This is due to a loss of customers, mainly explained by the reduction in its number of stores. DIA has undergone a complete remodelling of its stores and own brand to meet the challenge of reaching all types of households and shopping baskets.
Eroski and Alcampo are moving forward in their strategies, entering a new stage after rationalising their portfolio of stores. Thus, while Eroski has 4.7% market share (0.1 points more than the previous year), Alcampo stands at 3.2% (0.2 points less).
In the analysis of the main retail chains, Aldi is clearly gaining the most customers, thanks to its expansion strategy in all parts of the country. The group holds a 1.4% market share, a 0.1-point increase on last year.
Finally, the regional chains, which experienced exponential growth in 2020, have lost market share, dropping from 14.5 to 14.2%. This is still higher than in 2019, when it stood at 13.7%. In the 'new normal', they are offering more categories and in more regions.