Value sales in Mainland China's FMCG market increased by 2.8% year-on-year in the second quarter of 2022; the same level as Q1. Food and homecare led the trend, with growth of 9.5% and 5.7% respectively, while growth in spend on beverages slowed down to a moderate 1.2%. Because many consumers spent more time at home, due to several lockdowns across the country, personal care was the most impacted category, declining by 4.4%.
Although total retail sales of consumer goods during the first half in 2022 declined slightly by 0.7% compared with 2021, purchases of daily necessities increased, especially via ecommerce channels. As Shanghai and Beijing came out of lockdown the FMCG market quickly recovered, reaching 5.2% year-on-year growth for the month of June. With work and social activities restored, the beverages and personal care categories regained their growth momentum.
Different channels fared differently during the lockdowns. Many convenience stores and small/mini supermarkets were able to continue operating and meeting shoppers' demand for convenience, which led to a sales lift of 13.8% and 11.4% respectively. Hypermarkets, which bore the brunt of restrictions, experienced a decline of 3.3%, an acceleration of the 0.7% decline seen in Q1.
Competition in modern trade heats up
Competition has been tough for modern trade retailers as offline shopping faced greater challenges resulting from COVID-19. Hypermarket Sun-Art lost 0.8% in market share, whereas Yonghui gained 0.1%. Its successful new small supermarket format, Bravo Yonghui, seized a 7.4% lift in value sales – illustrating how shopping habits in Mainland China have evolved in favour of faster, more local, and lower volume occasions.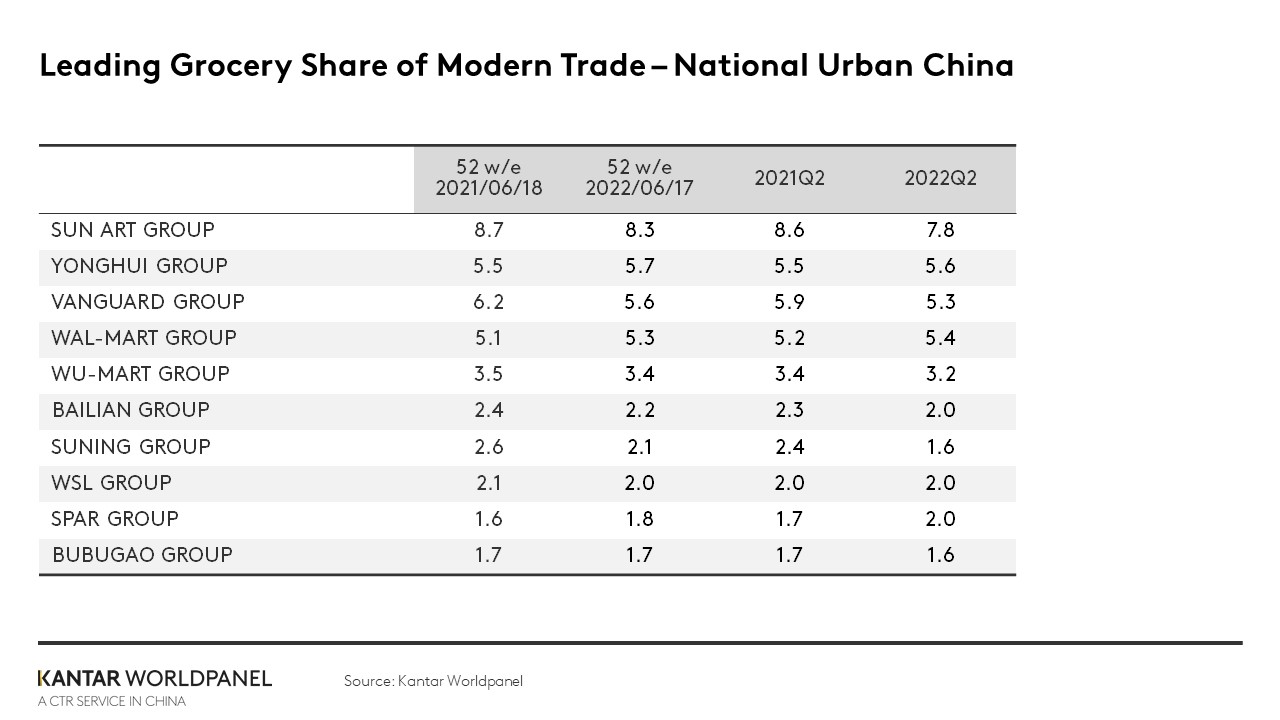 In the meantime, Walmart's members-only chain Sam's Club demonstrated that hypermarkets can indeed compete against the small and mini supermarkets by leveraging its highly differentiated retail model.
Ecommerce continues to recruit shoppers despite logistical challenges
Among the major ecommerce platforms, JD maintained its leading position in terms of growth, with spend increasing for three consecutive months in Q2. Its independence enabled it to overcome disruption in the supply chain to achieve a penetration lift of 0.8%, a value sales increase of 4.5% and a 0.2% increase in market share.
On the other hand, Alibaba and Pinduoduo saw a slight penetration decline in the second quarter compared to last year, while the popularity of short-form video helped Douyin and Kuaishou pump up their consumer base by another 9.3% and 2.3% respectively.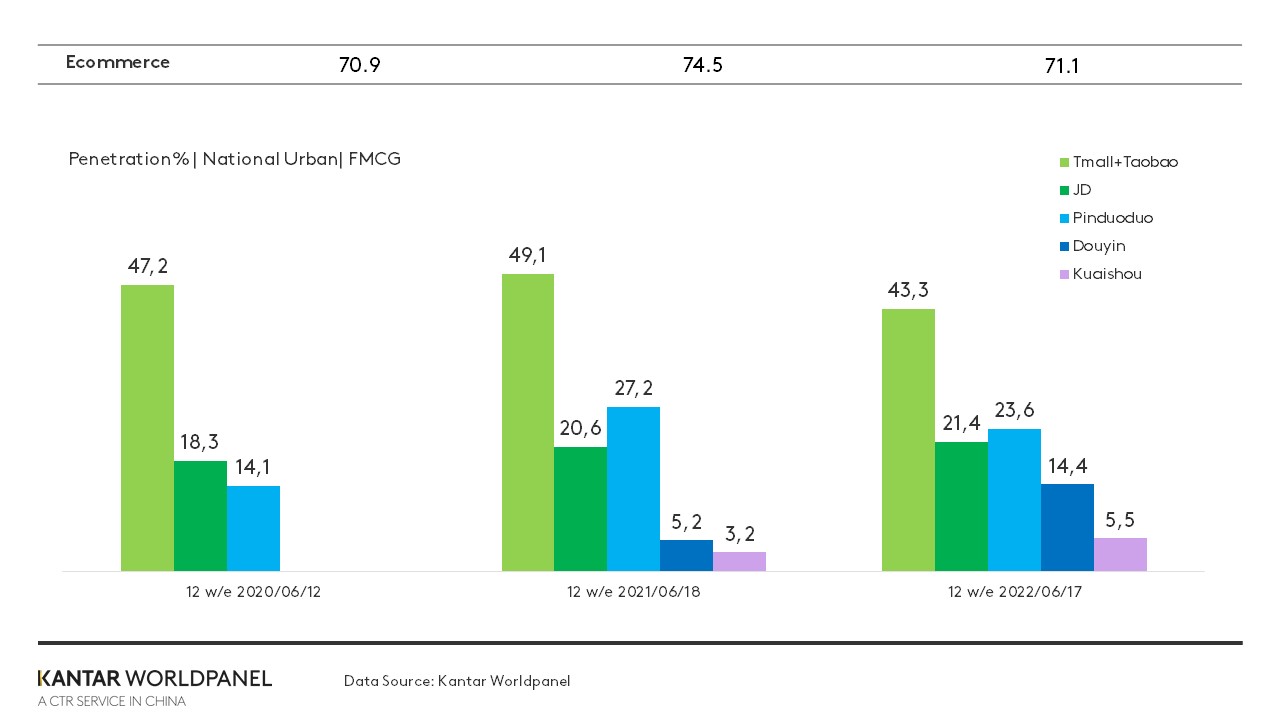 Major ecommerce platforms sought to regain some of the FMCG demand that was repressed following Mainland China's lockdowns by offering more promotions and ramping up their marketing. However, this led to less of a rebound than expected: in the four weeks to 17 June, spend in the total ecommerce channel increased by just 7.5% year-on-year, with beverages, food, and household products seeing the strongest growth rates.
New formats gain ground in lockdown
Online to offline (O2O) and other new retail formats are very well placed to meet Chinese shoppers' need for the convenient, safe and quick delivery of fresh products, the demand for which has heightened both during and post lockdown. Many new retail companies, were less impacted by restrictions, disrupted logistics and store closures. This resilience and flexibility may be crucial for the future.
The trend is clearly depicted in the consistent growth of online to offline (O2O): on a year-on-year basis, in April and May omnichannel delivered market value growth of 20% and 23%. The economies of scale shoppers benefit from when they shop via Community Group Buy helped this format to achieve the highest penetration increase compared to Q2 of 2021, while the Warehouse channel successfully maintained an increase in spend per shopping trip.
As expected, it was the upper-tier cities that drove growth in new retail formats, thanks to a well-developed ecommerce environment. However, shoppers across Mainland China have formed new habits following recent lockdowns, and more extensive supply networks are being established. This will enable new retail to further strengthen its capability and performance, providing even more convenience and efficiency for consumers.
Use our data visualisation tool to explore current and historical grocery market data for your region.