Mainland China's fast-moving consumer goods (FMCG) market experienced a slight 2% year-on-year decrease in sales during the 12 weeks ending on September 8th, due to the impact of the delayed mid-autumn holiday and the recovery of out-of-home consumption.
Total retail sales of consumer goods continued to recover in the first three quarters of the year and played a crucial role in driving economic growth.
Sales of beverages and household cleaning products grew during the third quarter of 2023, with year-on-year increases of 2.9% and 5.5% respectively. Food sales declined marginally by 1.0% compared to last year when consumers stockpiled when they were isolating at home, but the decline was smaller than in the previous quarter.
Western China showed the most impressive sales, with a 0.7% increase, while provincial capital cities and county-level cities showed registered steady growth.
Contrasting performance among the leading retail brands
Small supermarkets maintained double-digit sales growth in Q3 and convenience store sales increased by 3.3% year-on-year. Now that the pandemic is over, large supermarkets have lost the advantage they gained from their more developed supply chains. Although their sales are still falling, it's at a slower rate compared to the previous two quarters.
The major retailers Wumart Group and Walmart increased their market share in modern channels by 0.3 and 0.1 percentage points, respectively, driven by strong growth in their subsidiaries Metro and Sam's Club.
However, Costco's aggressive expansion in 2023 and price challenges at Hema X led to increasing competition among membership stores. It has also raised the bar for retailers in terms of digital capabilities, product differentiation, and supply chain development.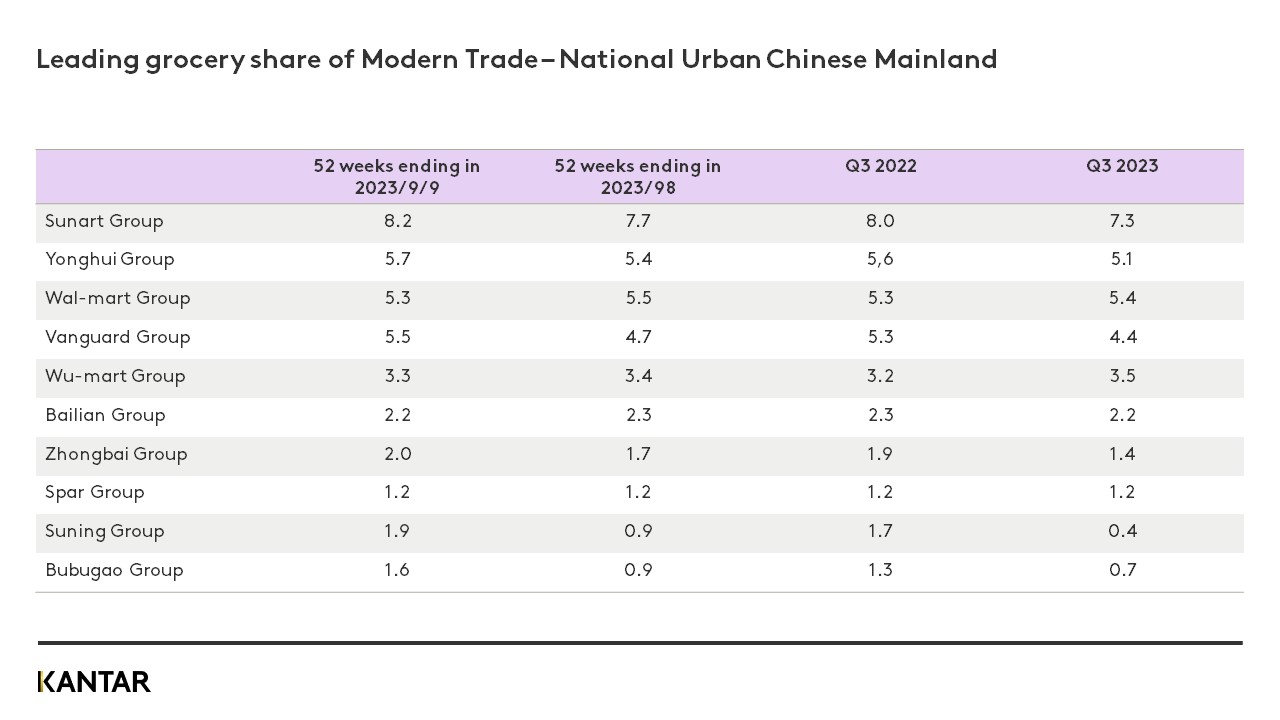 Suning Group lost significant market share in the third quarter, decreasing by 1.3 percentage points, mainly due to the closure of numerous Carrefour stores. Suning's semi-annual financial report shows that Carrefour closed 106 stores in the first half of the year, leaving it with just 41 stores and sales plummeted by more than 60% year on year.
Similarly, Bubugao's market share decreased by 0.7 percentage points due to widespread store closures, although it recently reopened some of its Hunan stores.
The market share of the top ten retailers in modern channels collectively declined by four percentage points compared to the same period last year, which suggests the Chinese market is fragmenting further.
Major retailers are exploring new strategies such as premiumisation, digitalisation, and localisation to break through in this competitive landscape.
Regional retail leaders bounce back, while convenience stores expand via new tactics
In local retail markets across China, domestic retail giants such as Chaoshifa, Tianhong, Joymart, Wangzhongwang, and Ouya grew despite the challenging market. Chaoshifa focused on Beijing and has continued to grow by tailoring its stores to meet the diverse needs of consumers through in-depth research and customer understanding. Joymart concentrated on the Anhui market and FMCG sales grew substantially by over 20% in the third quarter.
Q3 was a good quarter for international small-format retailers such as 7-Eleven, FamilyMart, and Lawson who all benefited from increased sales. Lawson's store expansion has been remarkable. The retailer's sales and penetration have continued to grow this year, with higher growth rates in lower-tier cities than upper-tier cities. Lawson has rapidly expanded into new markets through regional licensing and large-scale cooperation with local enterprises, such as Zhongbai Group and Chaoshifa. By 2025, Lawson aims to have 10,000 stores.
Local small supermarket and convenience store brands, including Hongqi, Wudongfeng and Meiyiji have maintained growth over the past four quarters. The trend for convenience stores continues to expand across China and has reached fourth- and fifth-tier cities and county-level markets.
From a national perspective, city convenience stores still primarily focus on deepening their presence in regional markets. The development of chain brands across the regions is still relatively limited and in its early stages due to factors such as geographical distance, supply chain, and management efficiency. Competition in the convenience store market is gradually intensifying in some cities. Regional consolidation of chain brands is the next trend we expect to see playing out.
Douyin recovers while Meituan accelerates
In the third quarter, the penetration of ecommerce dropped by 3.2 percentage points compared to the same period last year. Alibaba, JD.com, and Pinduoduo all declined, while interest EC platforms Douyin and Kuaishou continued to grow.
More than 23% of Chinese urban households purchased fast-moving consumer goods on Douyin in the past 12 weeks. Although the platform's penetration growth slowed slightly during the third quarter, it still increased by 5.7 percentage points compared to the same period last year, with highest growth in key cities and provincial capitals. Penetration is growing fastest for Douyin in city-based Empty Nester households.
Although personal care was the category with the highest penetration on Douyin, food and beverages grew faster.
Xiaohongshu's RED has evolved from purely a look book, similar to Pinterest, where users shared their favourite fashion and beauty items, into an ecommerce platform with over 100 million monthly users. User-generated content is central to China's newest and fastest-growing social media platform where recommendation is key for brand exposure. RED closed its self-run ecommerce platform and shifted its focus towards developing a curator ecommerce model with personalised content to build trust with users. Kantar Worldpanel data shows that Xiaohongshu achieved double-digit sales growth in the third quarter.
In terms of online to offline (O2O), community group buy (CGB) and key retailer self-run apps and mini programmes continue to lead growth. In the third quarter, their sales increased by 5.8% and 38.6% year-on-year, respectively. Community group buy primarily benefitted from a rise in purchase frequency, while purchase growth in frequency and spend per trip were the biggest drivers for self-run apps and mini programmes.
Meituan's O2O platforms, Meituan Youxuan and Meituan Maicai, both grew in the third quarter. While the penetration of Meituan Maicai declined slightly, purchase frequency rose significantly. Douyin – China's TikTok equivalent – users can now jump directly from its homepage to its one-hour delivery service within its marketplace channel. This gives its hourly delivery the same prominence as Douyin Supermarket on its homepage, which indicates that competition in O2O is heating up.
If you would like to learn more, please get in touch with our experts or explore current and historical grocery market data for your region using our data visualisation tool.