The pet food market in Thailand has grown strongly over the last decade, gaining more value, more buyers, and more players. This is being driven by the trend for 'pet humanisation', with many owners considering their pet as a child. The sector presents a promising expansion opportunity for brands, especially those already in the food industry.
Who are the buyers?
Through Kantar Worldpanel's Household Panel (HHP) in Thailand, we collect information on whether households own a dog, cat or both. From this, we can see that the number of households owning these pets has grown in Q3 of 2022 compared with Q3 2021. Households with cats are growing faster than those with dogs, and mostly in urban areas.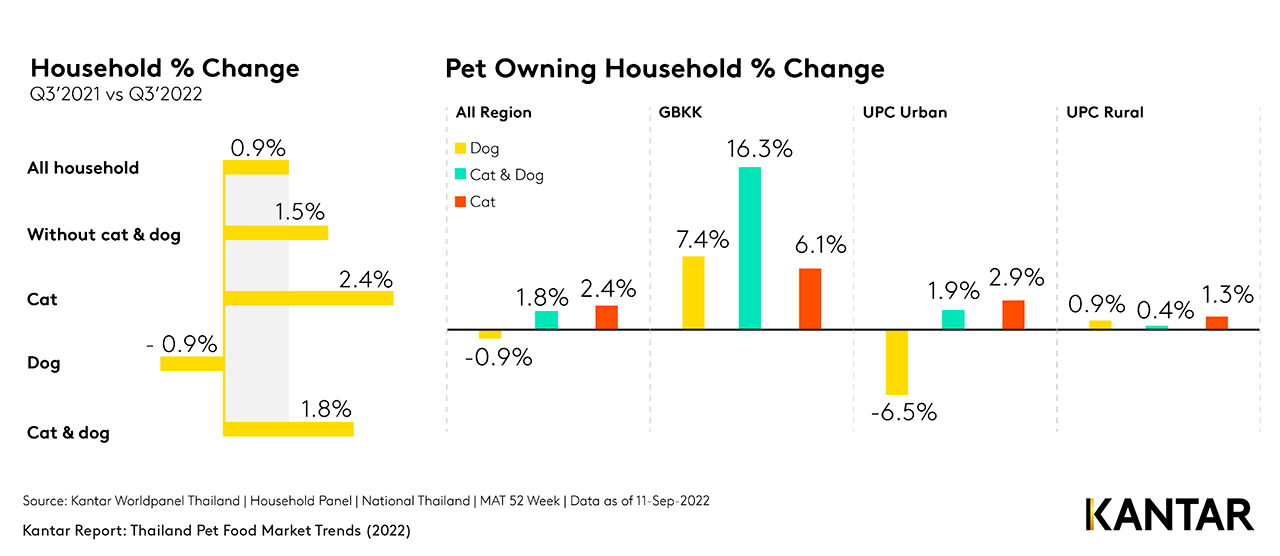 Market landscape and potential
Despite the increase in households with pets, less than half currently purchase packaged pet food, leaving plenty of room to enter the market.
The cat food sector is more competitive, as it's more fragmented, with eight brands contributing 80% of the market share, while dog food has five main players. Cat owners also buy more brands than dog owners; but while lots of new players have emerged, the average pet food shopper still only buys around two brands per year.
Growth in buyers has mainly come from cat food, while for dog food the buyer base is shrinking. However, value sales are still increasing in overall pet food.
These differences indicate that manufacturers who want to enter the market must have different strategies for dog food and cat food.
Products – what segments do consumers buy?
Dry food dominates the market. More wet cat food is bought than wet dog food, but the proportion is still less than 15%. However, wet cat food is growing faster than dry – indicating that brands should pay attention to this format and dig into the reasons for its relevance.
Both cat and dog food are experiencing a premiumisation trend, with the premium and super premium segments growing strongest. While 'scoop up' food used to be popular, shoppers are now switching to packaged formats instead.
The channels to focus on to reach shoppers
Pet shops and provision stores are the key channels for pet food, between them holding the largest share of sales value. However, modern trade, especially hypermarkets and convenience stores, are growing fast.
Online is also increasing in importance, with shoppers tending to choose this channel when they're stocking up.
To enter the pet food market in Thailand, brands have to be prepared for distribution in both modern trade, ecommerce and traditional trade channels.
Thailand's pet food market offers valuable growth opportunities for both existing and new players.
Read the full report to get an overview of the key points and findings uncovered through Kantar Worldpanel's analysis.