Sales in Mainland China's fast-moving consumer goods (FMCG) market during the first quarter of 2022 increased by 2.8% year-on-year, supported by the policy of "Growth Stabilization and Consumption Promotion", according to Kantar Worldpanel's data. However, offline consumption in March bore the brunt of nation-wide market disturbances caused by the COVID-19 Omicron variant.
The total retail sales of consumer goods declined by 3.5% in the last four weeks1 due to a rise in COVID-19 cases and the implementation of lockdown measures. However, the FMCG market bounced back slightly, delivering a 1.6% growth in March. This shows that consumers tilted their basket weights towards FMCG goods, despite the uncertainties and challenges under COVID. Subsequently, packaged foods and beverages grew by 5.1% and 5.6% respectively year-on-year, household cleaning-related sales grew by 5.7%, while the personal care sector declined by 1.4%, as household demand declined under lockdown and mobility restrictions were imposed.
Consequently, this resulted in a decline in turnover in hypermarkets and large supermarkets, leading to a slight year-on-year decline by 2.7% and 0.2% respectively. Meanwhile, online shopping2 kept its leading position throughout Q1, increasing by 10% year-on-year, despite a slow pace in growth.
Leading grocer share within Modern Trade3 – National Urban Mainland China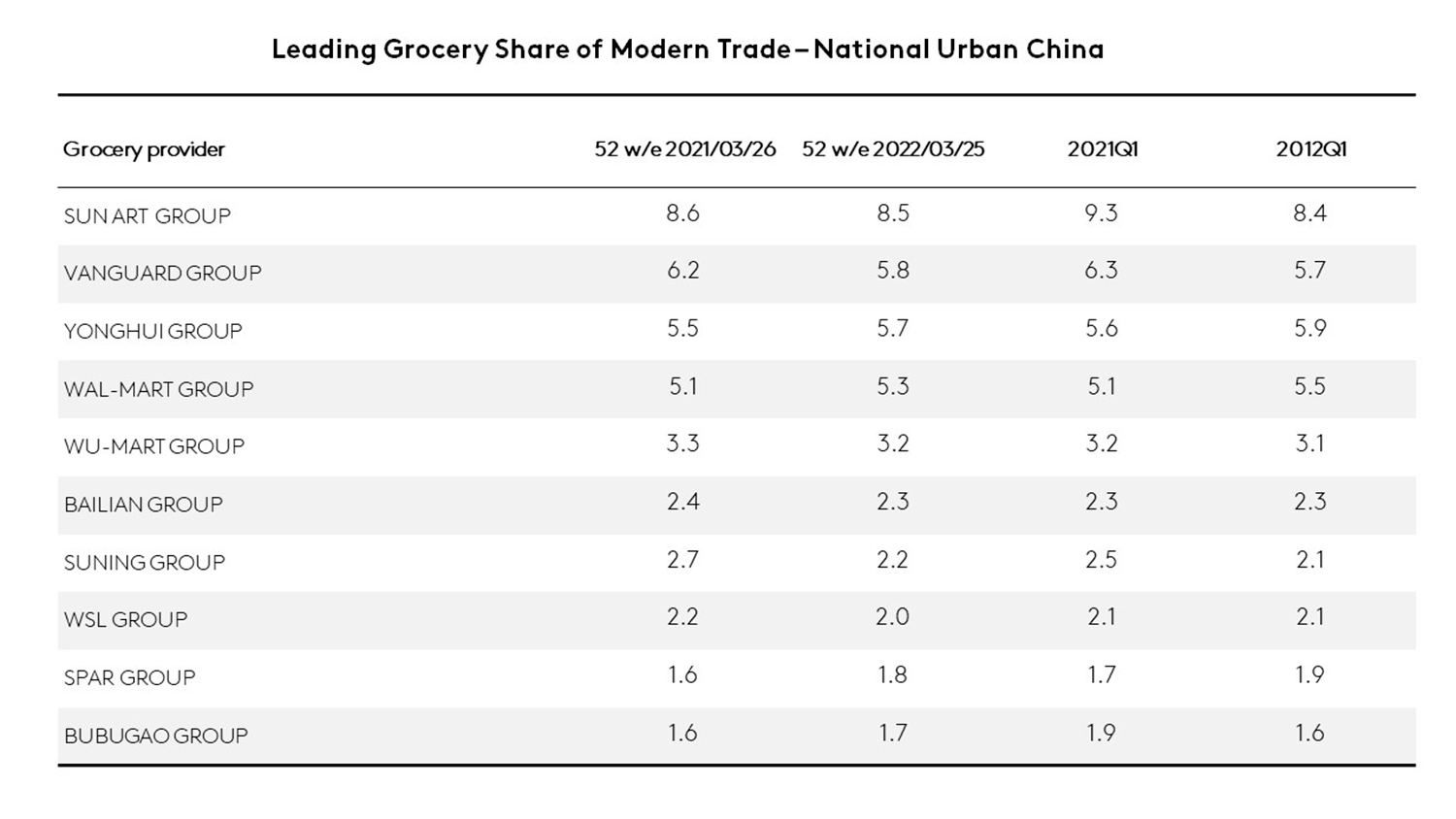 Since 2020, retailers have been cautious in store and with their business development, due to COVID-19 restrictions and the emergence of new digital platforms, Furthermore, the difference in performance among retailers was more evident in Q1, particularly when a new-round of COVID-19 infections struck the more developed coastal regions of Mainland China. This created new uncertainties in growth expectations among those retailers located in the affected areas.
Although Sun Art and Vanguard have managed to maintain their leading positions, their market shares witnessed a substantial decline compared to the Q1 2021. Sun Art lost 1.3 percentage points of penetration. While closing some stores to narrow its deficit, RT-Mart doubled down on resigning 30 stores, a hypermarket transformation that would better fit the new retail fashion in Mainland China. In the meantime, Yonghui focused on its omnichannel strategy – "Based on Fresh, Centered on Client", and grew 6.5% in sales value and 0.3 percentage points in market share, successfully reversing its previous decline. Wal-mart delivered an even better increase by 8.3% for the Q1 and 14.3% for March only. It's likely that this growth momentum will continue despite an increased demand for stocking-up.
The consistent growth of ecommerce players
Ecommerce4 maintained its progress throughout the first 12 weeks. Compared with last year, the sales value of ecommerce grew further by 10% with a 0.6 percentage point uplift in penetration. The consistent driving force in this growth was due to the increase in purchase frequency. Self-managed stores and a strong logistics capacity helped JD acquire further penetration by 1 percentage point against its rivals, which resulted in a year-on-year value growth of 9.7% for the first 12 weeks. With this 10% growth, JD managed to stabilise its market share while Alibaba and Pinduoduo faced share losses, especially in March.
It is not difficult to imagine the enormous challenges posed by the requirement of "Zero-COVID" and the underlying uncertainties embedded in local containment policies in logistics costs for ecommerce platforms. In other channels, a self-managed logistics network with better disinfectant measures may help secure sales should the outbreak escalate further.
As for the short-video based platforms, Douyin and Kuaishou continue to experience growth in shopper with 12.7% and 5.0% of consumers using Douyin and Kuaishou in the first 12 weeks to purchase FMCG products. Potential increases in working from home are likely to correlate with increased usage of Douyin and Kuaishou as consumers have more free time and a greater need for an interactive shopping experience. This not only nurtures the habit of "live shopping", but also facilitates the development of related supply chain and logistics network, which creates a very positive outlook for these platforms for the remainder of 2022.
Growth in new retail continues
Growth in O2O continued to climb during Q1, however, this varies substantially across city tiers. For the four key and Tier-A cities, Q1 provided a penetration boost of 7.8 and 7.7 percentage points respectively. Furthermore, purchase frequency also increased substantially, implying that O2O, and ordering with an app via a smartphone, can play a crucial role in stock-up requirements.
Community Group Buy and Warehouse-based retailers also delivered eye-catching growth in sales value of 28% and 30% respectively, suggesting an ongoing consumer divergence that may underlie further diversification of the retail channel structure. Further penetration growth of Community Group Buy occurred in eastern and southern Mainland China, because of certain supply chain adjustments following a market reshuffle amongst ecommerce giants.
Please do not hesitate to contact our experts for further insight.
Notes
According to the National Bureau of Statistics

Kantar Worldpanel China continuously measures household purchases over 100 product categories including cosmetics, food and beverages and the toiletry/household sector. Its national urban panel covers 20 provinces and four municipality cities (Beijing, Tianjin, Shanghai and Chongqing).

Modern Trade: Hyper+Supermarket+CVS

Ecommerce: doesn't include WeChat digital platform system

* Suning Group includes Carrefour and Suning CVS; Wumart Group includes Metro, Wumart, and New Century; Better Life Group includes BBG Department Stores, Nancheng Department Stores, and Jiarunduo