The cost-of-living crisis hit the Africa and Middle East (AME) region harder than most others in 2022, with the majority of countries seeing an increase in food and energy costs. Compounded by issues like currency devaluation, severe droughts, election disruption and conflicts, this drove inflation up to double digits in many countries. Put simply, life has become very difficult and expensive for most households.
Overall FMCG value growth reached 12.1% during the third quarter of 2022, up from 5.2% in the same period in 2021. However, this has been purely driven by rising prices; volume has dropped by 2.5%; with shoppers purchasing less often & putting less in their shopping baskets.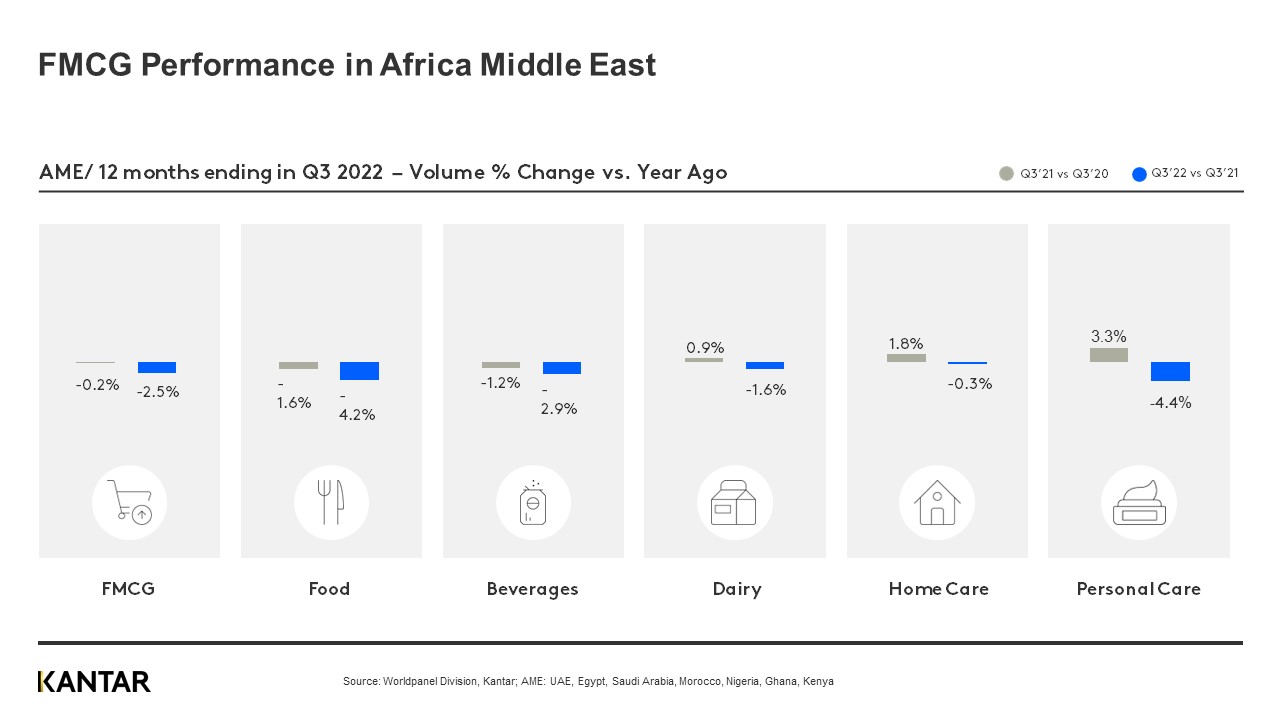 Inflation drives country performance
While the overall trend is similar across the region, no two countries are quite the same. For example, prices have risen dramatically in West Africa – up 30% on last year – which has led to bigger drops in volume bought in both Nigeria and Ghana. Unsurprisingly, these countries also posted the highest year-on-year value growth of 25.9% and 23.8% respectively.
The story is a little different in the Middle East; where inflation rates have risen slower in both Saudi & the UAE meaning the average prices shoppers are paying and overall spends per trip are both lower in these markets compared with the rest of the AME region.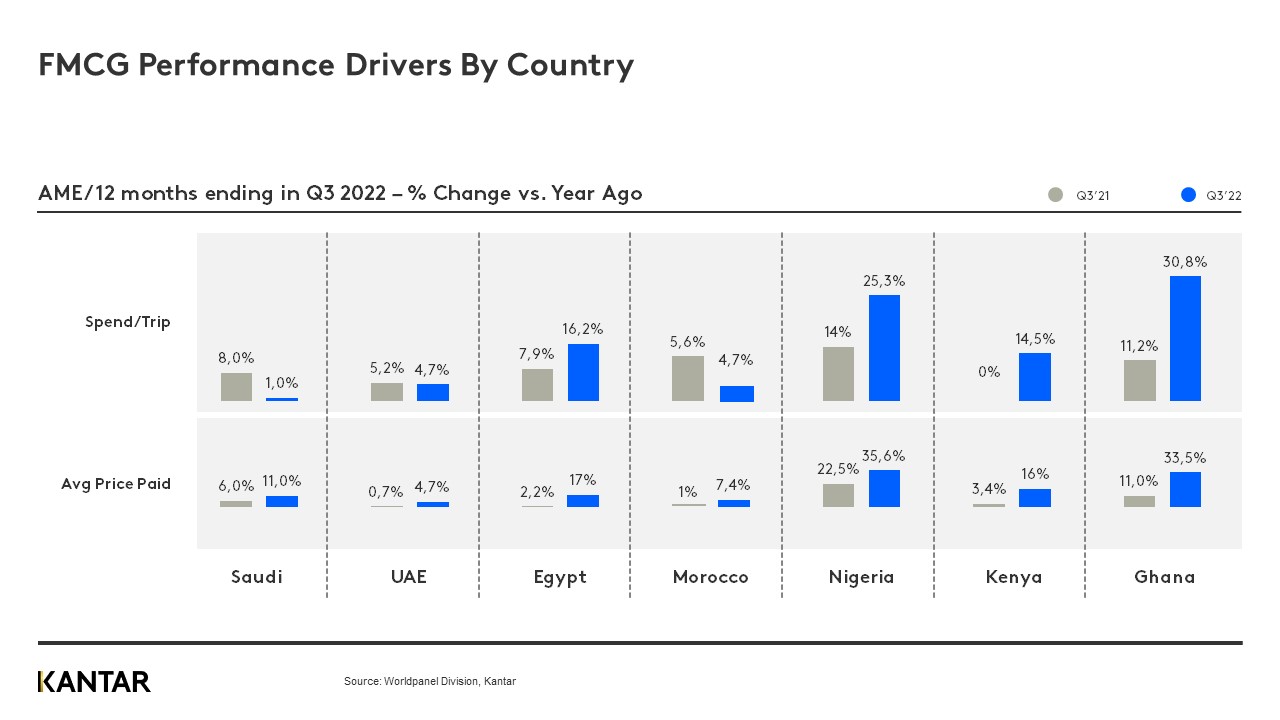 How are shoppers coping with the cost-of-living crisis?
Shoppers reducing their spend will be something to keep monitoring in 2023. How they do this will depend on the country and category with different options available; buy less, switch store, and/or buying cheaper options. Kantar Worldpanel can measure the contribution of each to understand the change in household spend, crucial to understand to be able to once again drive volume growth.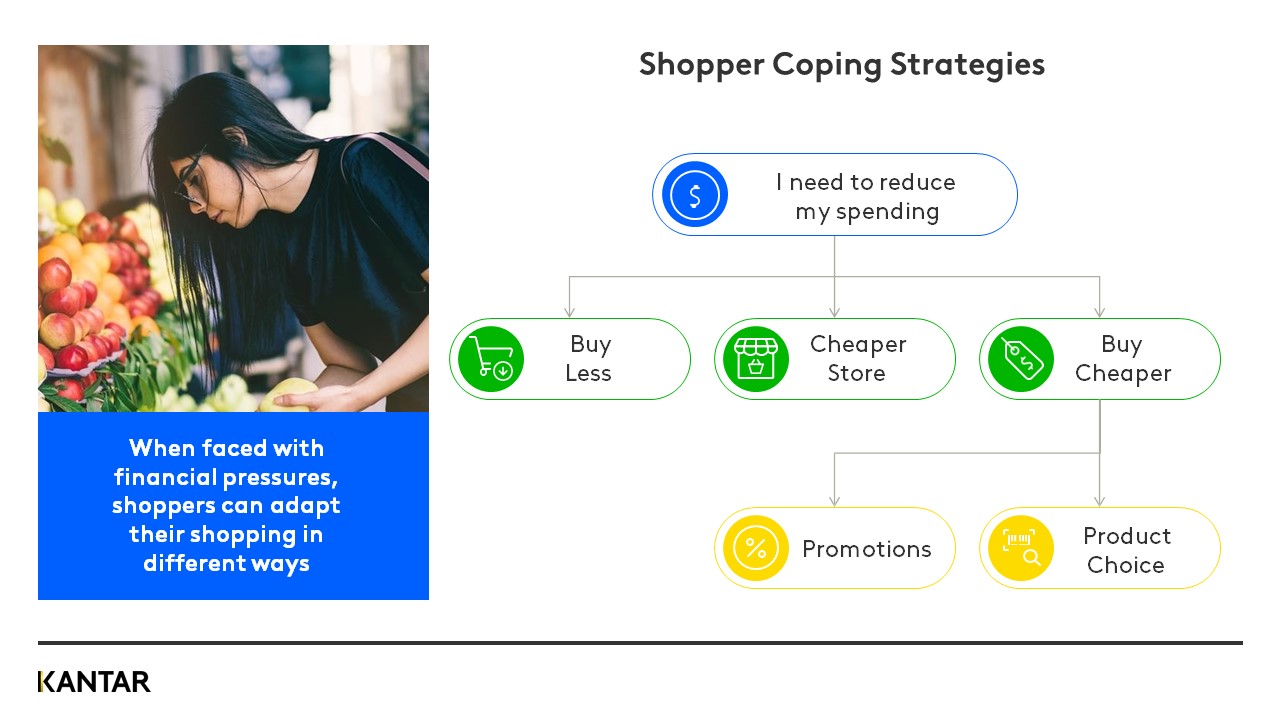 Worldpanel continues to measure consumer behaviour and purchasing habits across the AME region, including new markets in 2022 - Ethiopia, and Iraq. For the first time understand behaviours here through our Pulse, dip service.
Download our AME in Lights: Take Home FMCG Trends Q3 2022 deck through the link below for extra insights that bring to life regional FMCG trends. It reveals how shoppers have reacted to the rising cost of living, and includes details on channel performance market by market.
Contact our experts to learn more about how our Shopper Coping Strategies can help you quantify how consumers respond to changes in your category – both over time and by key shopper groups.