Mental health awareness is a global issue, that transcends class, gender, ethnicity, age and family history. Across the world there is a need to end the stigma around mental health, as evidenced by trends in NHWS, Kantar's health database capturing patient voices on over 200 health conditions.
WHO reports that half of mental illness begins by age 14, and suicide is the second leading cause of death among 15-29 year olds. The 2018 Global Health and Wellness Report from Kantar showed that, in the UK, 25.8% of the population have self-reported depression. Across the most economically developed countries (MEDC) almost one in 8 citizens are self-reporting as having experienced depression.
Please select your file type
Kantar has also found that, across the most economically developed countries, 18% of the population have had thoughts of self-harm or have thought they would be better off dead in the past two weeks.
Men in the US and Europe are more likely to state they have had thoughts like this, particularly in the UK: more than one in five British men (22.1%) report having had these harmful thoughts in the past two weeks, compared to 17.7% of women.
Please select your file type
Mental health and its connection to working life is an interesting topic. According to an additional Kantar survey of 959 people in the UK, just 35% of people are aware of their organisation having a mental health/wellness policy. 70% (75% of women and 62% of men) say they personally actively engage with their own mental health and wellbeing, for example taking frequent breaks away from their work. 44% of women and 27% of men said they had ever offered to help to colleagues who had a mental health/wellness issue, while almost 70% of respondents believed their health and wellness was their 'sole responsibility' – just 21% believed it was their manager's.
Asked whether they believed that 'My workplace is supportive/respectful of my mental health/wellness', 42% agreed, while similar numbers stated that their workplace was a contributing factor to their mental health/wellness. 19% believed that 'Admitting mental health/wellness conditions would damage my career'.
While 25% said work led to feelings of anxiety, and nearly a third said that workplace anxiety contributed to their overall state of mental health/wellness, just 16% of women and 13% of men said they have cried at work.
In places where mental health is not discussed particularly openly, Kantar's Health division actually sees larger populations of people who present symptoms of mental illness than diagnosis and treatment rates would suggest. For example, in China, 3.5% of the population present symptoms of depression, but only 1.9% are diagnosed.
Mental health is an important issue, because there is a societal cost for mental illness. According to WHO, depression is a leading cause of disability worldwide. Many people with mental illness also experience activity impairment and work productivity loss due to mental health and other factors.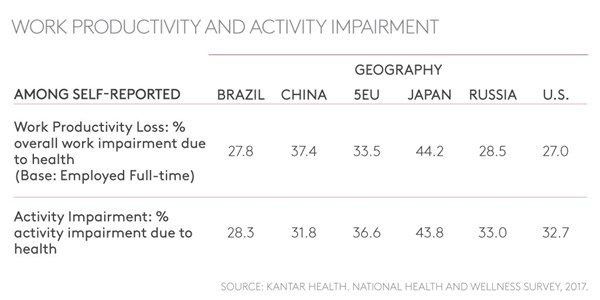 We're observing trends in the Kantar NHWS data that show greater awareness of one's mental illness may lead to higher rates of self-reporting. We also believe high-profile awareness campaigns, like Prince Harry in England and U.S. athletes sharing their personal struggles, have helped break down stigmas and bolster awareness.
But awareness and self-reporting are only one part of the puzzle. Being self-aware does not always motivate people to get a diagnosis or seek help. In fact, NHWS shows a significant gap between people who self-report mental illness and those who have been diagnosed by a healthcare professional. Stigma plays a big role.
"Patient reported outcomes offer unique ways to identify and profile undiagnosed and misdiagnosed people experiencing challenges with mental illness. Behavioural economics further identify social and cultural factors contributing to mental illness and thoughts of suicide. If we start to dig into a person's experiences more holistically, we'll uncover opportunities for intervention and achieve better outcomes for people in need," comments Michael Fronstin, General Manager, Health Outcomes at Kantar's Health Division.