The Chinese FMCG market continued its moderate recovery in the second quarter of 2023, with significant variation in performance between different channels and categories. Total FMCG spend in the country's major cities grew 2.4%, while the lower-tier cities, which were less affected by the pandemic last year, saw slower growth.
Household cleaning has maintained strong momentum over the past six months, growing its value by 10.2% year-on-year. The growth of beverages has also accelerated, with an increase of 5.2%. Spend on juice, functional drinks, and ready-to-drink tea increased by more than 18%. Due to stockpiling in the second quarter of last year, spend in the food category fell by 3.4% in Q2 of this year.
Online FMCG spend in Mainland China increased by 5.6% year on year in the past 12 weeks, while offline channel sales declined slightly.
Modern trade: Proximity channels continue to grow
Although sales in hypermarkets and large supermarkets kept decreasing in Q2, the decline slowed down significantly. Among the proximity channels, small supermarkets sustained their excellent performance and maintained double-digit growth.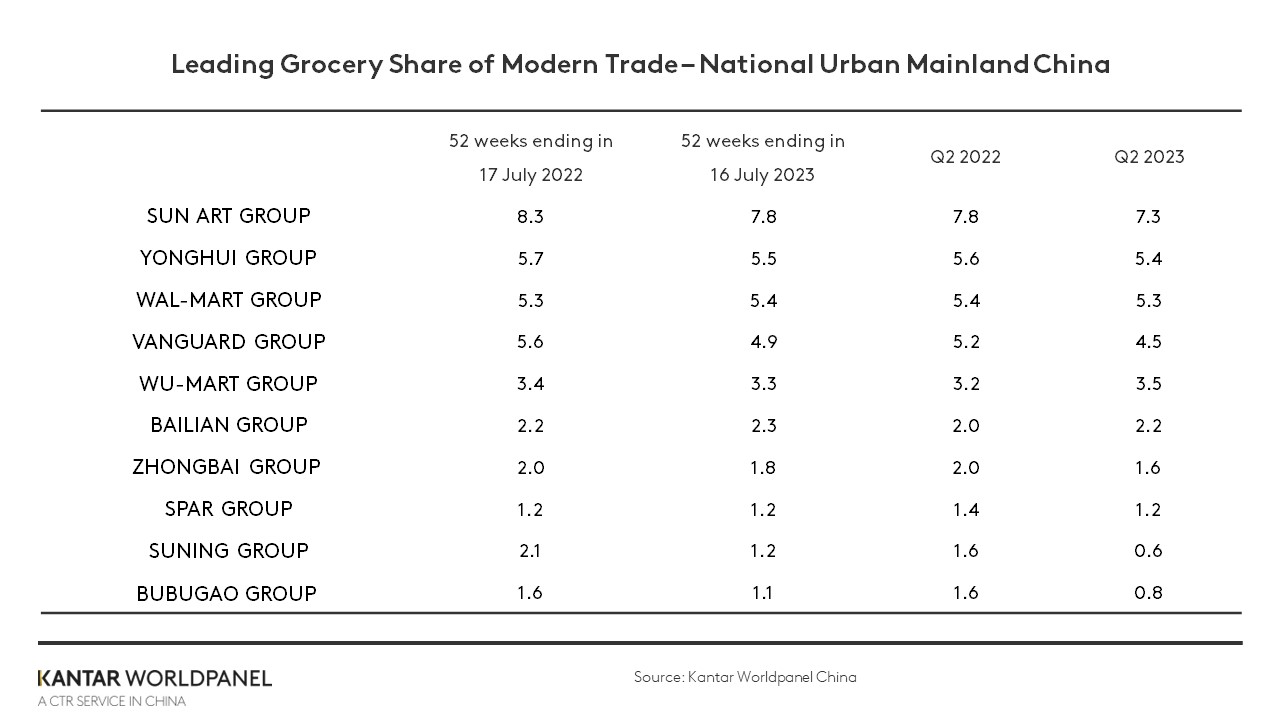 Driven by its Metro brand, Wumart Group's share rose 0.3%, reaching a 3.5% market share within modern channels. Although Yonghui Group's share declined slightly, its premium supermarket brand Bravo achieved positive sales growth in the first two quarters of this year. Yonghui has been renovating nearly 160 online warehouses in five core cities, as well as optimising and upgrading its stores.
Sun Art Group's market share fell to 7.3% in the second quarter, down 0.5% from the same period last year. Hoping to create a 'second growth curve' beyond its large format stores, it is expanding its RT Super format and trialling M Membership stores, leveraging its fresh supply chain and digital membership capabilities.
As the Chinese retail market fragments further, regional retailers are becoming increasingly strong. Mainland China's leading convenience store brand, Meiyijia, saw a 7.4% increase in sales in the second quarter compared to the same period last year, and its market share and penetration also improved. As of June 2023, the number of Meiyijia chain stores exceeded 32,000, with over 2,000 new stores added in just six months.
Interest ecommerce shows promise
In the first half of 2023, ecommerce in Chinese Mainland continued to develop steadily. For the four weeks leading up to June 16, there was a slight increase in spend on FMCG through ecommerce channels.
Douyin's performance was the most impressive, with a sales growth rate of 72% compared to the same period last year.
In the second quarter, the penetration of Alibaba and JD.com decreased by 0.5% and 0.8% respectively compared to the same period last year. Pinduoduo, on the other hand, has consistently attracted more consumers over the past three months, resulting in a 0.6% increase in penetration.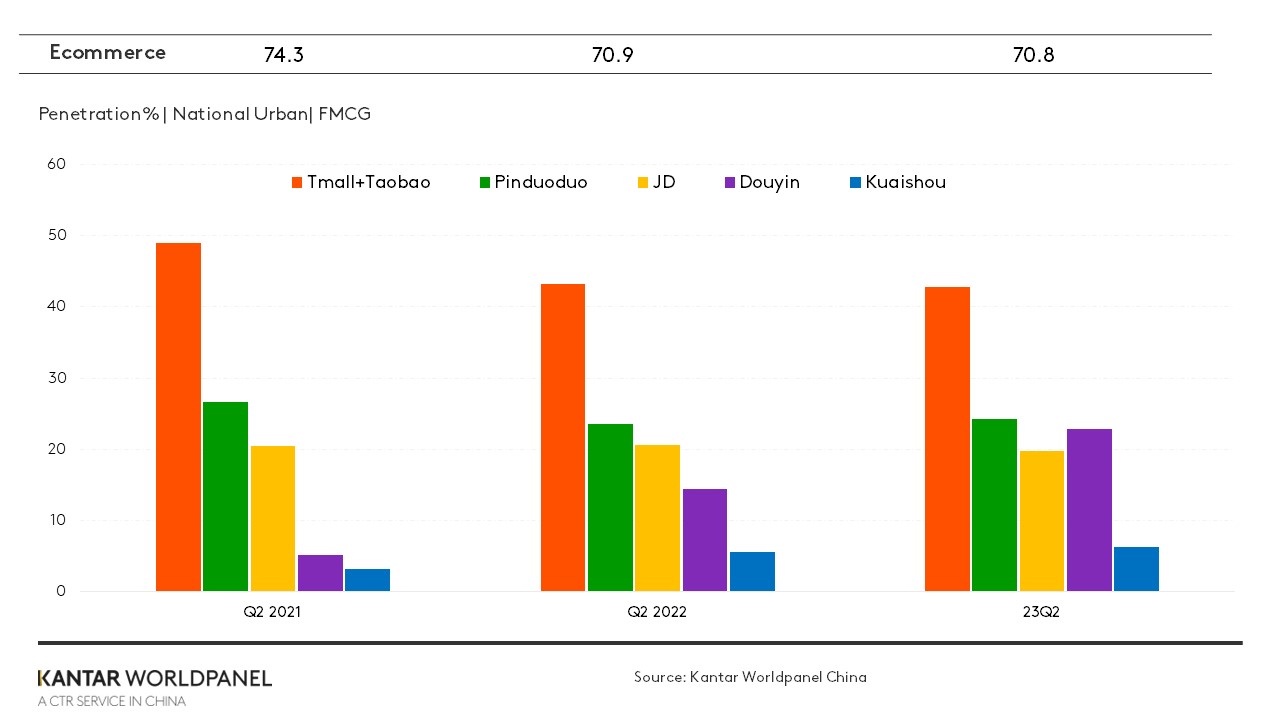 Interest ecommerce continued to experience rapid growth, with 22.9% of urban Chinese households purchasing FMCG through the Douyin platform in the second quarter of 2023. Douyin has also further maintained its advantage over JD.com in terms of the rate at which their penetration is increasing.
During the 618 Shopping Festival (31 May-18 June), major FMCG brands increased their investment to unprecedented levels, and major platforms provided substantial subsidies. However, with shopping festivals and live-streaming sales becoming more commonplace, the significance of 618 is gradually being diluted. Consumers have become more rational, and cheap prices and discounts alone are no longer sufficient to drive increased purchasing demand. The influence of factors such as product quality, consumer experience, and logistics efficiency on consumer decision-making have been amplified.
O2O experiences steady growth
O2O sales continued to rise in the second quarter, with penetration growing by 0.4% over the same period last year, and purchase frequency also increasing.
CGB (Community Group Buy) experienced double-digit growth in sales, with 26% of urban households purchasing FMCG on CGB platforms in the past three months. Meituan Youxuan and Duoduo Maicai have made the greatest contribution to growth. Both prioritise product quality and combine online and offline channels to meet consumers' integrated needs in a comprehensive retail format.
Retailers' self-run APPs/mini-programmes, which focus on enhancing the consumer experience and offering a wide range of product choices, grew by nearly 60% in sales in the most recent quarter.
While there is still significant room for improvement in terms of consumption in the Chinese FMCG market, government policies aimed at encouraging demand and improving expectations are set to drive economic recovery in the second half of 2023.
Are you ready to take advantage of the opportunities this will present? If you would like to learn more, please get in touch with our experts or access our data visualisation tool to explore current and historical grocery market data for Mainland China.