As we have seen, this COVID-19 crisis triggered many changes for people in terms of shopping habits, media consumption, travel, gathering and occupation. Sectors are dealing with fast-changing and vastly different environments. Some companies are dealing with dramatic spikes in demand while others face the almost overnight cessation of trading.
Automotive and mobility brands are on the most worrying end of the scale, with a stop on production and assembly lines and almost all dealerships closed during lockdown. As the pandemic disrupts business as usual and throws the economic outlook into uncertainty, the automotive industry is on the front line. Some of the most affected regions are major production hubs and home to key links in the sector's global supply chain.
So, for the automotive and mobility industries, many questions arise:
How do we ensure automotive brands will stay relevant and attractive to people in a context of mid-term disruption?
How do we ensure dealers can be successful in sealing the deal when visitors will be back with more financial uncertainties than before the crisis?
While hygiene will continue to grow as a critical factor for protection, trust and economic recovery, how can we redesign the customer journey, in dealerships, car service areas, taxis or ride-hailing, and obviously in public transport?
When and how should brands communicate during and after the crisis peak, in order to be the first to bounce back in sales?
Car purchases are postponed, not cancelled
During the toughest weeks of the lockdown, new car sales dropped everywhere by up to 80% compared to previous years. However, recent research from Kantar has shown that across all markets, most of those intending to buy a car claimed they are not giving up their plan to purchase but are instead considering postponing their purchase to after the crisis.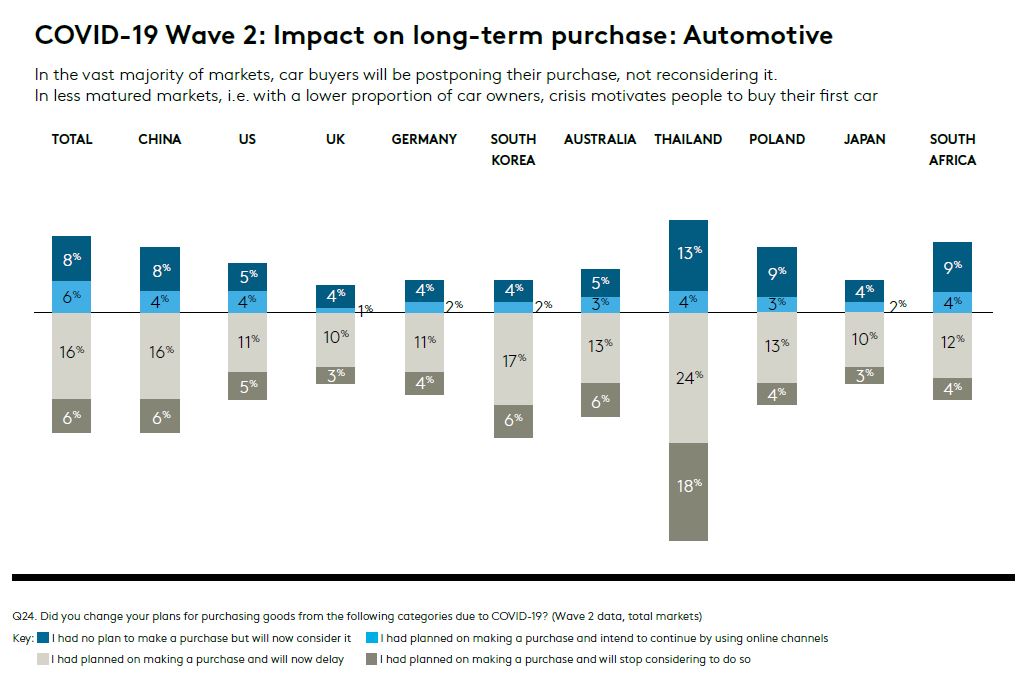 With that in mind, it means that for the longer term, the sector will be impacted by the delay of ordering and delivery, rather than by the simple contraction of the market. This will help the industry to bounce back in a reasonable period.
Next steps for automotive
In our report, we look at the end goal of car purchasing, but also explore the need for car brands to reinvent the role of the dealer in an increasingly digital way of life. We explore the importance of omnichannel, the broader concern over financial security, the growing trend of self-sufficiency and why it's time for brands to be top of mind.
In such a period of disruption, many aspects are worth considering to ensure the path to recovery will be relevant and effective for the end customers, for the various company stakeholders, and for the wellbeing of society.
The situation is fast moving with widespread effects. That's why we've prepared some general guidance on COVID-19; what automotive businesses should know, covering the key areas of crisis. We explore insights from our COVID-19 Barometer and gather our specialist insights to identify ways to better foresee ways to get out of this crisis with minimised damage, and the right strategy for recovery.
Topics covered in this report:
Potential long-term impact on automotive companies
Questions executives and boards should be asking
Practical next steps to take to preserve business continuity
Download the report
Webinar
You can also watch our on demand webinar to find out more about the short and mid-term impact of COVID-19 on Automotive and Mobility. Sign up now.