CPG manufacturers come in all shapes and sizes, but ultimately have the same goal – growth. Though TPM (Trade Promotion Management) digitisation has demonstrated its effectiveness in helping optimise trade spend, many CPGs are hesitant to introduce new systems and ways of working because of the upfront investment of time and resources.
Yet, those who do not embrace the change will continue to face growth challenges and be less and less competitive in the market. For those making the inevitable move forward with trade promotion digitisation, you do not have to force a traditional approach to fit. There are multiple paths available that cater to different business objectives and constraints. An alternative to the traditional approach, for instance, is the Accelerated Approach.
Built off a market-specific solution, it delivers the needed foundational elements of trade promotion management upfront, providing a working environment sooner. More advanced capabilities can then be built upon this base, upscaling the solution environment while it is in use. This "grow as you go" approach results in a shorter implementation time, requires fewer resources and investments, and drives early adoption since key users begin using the system while it is still being refined.
This also prompts a fruitful cycle in the organisation, as it creates more room for key users to engage and provide feedback based on their use of the solution during the Design.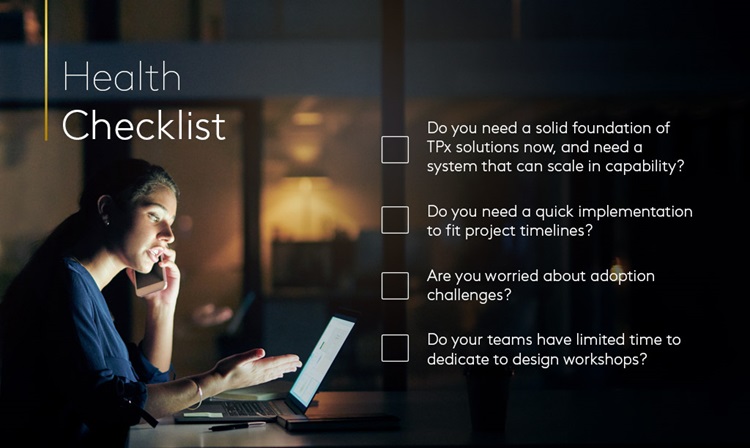 Data
Data is the core of any TPx system. The Accelerated Approach loads data from the beginning, using pre-defined data integration templates. What does this mean for the team? It allows sales teams to understand the system through hands-on interaction, which builds a clear understanding of what is available and contributes to what should be added as additional features.
That's why assessing your data and how it will impact your core teams and their processes before the project launch is key to implementation success. As mentioned in "The pre-design assessment: Getting match fit before your TPx project", ensuring that data is clean and will fit sales processes prior to integration will ensure that the right insights surface.
"With the packaged approach, it was going to be more beneficial to look at our data. We could look at the system and the processes with our information. And that was transformative in the way we do things." – ASR Group
"I think a data assessment is critical. It's understanding the state of your data and how much you need to change. Understanding your data, who is going to help you with the transformation and the data loading is critical. And as you go through that journey it will be about how the internal and external resources are collaborating. – ASR Group
Processes
TPx processes are complex and driven both by the market's trade structure and the company's route-to-market and internal processes. Implementing a Trade system is often about finding the best possible translation of market reality into an IT tool. To make sure that the Accelerated Approach reaches the desired outcomes, we drive it exclusively through our market-specific solution template. This template contains core market features configured upon best practices and associated ready-to-use documentation to accelerate the project cycle.
"As everyone probably knows, the US is a complex marketplace. We have many retailers of all shapes and sizes, each having their own go-to-market strategy, varying consumer demographics, varying geographies. So, it's important to have a flexible, user-friendly system that helps us navigate those complexities, and be able to move on a dime." – ASR Group
People
What is a system without its users? Not much. Without user adoption, links in the chain, so to speak, are broken. This disrupts communication between teams and can damage the "one version of the truth" that a TPx system fosters.
With an Accelerated Approach, change management is facilitated by design. Users have early exposure and interaction with the system, can contribute to system builds, and therefore adopt the solution quicker than with a traditional "waterfall" approach. Though the Accelerated Approach does not replace change management, it can make it smoother and help identify and mitigate potential risks sooner.
"We are transforming our sales managers to business managers. Now they have the ability to understand how their plans are directly impacting profitability. I have seen the engagement level is improving. It's driving conversations about what makes best sense for the overall business, and as we were alluding to, we have a lot more transparency now." – ASR Group
Best Practices
Agree on your data: Have a clear definition of the customer and product data, as well as your baseline sources, before loading data into your system. This will be a must-have to bring the right insights to life.
You will still need governance: Strong governance is needed throughout the project to closely follow the template and maintain the best practices that are built in. It will filter the "nice to have" features from the ones will that drive value for the customer.
Change can happen incrementally: You can build on the foundational system elements when needed. Instead of fitting in more features to accommodate future growth all at once, you can grow capabilities as your business scales, which will likely be the better approach to meet your shifting future objectives and constraints.
Trust your end users' use of the system rather than whiteboard design: Since your key users will be accessing the system early, they will be in the best position to spot which changes to push to the go-live.
Webinar: Accelerated Approach with ASR
In a recent webinar, ASR described their experience with Kantar's Accelerated Approach and the journey that brought them to that TPx path. Watch the webinar by filling out the form below.