Europe-wide, AliExpress is steadily gaining in popularity. While 25% of European cross-border online shoppers choose Amazon, AliExpress is second-ranked with 14%, ahead of eBay and Wish. This year, it was the most popular destination for cross-border shopping in Russia, Poland, Netherlands, Czech Republic, Slovakia, Romania and Serbia.
This success has come slowly and has been carefully nurtured by Alibaba's marketing team, which has astutely used social platforms to raise awareness of its offer, particularly the value available to consumers. The strategy seems to be having an impact, with research by fulfilment firm Whistl showing that UK overseas online shoppers made more purchases from China (43%) than the US or Europe, with the most-shopped site being AliExpress.
Exporting 11:11 – bringing the brand offer to Europe
Alibaba's flagship sales event, now in its tenth year, has in recent years become a global event as the eCommerce giant looks to expand its reach beyond its home borders. For the first time, this year's event has seen AliExpress boosting its profile to raise awareness of Singles' Day, not just online, but in tie-ups with European retailers.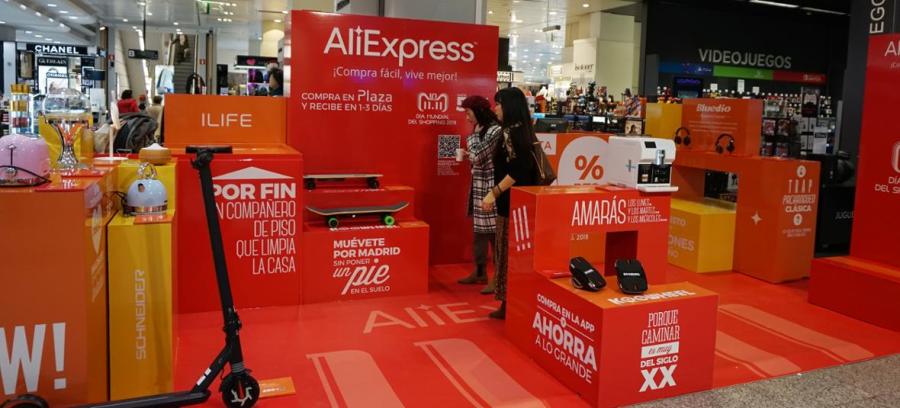 Source: El Corte Inglés
El Corte Inglés has become the first retailer to partner with AliExpress in Spain with the opening of a pop-up store in its Sanchinarro (Madrid) outlet. The store will run until 18 November. Special events will also be held in the space and across social networks. Designed by AliExpress to promote interaction with visitors, the pop-up will offer products, such as electric scooters, robot vacuum cleaners and Bluetooth headphones to celebrate the Singles' Day event.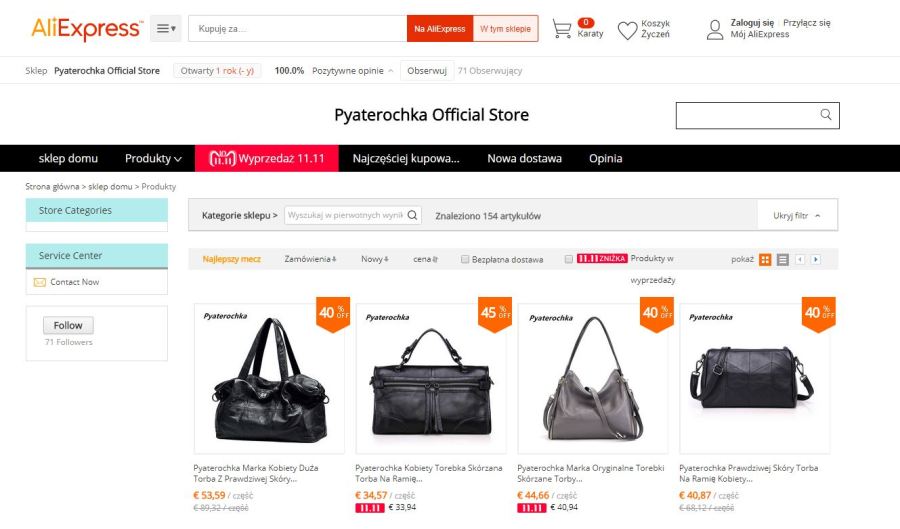 Source: pyaterochka.aliexpress.com
In Russia, X5-operated supermarket chain Pyaterochka has partnered with AliExpress on a promotional campaign for the 11:11 Singles' Day shopping event. Purchases worth over RUB650 made in Pyaterochka supermarkets from 8-9 November will receive a promotional code worth RUB650 which can be redeemed from 8-12 November for purchases over RUB3,250 made via AliExpress. This marks the first collaboration between AliExpress and a Russian retailer on a promotional initiative.
Pan-European beauty specialist Douglas is running a 360° promotional campaign to coincide with the event. Its theme centres on the message that "Real love starts with yourself" and follows on from #doitforyou campaign the retailer ran around International Women's Day 2018 in March. According to Douglas, Singles' Day is about self-love in a positive sense, along with a modern understanding of beauty and self-confidence. The promotion encourages women to celebrate the self and their own definition of beauty. It will be supported by online and instore messaging, plus social media, TV and print flights.
Douglas is not the only German drug/beauty player to be actively leveraging Singles' Day as a sales driver. In Germany, Rossmann is promoting its offer in conjunction with the event as means of leveraging its successful storefront on Tmall and appealing to Chinese tourists in Germany. It has taken out billboard space across Germany featuring QR codes that can be scanned to obtain special deals.


Source: rossman.de
Logistics Upgrade Puts Europe in Alibaba's Sights
AliExpress has been steadily building strength across Europe in recent years as shoppers have been increasingly attracted by its strong value offer. Spain, for example, is now the platform's third-largest international market, behind Russia and the US.
However, its weak spot has always been lengthy shipping times from China, although these have reduced from 70 days to 10 since AliExpress first began selling into Europe in 2010. In the build up to this year's 11:11, Alibaba set a goal of three-day shipping from China to 50% of European destinations, using its warehousing facilities in Moscow, Madrid and Paris to move product faster. Two 747 cargo planes and 19 smaller aircraft have been deployed as part of the plan, while shipments by sea have doubled from one to two a week.
The principal appeal for AliExpress shoppers has been value and a constantly expanding assortment. Prices are typically sufficiently low that customers are content to wait up to a month for delivery. Drastically shortened shipping times will increase its appeal and uptake. Moreover, Alibaba believes it can slash delivery speeds without significant impact on pricing.
Opportunity for brands
AliExpress has been a boon for countless Chinese manufacturers seeking new opportunities as their domestic market has steadily decelerated from the growth peaks of the past decade. They are looking outwards, and Alibaba is happy to help. Electronics, clothes and household goods are among its biggest sellers and all feature prominently on the 11:11 deals portal. The big-name brand addition on AliExpress this year is electronics specialist Xiaomi, which opened its first UK store to coincide with the event.
However, it must also be considered that many leading global brands already sell on Alibaba's Tmall and Taobao platforms. As shipping from China times reduce, the possibility arises for those partners to eventually use AliExpress as, for example, a form of online outlet store, selling reduced-price, end-of-line stock to global customers.
Tactics for a successful Single's Day
Competition: You're no longer competing with other foreign brands, but local ones, and shoppers are looking for more than discounts. Provide something truly compelling, unique, distinctive for Alibaba. Remember that product quality matters, so highlight your brand credentials.
Get the marketing mix right. A smart combo of social, plus mobile, plus a mobile-friendly landing site would be instrumental to ensure a smooth transition.
Be Targeted: Design tailored offers with customised creatives for your target audience to enhance conversion, especially for the mobile-centric Chinese millennials. Keep the momentum going post-event through your brand shop and targeted marketing messaging.
Be Data-Driven: Leverage learnings from event to build a holistic view of your consumer, delivering more customisation that will lead to more efficient conversion. Utilise learning from the event to springboard your offering with Alibaba.
Leverage the technology on offer: This is not just about the abilities making the world smaller through efficient logistics. For brands looking to build a presence in China, consider employing location-based marketing and AR technologies that exploit Alibaba's strategy of creating immersive online2offline shopping experiences.