The great acceleration of ecommerce, fuelled by American's response to COVID-19, has stretched our infrastructure and compressed growth timelines. Evolving shopper behaviour illuminates new priorities for online shopping touchpoints, resets our expectations of shopper convenience over price, and sheds new light on the growing value of social commerce.
The State of Ecommerce 2021 is a landmark study intended to inform new standards of excellence and provide clear calls to action for winning in ecommerce. In order to achieve this, we surveyed 500 online purchasers and 200 industry professionals across brand, shopper marketing, ecommerce, and advertising specialities.
Our research unveils powerful insights that will help you execute unique ecommerce strategies across retailers and channels Highlights include:.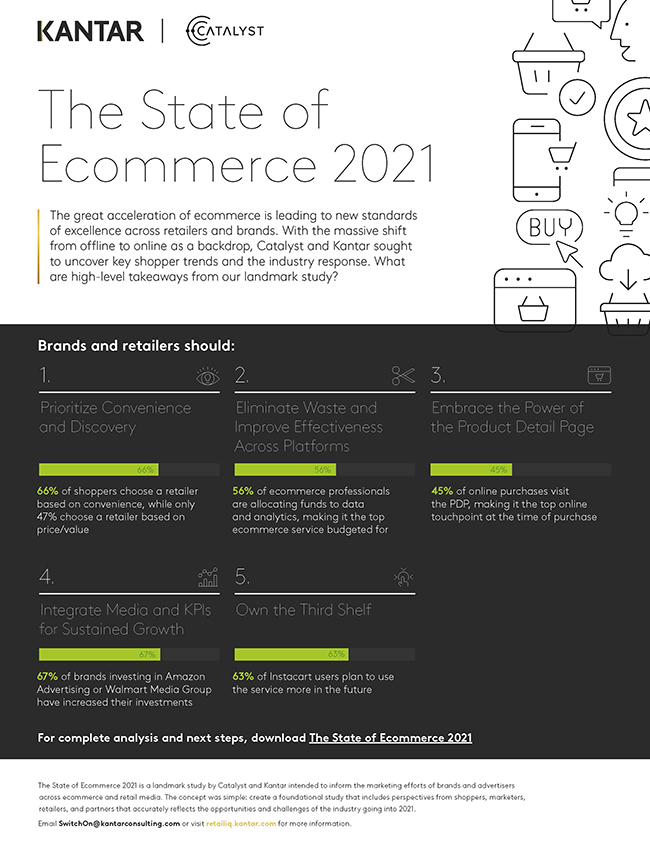 In case you missed it – key insights from the study were shared during Kantar's Commerce Now panel discussion. Watch the webinar on demand or listen to the findings on the latest episode of Retail Sound Bites.
Download the complete findings:
About the report
"The State of Ecommerce 2021" is a landmark study by Catalyst and Kantar intended to inform the marketing efforts of brands and advertisers across ecommerce and retail media.
The concept was simple: create a foundational study that includes perspectives from shoppers, marketers, retailers, and partners that accurately reflects the opportunities and challenges of the industry going into 2021.
To achieve this goal, we launched two quantitative surveys to 500 online purchasers and 200 industry professionals across brand, shopper marketing, ecommerce, and advertising specialties. The professional survey targeted industry leaders holding titles from manager through executive vice president who work for, or with, companies that have annual sales ranging from USD 100 million to more than USD 10 billion, across more than 17 categories.
Additionally, our report was informed by approximately two dozen qualitative interviews from leading manufacturers including L'Oréal, Colgate Palmolive, Georgia-Pacific, Seagate, GSK, and Dorel Juvenile.
We also interviewed investors, technology partners, and retailers including Google, Amazon Advertising, Walmart Media Group, Pinterest, Instacart, CAVU Venture Partners, Salsify, PromoteIQ, Pacvue, and Kenshoo. Data for both quantitative surveys was collected in April 2020, and interviews were conducted between March and May 2020.
The impact of COVID-19 on ecommerce cannot be denied, and while we asked respondents to answer the surveys as they would have prior to the pandemic for a longer-term view of ecommerce, the research itself was conducted during the height of the pandemic, and therefore is an inseparable part of this overall study.