Kantar, Saïd Business School, University of Oxford, and Haier Group yesterday jointly launched the IoT Ecosystem Brand White Paper. This marked the birth of the world's first brand standard in the IoT era, creating benchmarks for the growth and development of IoT ecosystem brands.
Ruimin Zhang, Chairman of the Board and CEO of Haier Group, and Doreen Wang, Kantar China CEO and Global Head of BrandZ™, jointly released the white paper during the 4th International Rendanheyi Model Forum at Qingdao International Conference Center. Qingdao-based Haier Group adopted Rendanheyi in 2005 as its new business model. The model re-imagined the connections that should exist both between its employees and its users and between the company and the market.
The Internet of Things is fundamentally changing the way we live and will reconstruct the global industrial economy. By working with Professor Andrew Stephen and Associate Professor Felipe Thomaz from Saïd Business School, University of Oxford, and Haier Group, Kantar aims to answer these important questions in this white paper: What is the new leading brand paradigm in the IoT era? What are the standards and definition of this new paradigm?
Paradigm of leading brands in the IoT era: IoT Ecosystem Brands
In the IoT era, the interconnection among things means users are no longer satisfied with accessing a single product/service, but start to demand a scenario-based holistic solution.
Even in a simple scenario, however, the product/service categories involved are so diverse that an enterprise cannot cover the entire spectrum of offerings. It is necessary to work with cross-industry, cross-category partners to jointly create a comprehensive solution. At the same time, this collaborative relationship among enterprises should be constantly aligned in response to users' constantly changing needs. Therefore, the IoT era calls for a model that can break the traditional industry/category barriers and effectively promote dynamic multilateral cooperation across industries. Brands that fit in this model are called ecosystem brands.
Definition and standards of the IoT Ecosystem Brand
Through in-depth expert interviews, social listening and desktop research, we have collected understandings and opinions that experts, scholars, industry players and the public have on brands in the IoT era, and set the definition and standards of IoT Ecosystem brand as below.
Definition of IoT Ecosystem Brand:
A new brand paradigm that encourages the co-creation among brands, users and partners to provide unbounded and continuously iterative integrated value experiences, thus ultimately creating life-long users, achieving win-win symbiosis among ecosystem partners, and creating and passing on greater value for society as a whole.
Standards of IoT Ecosystem Brand:
The IoT ecosystem brand features 3 perspectives, 7 criteria and 19 metrics (as listed in the chart below).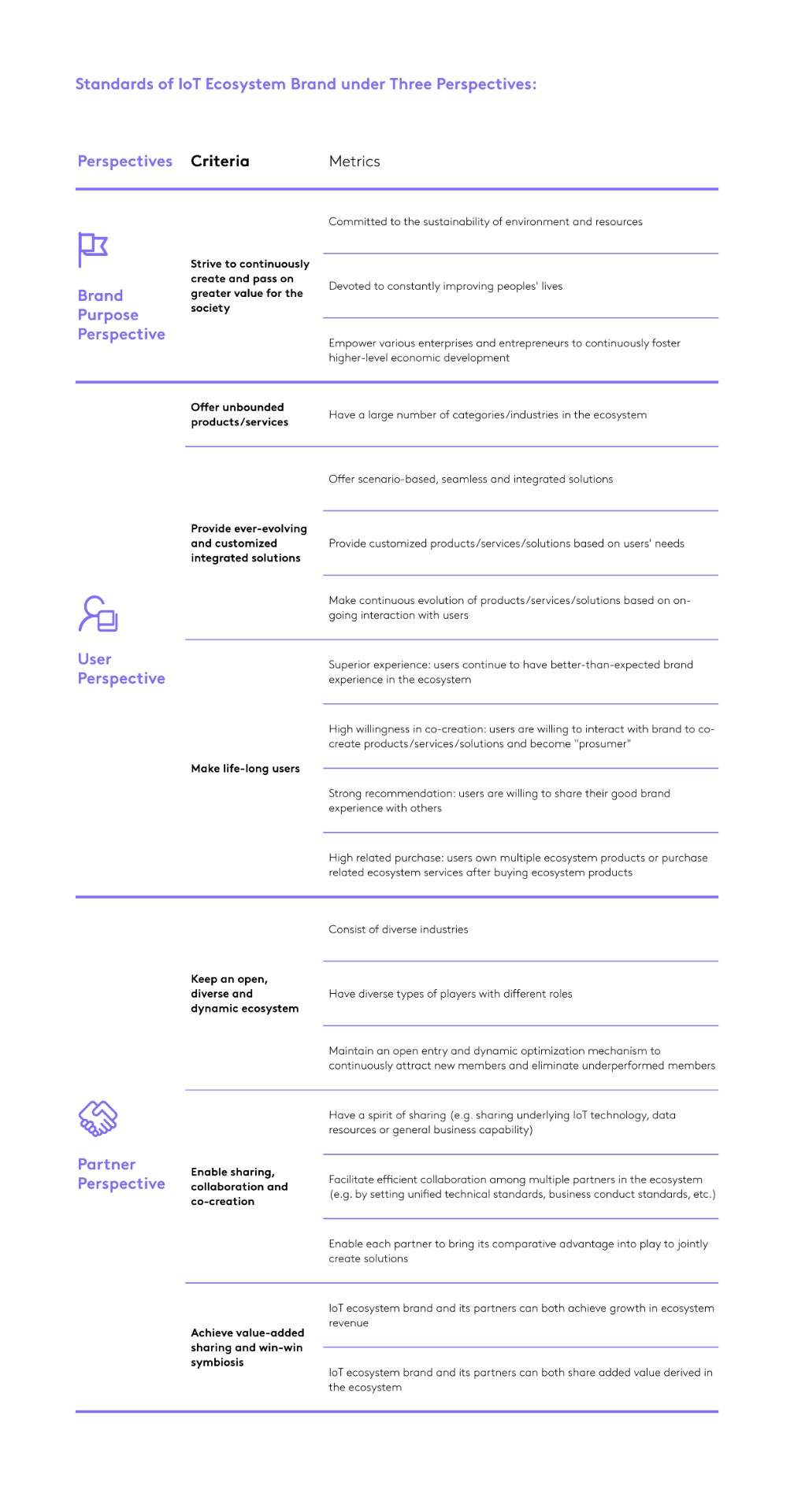 Impact of IoT Ecosystem Brands
The emergence of IoT ecosystem brands will have a fundamental impact on companies both internally and externally. Internally, developing an IoT ecosystem brand requires companies to rebuild their organisational forms. Companies will need to change their employee roles, organisational structure, management model and incentive mechanism to enhance their competency to capture market opportunities and improve their responsiveness.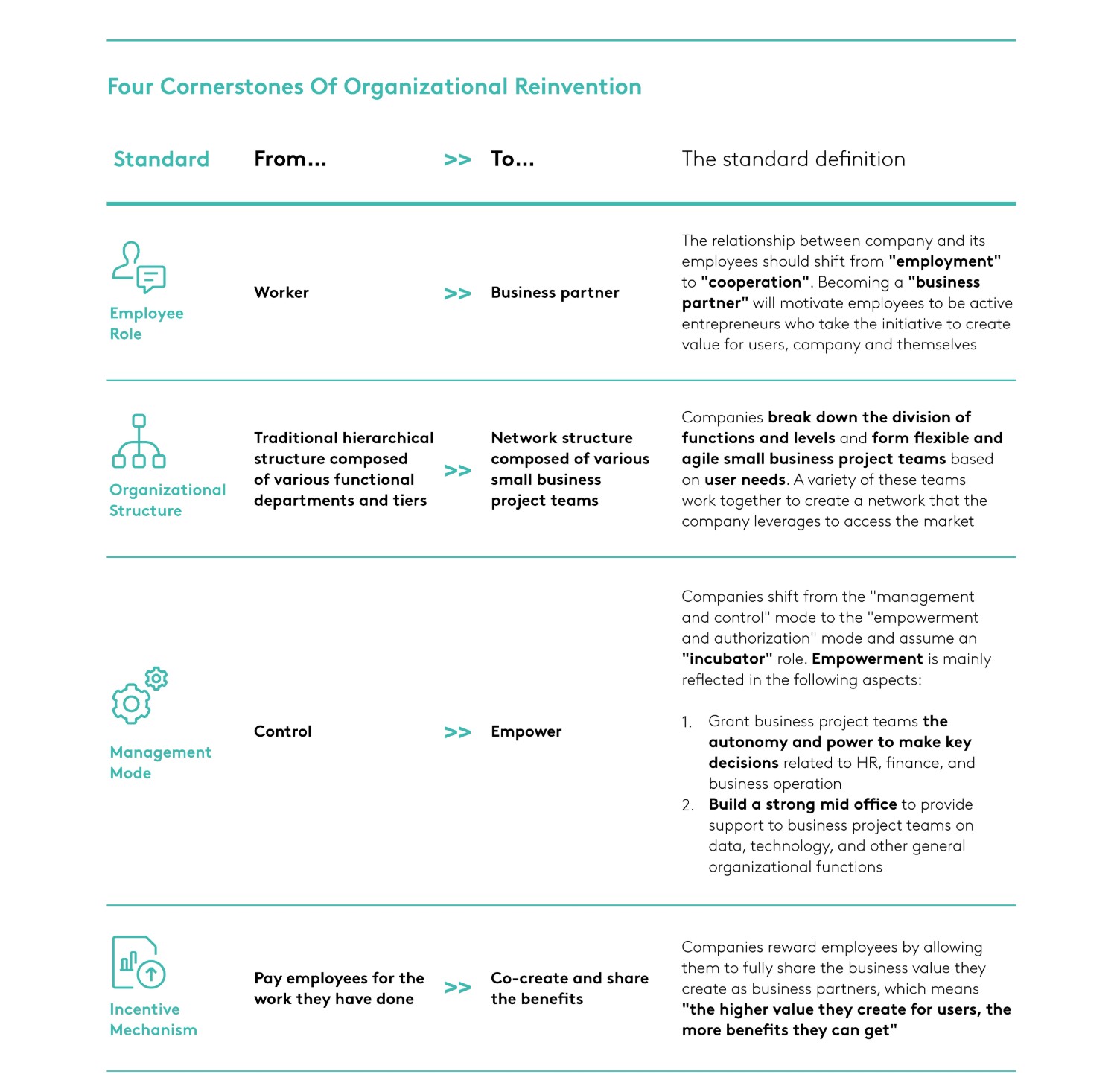 Externally, IoT ecosystem brands will accelerate cross-industry innovation and resource sharing, contribute to building an equal and inclusive society, and boost companies' social contributions and accountability to unprecedented levels.
The social responsibilities of IoT ecosystem brands can be summarised as "avoiding negative externalities" and "strengthening positive externalities".
Avoid negative externalities
Avoiding negative externalities means that a company should do no harm to others or society due to its business. As IoT ecosystem brands have wide coverage and can leverage a wealth of resources, any action they take could have a broad impact. As such, they should proactively avoid casting negative impacts on society in the midst of doing business. For example, IoT ecosystem brands must ensure data privacy and security in their ecosystem and avoid the unethical use of data.
IoT ecosystem brands and their partners must abide by laws and regulations on labour rights, environmental protection, and business ethics, thus driving the entire ecosystem to develop in line with ESG principles. All these will be major challenges that IoT ecosystem brands face in the future.
Strengthen positive externalities
Meanwhile, as the leading brand paradigm in the IoT era, "big brands need to think big". This means that IoT ecosystem brands need to undertake more social responsibility and strive to create more positive externalities. For example, IoT ecosystem brands can use their core and unique capabilities to create social value. Based on what we've discussed previously, we could summarize the three core capabilities of IoT ecosystem brands – "connecting, empowering and sharing". By leveraging these capabilities, IoT ecosystem brands are expected to bring significant changes to society.
Conclusion
According to the BrandZ™ Top 100 Most Valuable Global Brands List, the average compound annual growth rate (2015-2020) of brand value for brands under this new paradigm was 18%. In contrast, the growth rate of other brands was a mere 6%. In the near future, any brand that hopes to lead in the IoT era must explore the path towards becoming an ecosystem brand. And the ecosystem brand will be the most forward-looking and prominent model amid brand evolution in the IoT economic system.
We expect more companies and researchers to work with us, jointly explore and put into practice the paradigm of IoT ecosystem brands, to maximize the economic potential of this new brand paradigm and to quicken the shift towards an "equal and inclusive society with effective cross-sector co-creation and resources sharing".
To know more about the IoT Ecosystem Brand White Paper, please click here to download PDF versions of the report: Chinese version and English version.