UK businesses are not realising return on investment from their biggest assets – brands. For a country that has been home to dozens of pioneering global brands, it is a cause for concern that UK brands have been failing to thrive in the same way as global brands have done.
However, this is not a new issue. Back in 2018, we compared 2052 brands measured in Kantar's BrandZ study between 2014 and 2017 and found that less than one in 10 brands had grown significantly. Most brands were stuck in categories where no brand achieved significant growth.
Fast forward to 2021 – our UK brand value slump continues with a 13% decrease in the last 12 months, leaving us lagging both the growth of our Global BrandZ Top 100 most valuable brands (which grew 5.8%) and the global economy (which contracted by 3.3%) by a large margin. Only three UK brands increased value in the last year, compared to 27 between 2017 and 2018, and forecasts using the current rate of decline indicate that the BrandZ Global Top 100 will contain no UK brands by 2023. That is less than two years from now.

Why do more established brands not grow?
Growth tends to come from a step change: when one brand disrupts the status quo in its favour and by doing so, gains customers from the competition. Unfortunately, incremental gains are too easily countered by competitive brands. Most established brands operate in a comfort zone of business as usual, with existing practices and protocols encouraging doing more of the same.
Additionally, routine and inflexible budgeting limits creativity. And dare we say, research data often supports staying in that comfort zone. This is not the fault of data – it's how the data is analysed, interpreted and applied to decision-making. Data should always be used for inspiring growth, not limiting it.
UK brands as a collective are struggling on the world stage. The decreasing profile in BrandZ's Global Top 100 most valuable brands is reflected in a generally poor performance versus their international peers on a range of key brand equity metrics. Relative to other markets, the UK has weaker performance on measures related to communication, innovation, purpose (including trust and reputation) and experience. UK brands are not seen as innovators on the global stage – as a country we rank 12th on our innovation credentials compared to 15 other key BrandZ markets. Brands that are Innovative in a Meaningfully Different way are worth double, with an average value of $3,202m vs $1,565m for those who are not.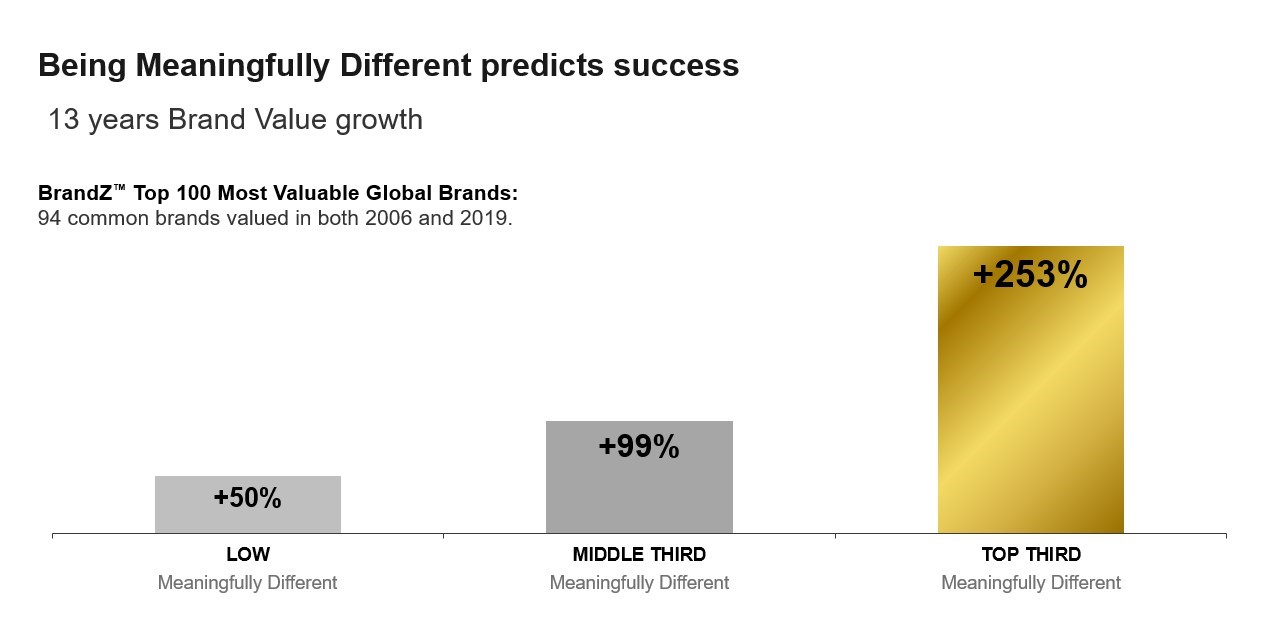 Despite the worsening picture, all is not lost... yet. The events of 2020 provide a unique opportunity for a reversal of fortunes for brands with the confidence to invest and transform. As consumers re-evaluate brand choices and household budgets fall, entirely new behaviours are emerging and with them, opportunities for brands to own a greater share of mind and wallet. Understanding these changes to how people think, feel, shop, share, vote and view – and acting on them quickly – is fundamental for survival and laying new foundations for future growth.
At Kantar, we have identified four pillars that can help brands develop a new blueprint for the future:
1. Build Brands Responsibly
Consumers want and expect brands to guide future change. Greater investment in building trust, confidence and loyalty in consumers through purposeful behaviour and maintaining a core promise can deliver both profit and purpose.
2. Innovate Meaningfully
This is the foundation of any brand. Unless a brand meets people's needs and is liked, it is unlikely to be bought. Greater innovations that differentiate a brand from its competitors, add value to consumers' lives in creative ways and encourage positive and sustainable behaviours deliver growth.
3. Communicate Creatively
Success comes from finding the right idea for your brand and what it needs to achieve. Campaigns and marketing messages that make a brand stand out from the crowd and create strong and positive emotional associations with the brand deliver short- and long-term growth/ROI.
4. Experience Uniquely
Differentiating user experiences on and offline fuel conversion and advocacy. To win at the most critical moments of truth on the customer journey, brands must understand consumers and shoppers of today and tomorrow – on and offline.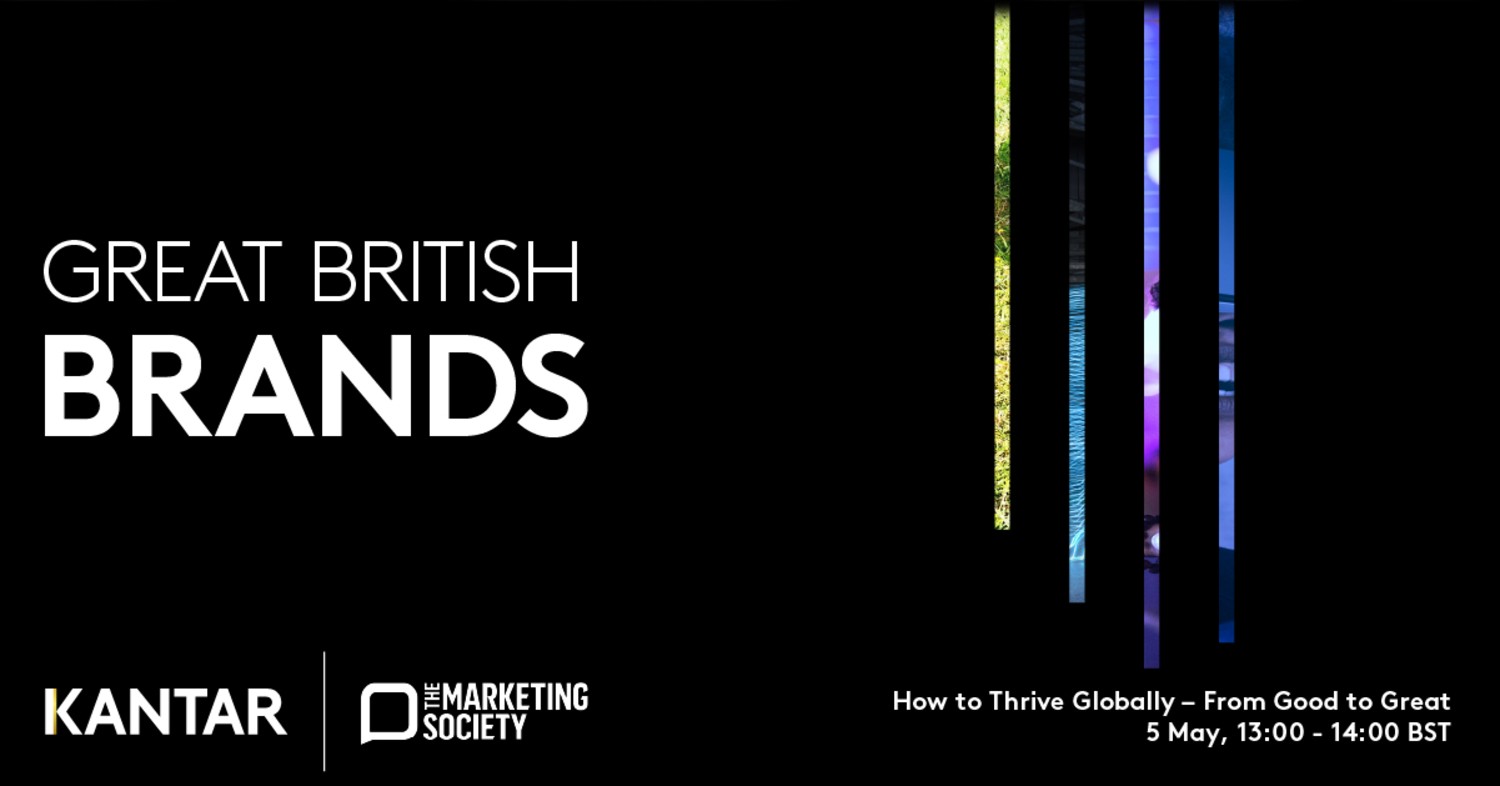 Now is the time to act
We believe this is a 'do' moment for brands. Brands that fail to take positive action in this moment are setting themselves up for failure. Investment in brand equity remains the most powerful form of defence, even if the tactics of today look very different than they did a few years (or even a few months!) ago.
We saw strong brands emerge much more rapidly from the Great Recession of 2008, and the early signs suggest history will be repeated in the current climate. With the launch of our latest work, we issue a call to arms for UK business to boldly (re)build Great British brands, helping turn the tide to deliver greater returns, accelerate business recovery, and drive meaningful growth in the long term. At Kantar, we're here to help with every aspect of the task ahead.
In partnership with The Marketing Society, Kantar is on a mission to help British Brands become a greater force for good on the global stage – delivering higher shareholder returns, building more resilient brands, and fuelling a strong recovery in 2021 and beyond.
Join us at the launch of Great British Brands as we discuss the challenges facing British brands and share how British brands can take greater and bolder decisions in the ways they communicate, innovate, be purposeful and transform their businesses. You will also hear from leading marketers including Jessica Myers from Metro Bank, Pamela Brown from Vodafone and Craig Inglis from The Marketing Society.