Global brands have an opportunity to provide confidence and reassurance as consumers actively seek out trusted brands during times of uncertainty and crises, according to the 2020 BrandZ Top 100 Most Valuable Global Brands Report from WPP and Kantar.
The 2020 BrandZ ranking increased its total brand value by 5.9% to almost $5 trillion – equivalent to the annual GDP of Japan – despite the economic, social and personal impacts of COVID-19. Amazon maintained its position as the world's most valuable brand, growing 32% to US$415.9bn. Its value increased by $100bn, representing a third of the Top 100's total growth.
In a new BrandZ analysis of more than 5,000 brands, research showed almost 9% of a brand's equity is driven by corporate reputation, of which responsibility is a key attribute. Over the last 10 years, the importance of responsibility to consumers in relation to making brand choices has tripled.
The three factors of trust
Brands perceived to be among the world's most trusted and responsible shared three crucial factors that proved particularly important for building consumer trust and confidence, even when a brand might be new to a market. These are:
Honesty and openness
Respect and inclusion
Identifying with and caring for customers
Brands that develop these associations more strongly tend to outperform their competitors in defending and growing their brand value.
Trust both delivers reassurance and simplifies brand choice. There is a growing public demand for more responsible corporate behaviour, which in turn amplifies the need for brands in all categories to act as a positive force in the world. Brands have a unique opportunity to earn valuable trust and help make a difference, providing this is seen to be genuinely altruistic. Being sincere, empathetic and ensuring your brand remains consistent with its core values will ensure your corporate reputation is not compromised.
Top 10 Most Trusted Brands in the BrandZ Top 100 Ranking 2020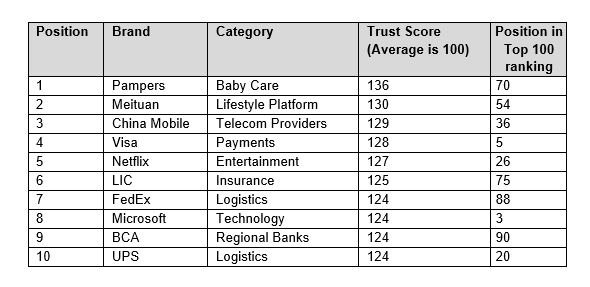 The most trusted brand in this year's BrandZ Global Top 100 study is the US Baby Care brand Pampers (no.70, $18.6bn) with a Trust score of 136 (with 100 being the average) and scores over 120 in every market where it is measured. This exceptional level of trust is driven primarily through its perceived superiority over competitors and relentless technological leadership in its category.
In second place is the Chinese lifestyle brand Meituan (no.54, $23.9bn), with a Trust score of 130, which demonstrated its understanding of consumers' needs and developed a strong reputation for customer care. China Mobile (no.36, $34.6bn) scored 129, Visa (no.5, $186.8bn) scored 128 and Netflix (no.26, $45.9bn) scored 128 to make up the top 5.
Examples of other brands in this year's BrandZ Top 100 Most Valuable Global Brands ranking that have strengthened their trust and responsibility credentials include the Indonesian bank BCA (no.90, $14.9bn) which has invested in digital technology to improve user experience and Coca-Cola (no.13, $84.0bn) which re-purposed its hugely powerful communications network to share helpful information during the COVID-19 outbreak.
These brands highlight how trust can be built with the right combination of brand and corporate marketing, in any part of the world, and in any category.
Want to know more?
To manage and improve your brand's corporate reputation credentials, explore our new custom report available via Kantar Marketplace.