Are you offering a distinctive and ownable brand experience which stands out? Is your experience supporting brand building efforts?
While there is undeniable evidence that great customer experience (CX), marketing and brand strategies have the potential to influence not just sales, but business value and resilience, it is no easy feat for organisations to achieve. In a world where organisations face a myriad of challenges such as increased competition, tighter budgets, digitalisation, and changing consumer needs, we have recognised what it takes to attack these challenges and win.


Whole Brand Thinking: what it is and how it can help you succeed
To build a powerful brand, organisations must use a whole brand thinking approach. This means being commercial enough to engage the C-suite, inspirational enough to break down silos, human-centric enough to ensure relevance to customers, and brand centric enough to retain a meaningful, authentic difference. When combined in perfect harmony, you have a signed-off, well-executed strategy that builds relationships, preference, and advocates who feel a greater connection to your brand. In fact, our BrandZ database has proven that brands that have done this outperform both the S&P 500 and the MSCI World Index.

It is imperative that brands use Whole Brand Thinking to maximise their growth potential and to activate their brand more effectively across everything they do. Doing so will increase their chance of winning the hearts and minds of customers, as well as delivering commercial success.

So, how do you implement Whole Brand Thinking in your business, and turn it from an abstract idea into something that drives action and delivers results? It's an idea we are passionate about and discussed with Annabelle Cordelli (VP Global Marketing, Virgin Atlantic) at the Festival of Marketing earlier in the year. We narrowed it down to three key areas:

1. Find growth by uncovering opportunities
It can be all too easy to feel swamped by customer data, feedback, and reviews. But finding ways to organise the chaos to uncover the main attitudes and trends driving customer behaviour is critical. What are your consumers' existing preferences and influences? Are there any generational differences? What emerging trends, disruptions and macro-forces might reinforce or detract from these customer preferences in the future? The answers to these uncover the opportunities that lie within the needs, wants and expectations of your customers. This becomes critical in the current economic headwinds we are facing. The cost of living crisis means consumer attitudes are changing all the time and factors such as Trust become increasingly important for brands. Our research shows that 49% of people already say the increasing cost of living is impacting them or making them concerned1.

2. Unlock growth by prioritising choices
When you have identified your opportunities, the next step is to prioritise them, and to join the dots, giving them the best chance of success. Ask yourself questions like: how do I improve the strength of my brand to command volume and value share? What are my most valuable customer segments and biggest bets for growth? How do I take advantage of white space through innovation? What positioning will create the most desire and demand for my brand? What is my brand's purpose? This stage enables you to make better choices, highlighting the optimum route for success and defining delivery.

3. Deliver growth by building valuable brands
Only at this point, with these questions answered, are brands best placed to turn their Whole Brand Thinking strategy into reality: to create real-world impact, stand out from the competition, and deliver commercial growth. With Christmas coming up and the economic strain consumers are facing, emotions and expectations are running high. It is more integral than ever for brands to meet these consumer needs and build trust. How you can execute and optimize this, is through customer experience.


Optimising experience through Whole Brand Thinking
CX is the way customers experience a brand across its complete range of touchpoints. From a customer's experience browsing a website for inspiration, to their experience navigating a store, or being on hold to the contact centre, each interaction has the unique power to improve or detract from a customer's overall perception of and preference for a brand.

More than this, a positive customer experience has been shown to have a direct impact on business value (McKinsey, 2020) and is attributed both with driving revenue and saving costs. Not only this, but brands boasting a superior customer experience appear to have license to charge a premium, with 63% of buyers admitting a willingness to pay more for a great customer experience (Salesforce, 2022).

The case for optimising CX could not be clearer. Indeed, here at Kantar, we know the most successful brands are the ones that see every potential customer interaction, across every possible touchpoint, as a unique and precious opportunity for brand building. They see every interaction as a high-potential moment in time, where a customer's need (the human-centric) meets a brand's expression of its own personality (the brand centric).

Customer experience should not exist as something separate to the brand, it is also a brand building opportunity. Applying human and brand centric thinking to your CX enables you not just to meet the needs of your customer but to do so authentically and consistently across touchpoints. At Kantar, we recognise this importance and created our Experience Uniquely Index to track in our BrandZ study to learn more. The index combines data points from four key success measures; meets needs, uniqueness, cares for customers and better online and on mobile.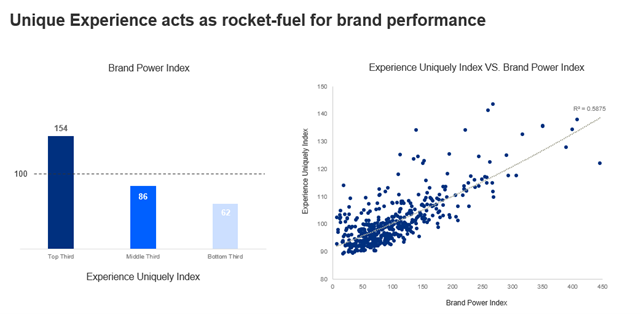 Over time, we have seen a strong correlation between our Brand Power Index and Experience Uniquely Index. For example, in our UK BrandZ 2020 report, only 20 brands achieved an Experience Uniquely index over 120, but they were brands that had an average Brand Power index of 261. As you might expect, the likes of Facebook, Google, Netflix and Amazon are in the mix. But they are pipped to the number one spot by Just Eat. These brands are proving that exceptional experiences supercharge brand loyalty, through a Whole Brand Thinking culture.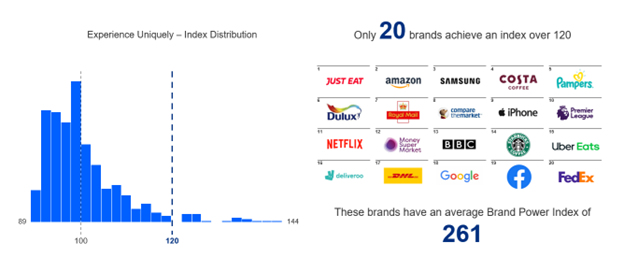 How brands have achieved success through being human and brand centric
It is no surprise that Just Eat ranked top in our Experience Uniquely index, being the brand that still holds the largest market share in the UK (40%) and a brand which generated £4.4 billion revenue in 2021, a 37% year-on-year increase. The app carved a place in the market, offering a relevant and unique experience for customers. Customers can get an instant overview of menus from 34,000 restaurants, search for their favourite cuisine type and read reviews to make sure they are getting a good meal at a good price. They kept close to their customers, being human centric to make sure they are providing customers with what they want. They used their partnership strategy to drive better commercial decisions, such as adding KFC to its delivery service in the UK and Ireland, a great commercial strategy driven from insights that showed KFC as the next most popular fast-food app after Just Eat.

Additionally, Just Eat have invested in the right technical infrastructure to allow staff mobile access for logging information and onboarding customers right there and then offering an efficient, personalised service. The organisation also uses technology to bring the working force together to collaborate effectively. For example, using chatter, Just Eat encourages the sharing of ideas and it helps to maintain the company's unique culture. The company's social network helps Just Eat keep its original brand values and vision alive across the group, all the while helping to become socially aware and build visibility of the most popular restaurants across the network to add to their portfolio. This is a perfect example of a brand that uses Whole Brand Thinking by keeping close to its customers, employees, and its brand vision and purpose.

This Whole Brand Thinking approach also helped us drive human and brand centric excellence within a global footwear and sports apparel brand, which had under-invested in its e-commerce store, and needed to transform it to differentiate from competitors.

The client recognised its e-commerce store was focused on driving conversion by reducing customer effort - to the detriment of its brand - and was keen to deliver an online experience that built brand equity, without diminishing performance. With certain competitors already playing fiercely in the discrete arenas of discounting, brand and commerce experience, the challenge was to seek a sweet spot between all three.

To deliver impactful, actionable insight, we took a Whole Brand Thinking approach, considering how customer experience can both drive overall brand equity and long-term value. We supplemented external data analytics with research outputs (to understand customer perceptions and behaviours), together with a review of internal performance data and stakeholder feedback. As a result, we were able to define the dimensions of customer experience that represent the ideal performance of e-commerce, aiming not just to drive brand strength, but to maximise price point sales and drive conversion and basket size growth, too.

Ultimately, brands exist in the memories and feelings of consumers. It is imperative that brands define their position and their purpose and electrify this through every channel for consumers.
How can Kantar help?
We are uniquely placed to support your customer transformation, combining brand and customer strategy, data analytics, technology and organisational change.
Define your brand's experience
NeedScope
NeedScope provides the direction you need to differentiate your brand positioning and deliver a consistent experience across touchpoints.

Brand + CX Coherence
We connect the dots between brand promise, expectations, CX, brand perceptions and customer behaviour to build a living and breathing CX transformation system that evolves with the constant change around us and genuinely contributes to business growth.


Understand your audience intimately
Real-time CX Management
Capture feedback across touchpoints to engage customers and create memorable, profitable experiences.

Search and social
Anticipate and satisfy demand using AI and human intelligence to analyse social media and online engagement.


Win all moments of connection
Experience and touchpoint design
We collaborate across the business to form a holistic, differentiated target experience that maximises commercial return.

Digital optimisation
In a mobile-first world, performance optimisation has become a business-critical endeavour. We help clients gain competitive advantage by improving the customer experience online.
What next?
Explore our expertise further or get in touch to discover how our solutions can work for you: Costumer Experience.

1 - Kantar Global Issues Barometer - Wave 1