Brands benefit from communication through trusted media forms which deliver heighten authority and credibility, creating a halo effect. But there is a risk. What happens if a media form's audience and trusted status start to diminish? Does the halo effect for brands and organisations reduce as well?
Consumers have an array of options for collecting news and opinions about brands and organisations. Our media world is becoming increasingly fragmented, which means consumers are constantly evaluating existing and new media forms for their relevance and reliability.
We asked connected consumers which channels they choose to go to and whether they trust the information they find. Using this data, we created a trust score to benchmark the engagement power and trustworthiness of individual media outlets. The methodology categorises consumers by the outlets they use and measures the proportion of consumers who trust each outlet as a source of brand information.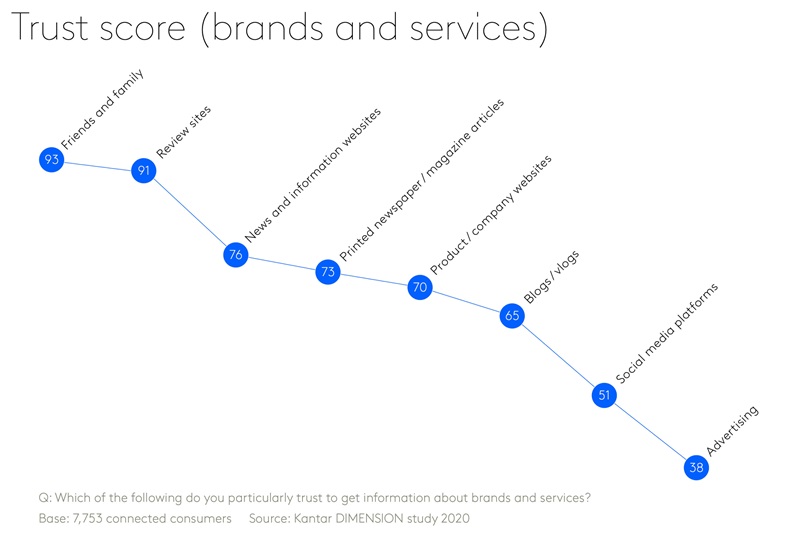 For example, while 60% of connected consumers claim to speak to friends and family to source brand news and information, the percentage saying they trust this means of sourcing brand news and information is actually 56% – leading to a trust score of 93.
Related: Discover the DIMENSION Trust Score by country.
Friends and family and review sites score highest in our trust score -In a world exploding with social media platforms reaching billions of users, people still want to feel confident in their sources of information. Organic communication shouldn't be forgotten. Consumers trust consumers! With more consumer-generated opportunities to reach your audience, PR professionals might consider how they leverage these in their strategies.
Websites and articles are the most trusted mainstream media channels for brand news and information - While only 50% of connected consumers claim to go to news and information websites to research brands and services, 38% of the total sample trust the information they find there (a trust score of 76).
There's an opportunity to drive target audiences to these media forms; once there, the trusted nature of these sites could benefit a given brand or organisation -Communication campaigns are strongest when they reach the audience across multiple channels in a believable and consistent manner.
Different channels bring different benefits, whether that be mass reach, a defined audience or a trusted status - One of the defining characteristics of media is that the relevance of a media source changes depending on context. We are less likely to go to the FT for fashion tips. The best plans take advantage of the halo effect generated by channels most appropriate to the brand message.
Editor's Notes:
Find out more about the fieldwork for DIMENSION 2020.
Click to read Media & Me: Boosting Brand Reputation