With so many options for sourcing information, where do consumers go to find out about a brand, and do they trust the information they find? With the issue of consumer trust now central to many brands' thinking, "where you say" is increasingly as important as "what you say".
We created a Trust Score to interpret the responses of the 8,000 connected consumers who responded to our survey across 8 countries. This score connects the relative usage of certain media forms and sets that alongside the proportion who say they trust that media source for sourcing information about brands.
There's still a degree of cynicism about paid media forms
Our Trust Score finds that there's a degree of cynicism about paid-media forms, like advertising, and the rise in the use of influencers and social media platforms.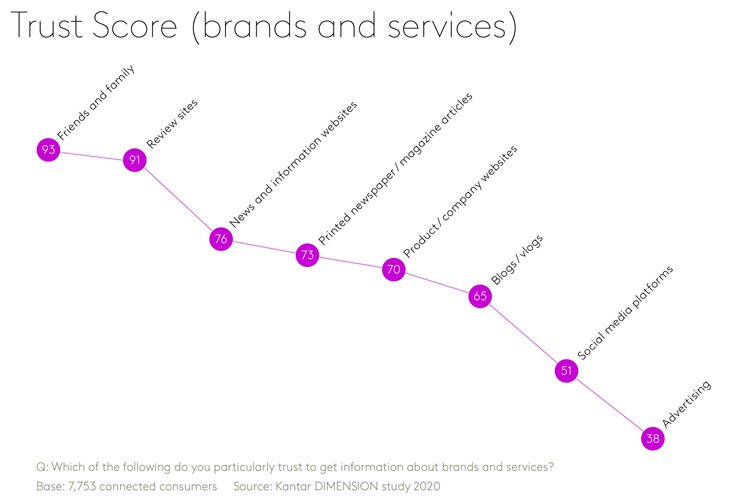 The 18-34 age group have greater trust in advertising on social media platforms.
This could be a result of their greater openness to all media forms.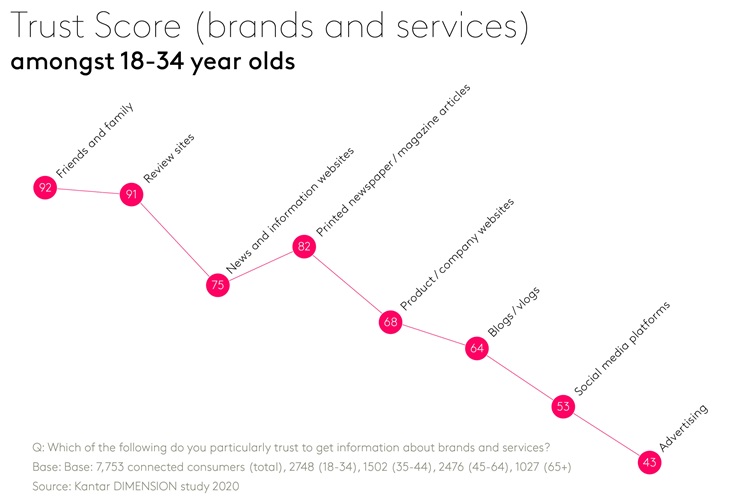 The extent to which a medium can be trusted by consumers is an increasingly important consideration for advertisers, as is how well the medium fits with their own corporate values. Our interviews with business leaders from GSK, Colgate-Palmolive, EDF and Deutche Telecom reinforced this view. It doesn't matter how compelling the data appears – without creative factors, trust in medium and context, consumer trust in brands is very much at stake
It's a fine line between not wanting to interfere in editorial freedom and exercising the advertisers' right to spend their budgets in the most appropriate contexts.
And just as consumer trust is critical to effective advertising, so too is the trust that is placed in the programmatic planning process.
While programmatic systems and data management platforms (DMPs) can help ensure data is used to build the most efficient media plan and with so much data available, it's increasingly difficult for agencies and brands to get the edge on the competition and make an impact. And marketers are increasingly concerned that their partners do not ignore the inclusion of qualitative factors like trust.
Grounded in consumer intelligence, our TGI Audience Activation solution at Kantar bridges the gap between media planning and programmatic media buying. It uses consumer targets and profiles built on privacy-compliant Kantar TGI data and carries them through into the online media activation systems.
Addressable advertising is an inevitable way forward for brands, but there's some way to go in ensuring consumers begin to trust its methods. Avoiding negative trust implications, while pursuing all the positives of relevancy and efficiency is vital to its success.
Find out more about the fieldwork here. To read the full report, click here.