Building and maintaining a loyal audience in the face of intense competition and the wide variety of devices is essential to growth for all TV and video content providers.
Whether streaming services settle on a subscription-only, ad-funded or hybrid model, they need to provide audiences with a good reason to visit them, easy access to see what they offer, and a plan, using identified levers, to convert occasional visitors into loyal subscribers.
Specific new content can deliver audience uplift in the short term, but improving the customer experience will be key to long-term growth.
Room for improvement
Our research across eight markets reveals areas where subscription video services currently fall short in delivering a quality experience to subscribers.
Connected consumers like the control subscription services offer: 68% agree that they value the ability to watch what they want, when they want.
New content is a massive driver: 74% of users agree that they mainly watch new series.
45% of users agree that they mainly watch repeats of favourite shows, vindicating the huge sums paid by platforms for proven properties like Friends or The Office.
When it comes to content discovery though, the picture is far less positive.
Although 68% find the search function easy to use (when they know what they're looking for!), 43% feel they spend too much time searching for something to watch. On balance, users feel the recommendations are not helpful to them, and strongly favour recommendations from friends and family over the algorithm.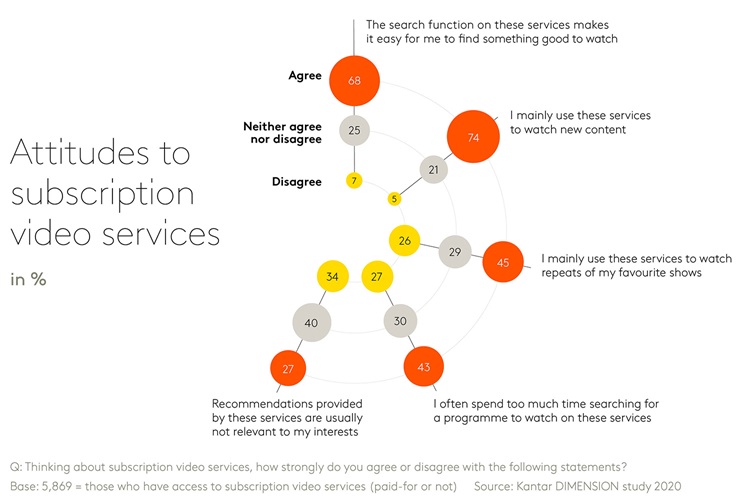 Algorithms only take you so far
The challenge is that algorithms are limited to analysing choices made within a particular service. That's not enough to 'know' the user. Audience insights are needed into how viewers navigate, and choose from, the full spectrum of their entertainment options.
Simple algorithmic recommendations might restrict a viewer to a narrow-interest spectrum based on their previous viewing behaviour within a platform's confined walls. The opportunity to discover relevant, exciting, fresh content can be hidden behind a menu of the tried and trusted.
We need to understand what drives audiences beyond their viewing patterns on on-demand services. Audience segmentation and custom research can significantly enhance media measurement, providing a consumer-focused insight on the 'why' as well as the 'what'.
Disrupt or be disrupted
As the range of content grows ever larger, understanding the audience's evolving viewing requirements, and the ability to offer the right range of options at the right time, will be ever
more important.
The key to growth is constant innovation and creativity, fuelled by holistic audience measurement that gives the 'bigger picture' and fuels technologically sophisticated recommendation engines.
If disruptors don't do more to innovate, not only in enticing new audiences but also in retaining them and fostering loyalty, they will become the disrupted.
Discover more findings from our consumer and leader interviews in our report Unlocking audience growth. This report uncovers important considerations for those striving to build audience 'stickiness' in a complex and disrupted TV & Video market.
Editor's Notes