Nothing sits still for long, and after years of experimentation, fine-tuning and increased competition - not to mention plenty of speculation and denial - the prospect of ads on subscription
platforms is finally looking like a reality. While most companies are now adopting a hybrid model between AVOD and SVOD, we have decided to cluster them based on their predominant model.
It's just that reality is unlikely to end in the way many people imagined, especially those commentators who assumed SVOD would need to adopt the pay-TV model. In fact, the entire concept of ads is a deeply complex issue and requires some careful unpacking, particularly as different parts of the market head in different directions.
It is the SVOD platforms, however, that face the biggest challenges - as detailed in The Future Viewing Experience report. Operating in a saturated market, they have more recently felt the bite of subscriber churn and consumer price inflation as COVID restrictions ease. Consequently, they are reappraising some of the assumptions that fueled their original growth.
For those platforms operating unique models, such as Amazon Prime Video and Apple TV+, which use VOD to drive broader aspects of their businesses, it's perhaps not an immediate concern. Whilst YouTube has already pivoted from promoting a subscription-funded tier to redoubling its focus on an ad-funded model.
However, Netflix and Disney+ have now said they will introduce ad-funded tiers to attract or retain price conscious subscribers.
Understanding viewers
Data from Kantar's Entertainment On Demand tracker shows the average US home had 3.9 SVOD subscriptions in Q4 2021, paying a total of $49 a month.
Meanwhile, data from
Norway - one of the most advanced measurement markets in the world
- shows the tight overlap in weekly usage in the key 20-39 demographics between SVOD, AVOD and BVOD. This gives a picture of a fiercely competitive, saturated market that is costing subscribers a not insignificant amount during a period of high inflation. That certainly risks driving churn, and so a low cost or free tier is going to be attractive to a good proportion of subscribers.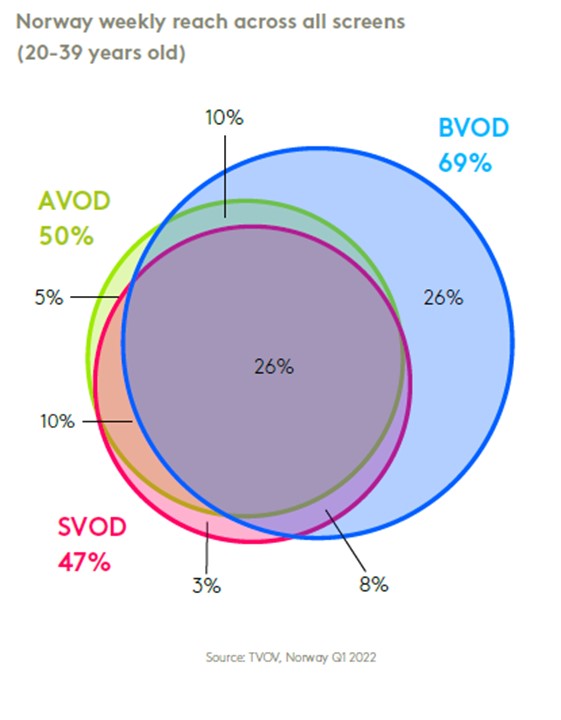 That said, cost might not be the sole driver for ending a subscription; as restrictions continue to ease we could expect the market to recalibrate as people swap sofas for other activities, so platforms might be overacting, or misattributing the cause for some churn.
The advertising market
Meanwhile, if subscribers are spending less on other products and services, that puts pressure on media budgets - so the media owner fight for adspend could certainly grow intense. For platforms new to advertising, that is a tough problem to have in what is a highly developed ecosystem.
And this will be compounded by a much deeper issue: those who can afford an ad-free subscription are - by and large - more desirable to advertisers as they have higher levels of disposable income. Yet they're going to remain more difficult to reach.
Further product placement opportunities could be made available and, with impressive developments allowing for dynamic placement on the cards, could certainly offer something more impressive than the status quo.
Advertisers and their agencies will want to see ad exposure through these means measured to the same standards, further cementing the need to leverage independent industry measurement.
The headache of implementation
The real meat of the issue, however, is understanding how to actually deploy a system that offers both subscription and ad-funded tiers without damaging or cannibalising the core proposition.
For example, Netflix's user experience is the result of years of experimentation. This has also helped the platform produce content outside commercial break slots and cliff-hangers - and has often produced slow-burn shows that have resonated with viewers and helped drive subscriptions - particularly in markets like the US with high ad saturation.
Unless Netflix plans to change this, that either confines ads to pre and post-roll, or means they have no natural place within the content, which could pose a clunky ad experience.
In the meantime, perhaps platforms might consider an alternative option entirely, and experiment with a freemium model; giving away older content and perhaps a limited number of series and use that as a gateway to a full subscription.
Broadcasters continue to unveil expanded business models
Meanwhile, moving in the opposite direction entirely, a number of broadcasters - such as ITV in the UK, with its highly publicised ITVX - are now launching their own ad-free subscription tiers.
This suggests the market is entering a new period of hybrid models. The interesting question will be whether it is safer to start with an ad-funded proposition before moving to subscriptions, or the other way around?
The continued rise of AVOD
In the meantime, AVOD services, or Free Ad Supported TV (FAST) in the context of Smart TVs, continue to grow, suggesting there's still much to play for, especially for shorter-form video.
The AVOD market is certainly buoyant with services from Amazon's IMDBTV, Pluto TV, Rakuten, Tubi, Xumo, Plex and Roku all offering box sets and new series all funded by advertising. The same is increasingly true for smart TV manufacturers, who have the benefit of owning the device.
Naturally, this complicates things further for Netflix and Disney+. Yet if they can produce something as good as their core subscription offerings, and overcome the challenges outlined here, then the market really could be facing an interesting future - and that could, ultimately, benefit viewers, advertisers and platforms seeking new growth.
Unlocking Audiences
The final piece of this complex puzzle, of course, will be the role of cross-platform audience measurement - because only through insight will platforms correctly calibrate hybrid monetisation strategies.
Indeed, as the competition intensifies - for both eyeballs and adspend - there will be a growing need to understand the entire market and not just previously gained or surveyed territory.
First-party data will always be valuable, but alone can only offer a partial view.
To truly understand what is going on and how to respond, it must be used in conjunction with much broader third-party data - that way businesses will better understand the full competitive context that is set to define the future viewing experience.
Download The Future Viewing Experience report here