Celebrities in advertising are not a new concept to the marketing world, and now more than ever make up a large part of the creative ads across platforms. They are used in advertising for many reasons – to distinguish the brand within a category, to create a cultural link between the brand and the recognizable character, and to show viewers that brands are endorsed by highly influential people. Choosing the right celebrity for your ad can be hugely valuable, particularly when they are used correctly and throughout the campaign. Celebrities are even more effective when used alongside branding devices and in a long-term partnership with a brand, creating a brand identity revolving around the figure. George Clooney has built a brand empire with his Nespresso partnership, and Sofia Vergara, known for her silken hair, had a lasting impact when she promoted P&G's Head & Shoulders brand.
The power of celebrities across integrated campaigns and with other devices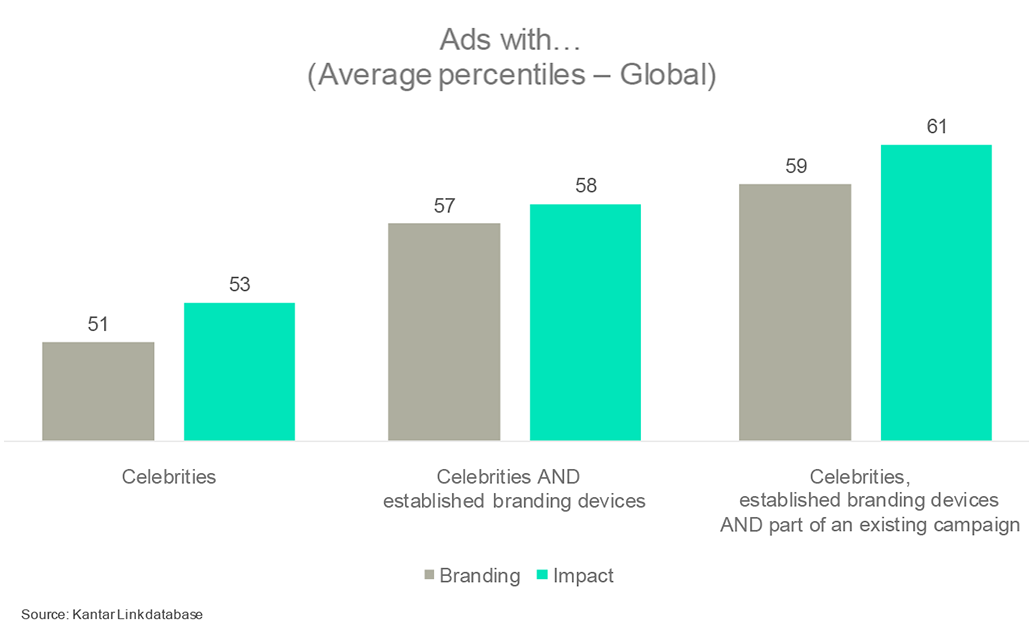 Previous research has even proven that celebrities who fit well with the brand tend to have a bigger impact on brand equity and sales, so we know how worthwhile it is to include these culture icons in creative activations. Celebrities can even help deliver creative and effective ads across media. The Kantar creative and effectiveness awards this year featured award-winning celebrity ads in digital (Daniel Ricciardo for Heineken 0.0), in TV (Esther Vergeer for Calvé) and in print (Mads Mikkelsen and Sofia Boutella for Occhio).
Defining a celebrity has become more challenging though as the landscape has broadened – now celebrities are creators, bloggers, and even people related to celebrities, so it's key for brands to keep a pulse on always-evolving pop culture references.
Knowing when to stick or twist
While celebrity endorsement has been a consistent feature of the marketer's toolbox for some time, the challenges brands face when something goes wrong with their affiliated celebrity are evolving. With so many emerging channels and fragmented sources of information, potential bad news stories can seemingly come quickly from nowhere. As well as traditional proven or unproven accusations of illegal activity, brand's increasingly also need to contend with cultural conflict. In the famous case of Colin Kaepernick Nike took what many perceived to be the correct moral stand and benefited but other brands have not emerged so successfully from their endorsement deals. If you've spent the time nurturing a strong celebrity relationship though the last thing you want to do is squander all that equity at the first sign of scandal or cultural conflict. Survey testing like LINK+ will give you a wonderfully in-depth diagnosis of how a celebrity is or will work for your brand when you are planning a new campaign or change of direction but sometimes the pressure to act will come on quickly. This is just one of the many situations where using a combined survey and AI approach to your ad testing can pay dividends.
What does this mean for creative testing?
The impact of celebrities within advertising has long been something which Kantar has studied and diagnosed in survey-based ad testing. Celebrity recognition, brand-fit and perceived celebrity image associations are optional diagnostic metrics available within Kantar's highly flexible LINK+ creative testing surveys.
With machine learning technology, we can now also deliver predictions of an ad's effectiveness and evaluate the impact of a celebrity appearance in as few as 15 minutes. Link AI can identify recognizable people directly from the facial recognition modeling phase, one of the 20,000 features Link AI factors into its predictions. Marketing managers and creative evaluators who want creative testing at scale can leverage Link AI to pre-test their ads, now inclusive of this celebrity recognition enhancement which not only identifies the celebrity, but also incorporates search volume (to account for their relative fame) and the person's past relation to the brand (to account for brand fit). This can be invaluable context whether you are responding to a crisis or not. No extra inputs are required besides the video and some brand information – the machine is trained at a global scale to compare against the internet's array of celebrities, athletes, singers, and creators with a big enough following.
The addition of this celebrity recognition feature significantly improves the Link AI effectiveness predictions. For one recent global ad with a long-standing celebrity partnership, the branding percentile prediction improved 55% when accounting for the fame and fit of the celebrity. This brand typically scores in the 70th percentile in Link tests for branding, further proving the value of the celebrity-brand partnership. Not only did this ad have a celebrity as the main character, but the character has a strong relationship to the brand so the branding score improvement reflects the brand-celebrity linkage made by the machine.
How can you get started?
Request a Kantar Marketplace demo today to learn more about how Link AI testing with celebrity recognition can help you create stronger ads.