This update is our third in an ongoing series, published when the trends in the data shift.

For the broader context on why we and our clients are looking to confirm the stability and health of Twitter data, and previous updates in this series tracking these changes, check out our initial update here.

Methodology
For this third update, we are continuing to track whether there has been any substantial exit of influential accounts from the platform. Using our custom tech stack, we connected to Twitter's API and built a full list of all verified accounts before the changes to the verification system. There were ~408,000 "Pre-Elon Verified Users", including brands, politicians, journalists, celebrities, and other influential individuals across the world, on Nov 7th, and we are now able to compare that initial snapshot to the activity and account details of the same users in future periods to track deactivated or newly inactive accounts.

We are also including data from our partner SimilarWeb on website traffic to Twitter.com. While website traffic does not include mobile app usage of the platform, it is an indicative time series indicator for general population usage of the platform, to help corroborate the trends we see in active usage from verified users.

January 2023 Update
After three months of Elon Musk's ownership of Twitter, there has been significant upheaval, change, and criticism, but the users have not left the platform at any meaningful scale. As of January 23rd, 95% of Twitter's core verified users (the group of accounts verified by the platform before Elon acquired it) are still actively using the site and posting new content.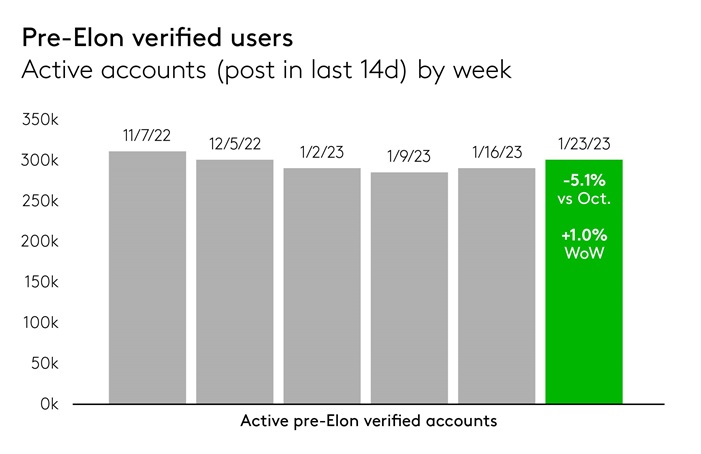 While a slightly larger share of verified users dropped off of Twitter during the holidays –bottoming out at -7.7% below baseline on Jan 9th using a 14-day activity window – their usage has rebounded since then. With only a 5.1% loss of active users from the verified core so far, and momentum suggesting a plateau in the medium-term, Twitter's usership appears to be remarkably resilient throughout the chaos.




This pattern is corroborated when we cross-reference with site traffic data to Twitter.com, which shows only a 2% drop in site traffic to Twitter.com year-over-year. The figure above shows daily visits to Twitter.com in January 2022 and 2023, which show no significant decline as of yet.

While users are sticking with Twitter for now, many major advertisers are not. Recent Reuters reporting on Pathmatics analysis showed a 42% decline in Twitter advertising spending from the platform's top 30 advertisers. While digital ad spending has declined for many platforms recently, that decline far outpaces the industry. Based on the statements from many marketing leaders, the pullback in Twitter ad spending is rooted primarily in concerns about brand safety on Twitter since Elon Musk's changes to content moderation policies, and only secondarily in concerns about users abandoning the platform.

The gap between a ~40% drop in ad revenue and only a 2-5% drop in user activity suggests that Twitter's audience could be an undervalued asset at the moment. If Elon Musk and his team can rehabilitate the image of Twitter and convince brands that they can safely advertise on his new version of Twitter without risking their reputations, revenues could rebound quickly. After the past 3 months of courting controversy though, that could be quite a task.

Next Steps
Given the ongoing changes to the platform, Kantar's Dx Analytics team will continue to monitor Twitter and identify any issues with its usage for consumer insights and strategic research.

If you have any particular questions related to this topic and would like to connect with Kantar's Dx Analytics Team team on our solutions please get in touch here.