Modern recipe needs new age ingredients

The decline in traditional TV viewership is nothing new. This has opened new avenues for advertisers to look at alternate ways of engaging with their ever-evolving audiences. Today's online video (OLV) platforms provide a new way to deliver video consumers video ads of 15 seconds or longer.


Engaging at the right moment is key

Meta has intensified its efforts to promote OLV via Facebook in-stream ad placement. Facebook In-stream ad is a video ad, usually 15s long, inserted in the middle of premium video contents on the Facebook Watch tab. It works as an opportune space because this is also the time when viewers are most interested in the content, guaranteeing high-quality exposure to a group of highly engaged viewers.

In this article, we reveal the brand-building effectiveness of Facebook In-stream and contrast that with the same ad being served on a leading online video platform.

Methodology

Using Kantar Context Lab, ten campaign ads across Asia Pacific (APAC) markets were tested. To avoid any creative strength differences and correctly test the effects of various ad formats, the same video ad, with varying dimensions, was put on Facebook In-stream and the leading online video platform.

Consumers are split into Control vs Exposed groups. Different exposed groups will be exposed to a simulated mobile environment of Facebook and the leading online video platform, respectively. All respondents are instructed to browse the platform assigned to their group. Those in Exposed groups will see the ad through the session. Control groups will not see the ad. After a certain amount of time, respondents are prompted to reply to a series of questions about brand metrics like Awareness, Associations (message and brand attributes), and Purchase Intent. We recorded that the platform's ad has a brand lift if there is a statistically significant difference between the outcomes of the Control and Exposed groups. The brand lifts between two platforms are then compared to determine whether there was a statistically significant difference in impact.

Key insights

The findings of the study demonstrate Facebook's strong potential to provide brand impact through its in-stream ads.


Facebook in-stream ads, when used as standalone placement, can drive comparable upper-mid funnel brand impact versus the leading online video platform (LOVP) ad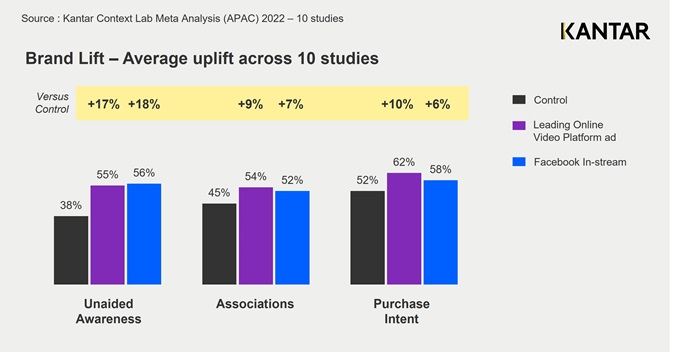 Unaided Awareness significantly increased (+17 points) for respondents who were exposed to Facebook In-stream compared to the Control group. This result is comparable to that of ads on the LOVP, which witnessed an increase of +18 points.

In terms of driving mid-funnel Associations metrics, Facebook Instream-ads also produced positive impact comparable to LOVP. Specifically, Facebook Instream-ads increased Associations by +7 points (compared with +9 points of LOVP).
Brand impact multiplies by 1.5x across upper and mid-funnel metrics when Facebook in-stream ads is added on top of signature product Facebook Feed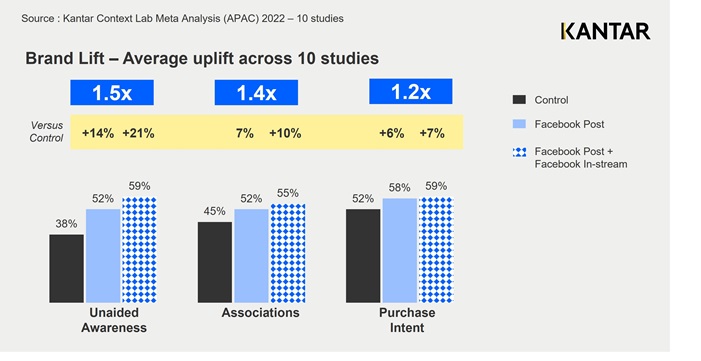 The Facebook sponsored post ad, also known as Feed, is well-known to most advertisers because it is Facebook's flagship offering. The less well-known Facebook In-stream ads can give up to 1.5x higher impact when combined with Facebook Feed. In particular, Unaided Awareness uplifts increase +21 points on average when Facebook In-stream ads is added to Facebook Feed, versus +14 points from the Facebook Feed alone. Associations improve when using Facebook Feed and In-stream ads combination as well, averaging +10 points compared to +7 points from the Facebook Feed alone.


The strong combination of Facebook in-stream ads and signature Facebook post can outperform similar combination of ad formats in the LOVP in driving upper-mid brand KPIs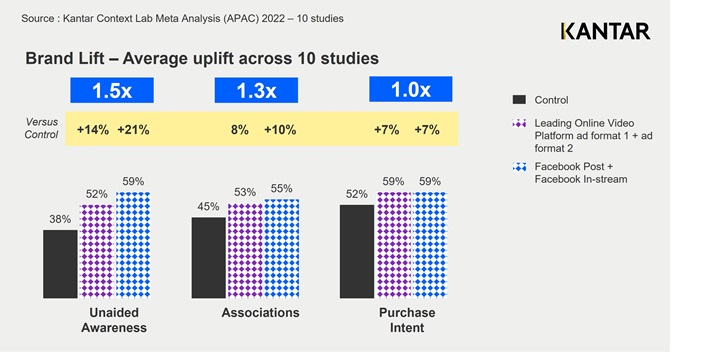 We compare the combination of two ad placements on Facebook (Feed and In-stream ads) and compare results with similar placement combination on the LOVP in double exposure setups. We found that Facebook is more effective than LOVP in boosting Unaided Awareness and Associations, while on-par with LOVP in Purchase Intent effectiveness.

Specifically, for Unaided Awareness, Facebook double-placement exposure drives +21 points on average as opposed to +14 points from the double exposure on LOVP. The LOVP boosts Associations' score by +8 points, while Facebook adds +10 points. Each platform increases purchase intent by +7 points.

Conclusion

Deliver maximum impact by utilising Facebook's unique offer of Feed and in-stream ads placements to serve online video ads

It has become more important for marketers to offer ads via online channels as TV loses its advantage in reaching large audiences, especially younger ones. The takeaways from this meta-analysis make it very evident that among the several online platforms used to distribute video ads, Facebook is an effective platform that marketers should be utilising. It is important to keep in mind that combining Facebook In-stream ads with Facebook Feed ads is likely to have the strongest impact.