Digital media optimisation
Boost digital ad performance across media placements with Context Lab.
Available as an automated, serviced-only solution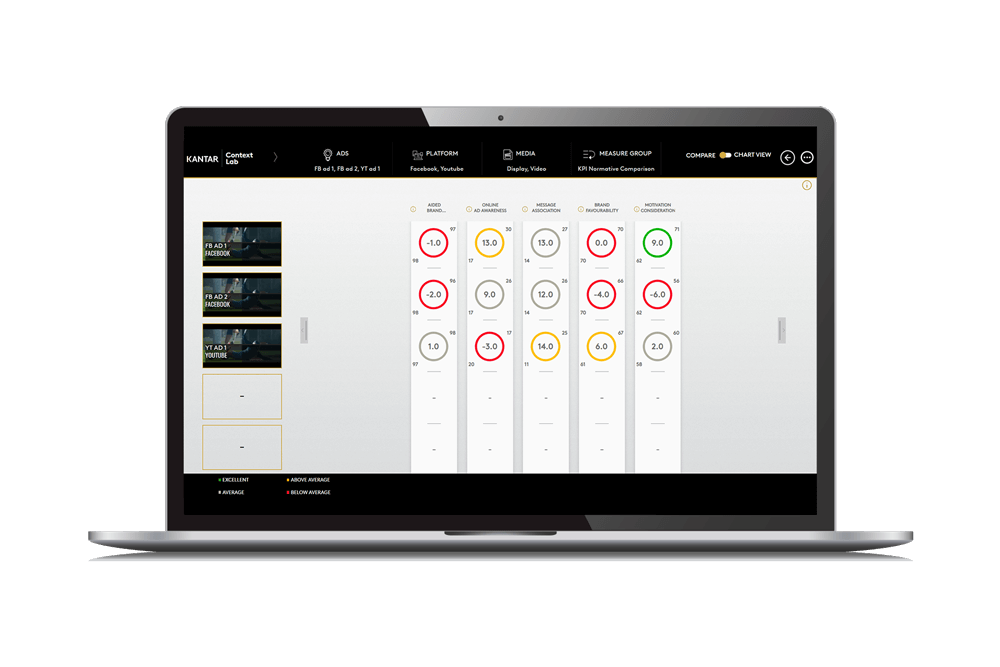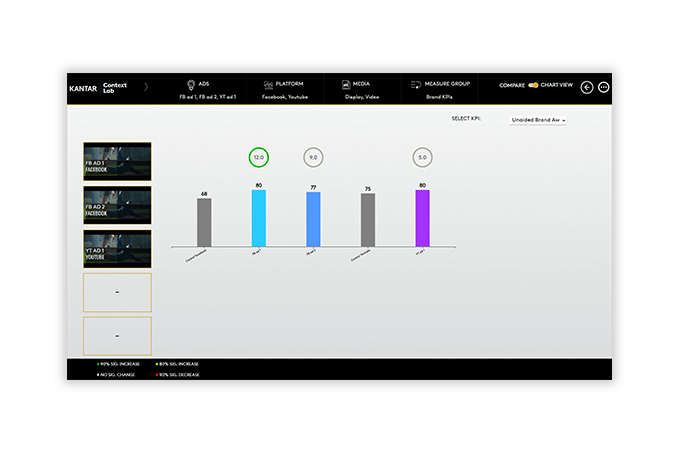 Understand ad performance across media placements.
Test multiple ads to understand which digital ads perform best on a given channel. Or look at a single ad on mobile or desktop to assess whether it will perform effectively across channels.
Our control versus exposed design helps you quickly measure the contextual impact of exposure to an ad so you can adjust campaigns in flight. Available for: YouTube, Facebook, Instagram, Twitter, TikTok, YouKu, and custom contexts.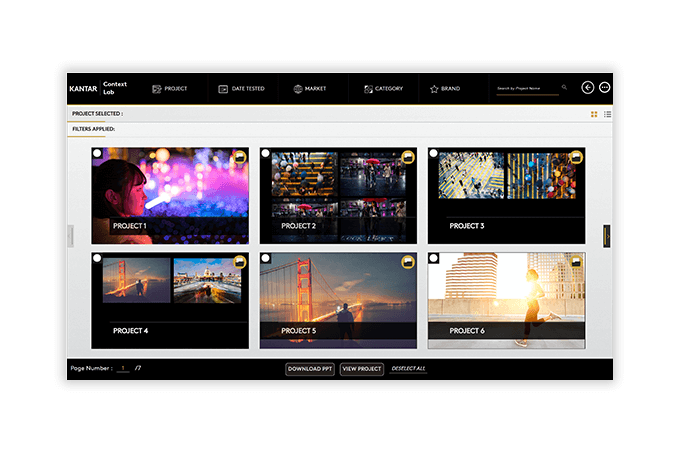 Get contextual data around how your ad will perform.
Each digital ad format has subtle differences that can have a big impact on performance and consumer perceptions of your creative. With Context Lab, you can test everything from Facebook and Instagram stories to non-skippable YouTube ads and influencer content.
Context Lab is also the only solution on the market that allows you to create your own custom contexts. This allows you to assess creative performance in context on smaller, regional platforms as well as publisher formats.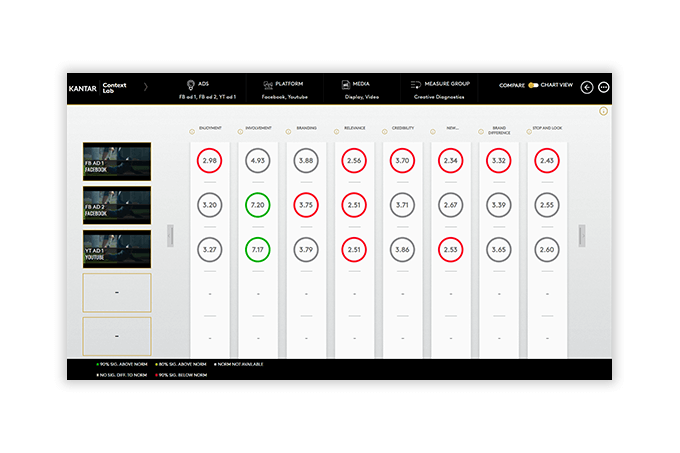 Uncover which aspects of your creative are impacting brand lift.
Gain insight into the strengths of your digital ads so you understand the 'why' behind your performance metrics.
Look at a breakdown of performance on a variety of dimensions, including enjoyment and stopping power, as well as versus our norms. Added behavioural metrics such as video play and skip rates also provide a view of engagement with your creative.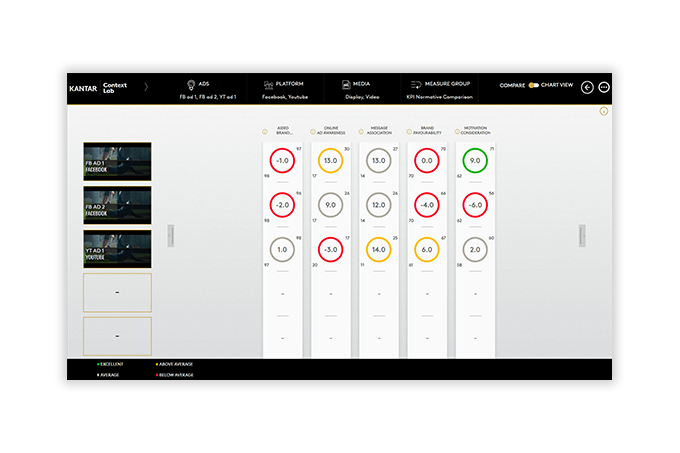 Make your ad spend go farther.
Digital media moves fast. Context Lab helps you quickly gain a contextual understanding of your media effectiveness so you can use your budget more efficiently.
Plus, there's no need to wait for your campaign to finish to begin your study. Test ads pre, during or post campaign, so you can adapt your media plan with the speed your business demands.
Media effectiveness, delivered at the speed of business
Remarkably fast
Optimise campaigns with a contextual understanding of ad performance. Get feedback in as little as 1-2 days so you can quickly adjust spend, if needed.
Powerfully simple
View your results in an intuitive dashboard that lets you quickly analyse campaigns so you can reallocate spend if needed. Or, export to PowerPoint for easy sharing.
Actionable insights
Capture true response to your ads by looking at behavioural metrics and creative diagnostics that help you understand what's driving brand lift.
Proven methods
Context Lab studies are backed by extensive research expertise and a rich database of 20,000+ campaigns, so you know you can trust the results.
How to get started with Context Lab
01
Create an account
Use your Kantar Marketplace account to request studies when you need them.
02
Launch your study
An expert will contact you to set up your study based on your precise needs.
03
Get results fast
View and analyse your results in a convenient dashboard, plus work with an expert who'll help you interpret the findings.
Pricing
Factors that may impact final price include:
Number of media platforms tested
51 markets
Argentina, Australia, Austria, Belgium, Brazil, Canada, Chile, Chinese Mainland, Colombia, Costa Rica, Croatia, Czech Republic, Denmark, Dominican Republic, Ecuador, Egypt, Finland, France, Germany, Greece, Guatemala, Hong Kong, Hungary, India, Indonesia, Italy, Japan, Kenya, Malaysia, Mexico, Netherlands, New Zealand, Nigeria, Norway, Panama, Peru, Philippines, Poland, Romania, Saudi Arabia, Singapore, South Africa, South Korea, Spain, Sweden, Taiwan, Thailand, Turkiye, United Kingdom, United States of America, Vietnam
Contact us to get started