Brand growth is a challenge even in a year without turmoil; on average, only 6% of businesses achieve it. When COVID-19 struck, survival superseded growth as the main objective for most. But what if COVID-19 could instead serve as a silver bullet for acceleration?
The ways in which you assess your brand's place in the evolving world, simulate the outcomes of your different spending scenarios, and attest the effectiveness of your creative are all determining your path to survival, or even growth. Now is the time to transform the ways you track your brand, as while the pandemic certainly brings challenges, it also brings growth opportunities – for those ready to seize them.
We are living in a Brave New Reality – one of the four scenarios we envisaged back in March, and the one we labelled the most likely – where our society has adapted to life with COVID-19. Most people respect restrictions, track their movements and have developed new habits of working from home, travelling far less, socialising in moderation. Many activities have moved online (from piano lessons to exercising) and most occasions have moved into the home (creating #zoomfatigue). In particular, ecommerce has pivoted into the spotlight, jamming 10 years of change into 10 weeks.
Within this Brave New Reality for all, three striking truths demonstrate the flaws of traditional brand tracking, urging marketers to turbo-charge an overdue transformation. Below I will assess the first truth (look out for articles in the coming weeks that will address the other two truths), and share the latest solutions within our brand guidance systems that can help you with this challenge.
'Search' is now a mandatory component of your brand tracking
As different countries move in and out of lockdown mode, 'search' has turned into our new bricks and mortar. For the consumers, it's a trade enabler; for the brands, a thermometer of brand salience.
The fact that mental availability is a fundamental driver of growth is of course nothing new. In 2019, Stackline declared that "64% of any sales start with a branded search". During lockdown or semi-lockdown, branded search and the significance of brand salience have become increasingly important. The noteworthy shift to digital commerce has resulted in an increasing reliance on digital search, so brands that come to mind first, or trigger an instinctive positive reaction (i.e. consumers' predisposition) in search results, have a clear advantage.
So, how strong is the link between predisposition and sales? Imagine it as a shared space brands occupy in our mind. The brand with the most space increases its chances of being bought, and this is how we bring it to life in our brand equity deep dive research module. So much more than brand awareness or consumer attitudes, predisposition creates a mental shortcut, freeing consumers from thinking through each decision thoroughly every time. Although just one of the many layers leading to sales, predisposition has come in the limelight recently because of its direct relationship with share of search.
Share of search is debated in the industry as a promising predictive metric for a brand's market share, and possibly as a potential metric to replace the difficult-to-calculate share of voice.
Search's superpowers are certainly now revealed, as the industry acknowledges that it has a lot more to offer than simply telling us which brands are searched for the most. If you are searched you come to mind, and if you come to mind, you become relevant in a purchase situation. By comparing your share of search to your share of market, you can identify whether you are generating relevant search interest relative to the size of your brand, as well as how it's been changing over time. And this is exactly what you can do with our search pressure analytics app. Far from offering a plain count of searches, you can detect:
Whether your brand is generating enough search interest (share of search vs. share of market),
Your brand's momentum (change in share of search vs. change in share of market),
How much brand interest you are generating with your media spend (change in share of voice vs. change in share of search).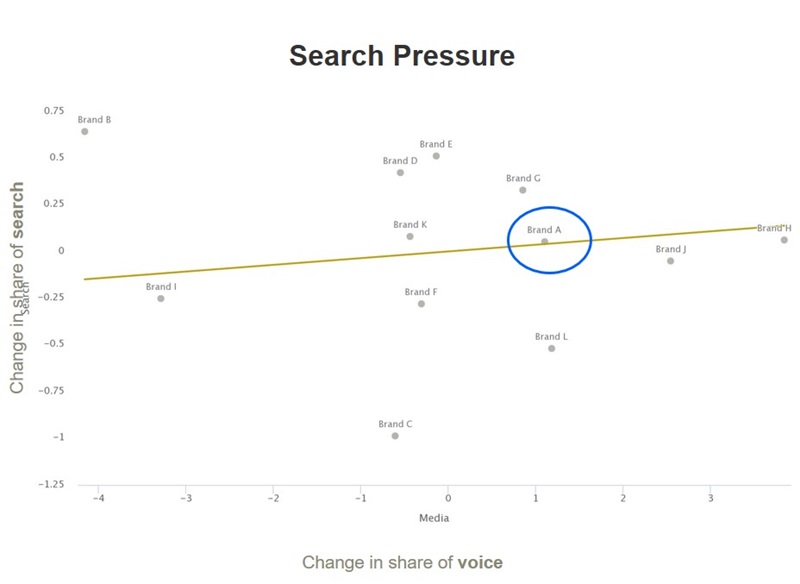 Search pressure | For Brand A, the campaign investments are generating interest in the brand at the expected rate.
Predisposition is nothing without conversion
Predisposition alone doesn't guarantee a sale, of course. The many conversion opportunities along the path to purchase are like gold dust during COVID-19. If they are not identified, nourished and activated upon, they turn into missed opportunities – sales leakages in favour of your competitors. Our shopper activation solution alleviates this risk by helping you maximise brand conversion on your consumers' (existing or new) path to purchase, and by alerting you to your competitors' conversion successes. Using this solution you can develop a strategy to unlock share, by first diagnosing any loose ends on the consumer journey that disrupt consumers' desire to purchase your brand. Then, through an activation workshop, translate these insights into tangible marketing actions around your best brand conversion opportunities to grow market share.
The awakening focus on salience, search and online touchpoints is linked to the pandemic and the accelerated use of ecommerce, which continues to rise month after month. It's widely acknowledged that online spending will continue to increase. But when it comes to action, Kantar's Global Compass study shows that only half of global brands are increasing their ecommerce focus and only 25% are introducing online capabilities. It's also worth noting that none of the above is relevant if your website takes more than three seconds to open, in which case half of your consumers will abort, prematurely exasperated.
Look out for our upcoming articles on the two other marketing truths that call for a transformation in brand tracking and brand decision making, in order to protect and grow during the pandemic. In the meantime, if you'd like to find out more about how Kantar's brand guidance solutions can help you identify opportunities for your brand during the pandemic, please do get in touch.