Retail and telecom brands have outperformed most other categories and seen their brand value increase in the 2020 BrandZ™ Top 75 Most Valuable Indian Brands ranking, released today by WPP and Kantar. In challenging economic and social conditions created by the global pandemic and a pre-COVID-19 slowdown in the Indian economy, brands have to adapt quickly, with innovation and agility helping to fuel growth.
This year's ranking was worth $216 billion in brand value, a decline of 6% over last year, driven largely by a slowdown in the brand value of companies in the banking and automotive sectors. Despite the overall decline in brand value of the Top 75, 26 brands increased in value and five were new entrants. India's top brands also performed well against other countries where declines in total brand value were much greater.
Retail shows resilience
The retail sector in particular has adjusted to the needs of shoppers restricted by lockdown measures. Reliance Retail (+102%, no. 25, $2.3 billion) was the fastest riser this year, up 30 places, with telecom brand Jio (no. 7, $6.9 billion) contributing to the overall success of the parent company. The largest retailer in India, Reliance Retail has invested in its digital commerce capabilities, comprising JioMart's online B2C business and the kirana digitisation programme, with plans to digitise five million kirana stores by 2023.
Online retail brands, Flipkart (no. 8, +40%, $6.5 billion) and D-Mart (no. 16, +38%, $3.3 billion) also saw their brand value increase significantly, while instant food brand Maggi (no. 23, $2.5 billion) had one of the highest brand value growth figures (46%) this year.
At-home entertainment drives a telecoms surge
For millions of Indians who stayed at home during the crisis, telecom providers have supplied a much-needed lifeline and fulfilled a growing demand for data-driven services like online gaming and media streaming. Airtel (no.4, +36%, $13.9 billion) was the top telecom brand, while Jio saw its value increase 26%. One of five new entrants, BSNL (no. 75, $583 million) also benefitted from the overall uplift in the telecom category, which contributed $25.5 billion to the ranking this year. As the sector continues to consolidate, local players will become more important and will need to continue to innovate for future growth.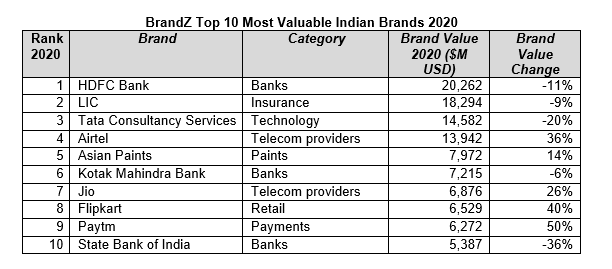 Agile brands emerge stronger
HDFC Bank was India's top brand worth $20.3 billion, claiming the no.1 spot for the seventh consecutive year, and contributing to banking being the leading category in this year's ranking worth a total of $42.1 billion in brand value. Consistent in its financial performance and customer experience, the bank was also ranked no. 59 in the 2020 BrandZ Top 100 Most Valuable Global Brands report.
Brands globally are being tested by the pandemic, especially in countries such as India where the economy was slowing down prior to COVID-19. Many Indian brands have risen to the challenge and demonstrated their ability to innovate and adapt in ways that are world class. The BrandZ analysis proves conclusively once again that companies who invest in brand building are better placed to survive such challenges and come out stronger.
The performance of retail, telecom and FMCG brands has shown that being agile in times of crisis is critical for growth. Brands need to constantly innovate in order to survive and re-purpose themselves for the future, or risk being left behind. Those brands who continue to drive transformation, not just digitally, but in the total experience they deliver to meet consumer needs, will create opportunities to increase their value in the future.
Other key trends in the BrandZ™ Top 75 Most Valuable Indian Brands Ranking, include:
The 'lipstick effect': Newcomers included personal care brands, Dove (no. 61, $847 million) and Close Up (no. 69, $663 million), which benefitted as consumers, unable to spend on luxury items, such as holidays during an economic downturn, treated themselves to small luxury personal care items
Trusted brands have weathered the crisis better than brands with a low trust index. In a category where it is difficult to gain consumer trust, Airtel bet on its brand strategy of being open and transparent. It is now one of India's most trusted brands and grew 36% in its brand value over the past year
Innovation keeps it fresh: Despite the paints industry struggling in India, top 5 brand Asian Paints (no. 5, $8.0 billion), grew its brand value by 14%, by focusing on meaningful difference, communications and innovation. The market leader, it has successfully brought out new products, while building a strong distribution network and raising its profile among key influencers like architects and professional painters
Brands with a strong purpose drive growth, particularly during challenging times. BrandZ analysis shows that consumer expectations of brands to act more responsibly have tripled in the last 10 years and this year's ranking demonstrates that Indian companies are striving to deliver better products and services, which contribute positively to people's lives, the environment and wider communities.
The BrandZ™ Top 75 Most Valuable Indian Brands report and ranking and extensive analysis are available online here.