The International Monetary Fund is predicting growth of 6.1% for India in 2023, putting the country's growth well ahead of its neighbours, but also much of the rest of the world.
Since 2014, the top 50 most valuable Indian brands have increased almost fivefold in value, from $70bn to $340bn in 2023. Highlights from this special 10th anniversary edition, which is based on the opinions of more than 125,000 consumers about 1,500 brands across 106 categories, reveals:

- Tata Consultancy Services is the most valuable Indian brand for the second consecutive year, with a brand value of $42.9bn.

- HDFC Bank ($33.6bn) is the second most valuable brand, with Infosys (No.3; $24.2bn), Airtel (No.4; $22.5bn) and State Bank of India (No.5; $14.5bn) completing the top five.

- The largest category by total brand value is Financial Services, worth $108.2bn; Axis Bank (No.17; $5.6bn) is one of the top 10 risers.

- Digital payment app, PhonePe (No.21; $4.5bn) is the highest newcomer, followed by fintech brand, Cred (No.48; $2.0bn), photo and video sharing app, ShareChat (No.67; $1.3bn) and entertainment platform, Star (No.71; $1.3bn).

- Indian brands that do best at justifying their pricing, and even justifying a premium, are those that strike consumers as being truly distinctive.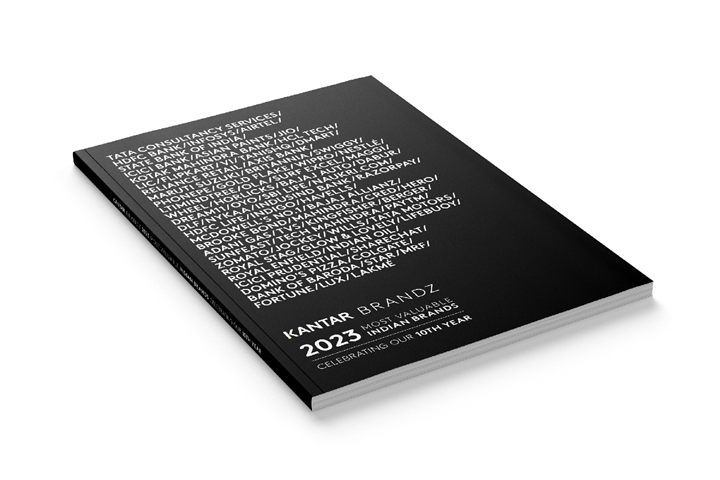 Discover how India's top brands are investing in building equity to create future demand. 
Download the report
Infographic
India's Top 75 brands have a combined brand value of $379 billion, a decline of 4% from 2022 – a modest decrease given the ongoing economic volatility across most of the world. This is testament to Indian brands' resilience, stability and consistency. Explore the highlights from the report in the infographic, featuring the top 10 most valuable Indian brands, category overview, newcomers, brands re-entering the ranking and more.
Video
Watch the countdown video and discover the full list of the top 75 most valuable Indian brands of today. The companies behind India's most valuable brands have consistently outperformed the key market indices – the SENSEX and the NIFTY50 – with share price growth over 10 years of 99.6% compared with 83.2% and 81.7% respectively.
Methodology
To be eligible for inclusion in this ranking, the brand must have originated in India, or its corporate parent must be listed on a stock exchange in India. Indian unicorn brands must have their most recent valuation publicly available. Learn more about the methodology behind Kantar BrandZ brand valuation rankings in this video, which presents the three-step process, which combines financial value and brand contribution to determine a brand's value.
Discover your top brand equity indicators in seconds with Kantar BrandSnapshot powered by BrandZ.
Explore for free