Consumers face an overwhelming range of choice in many categories. The alcohol category is no exception. Go to any liquor store, bar, or restaurant and you'll know what I mean. The rise in 'ready to drink' brands, seltzers, and craft beers springs to mind.
Spirits such as gin and whisky likewise offer many new craft and boutique offerings to sample. And this decade has also seen a wave of new low – and no-alcohol options appearing across many drink types.
Navigating these new options has hardly been a chore for most consumers. Novelty can be fun, after all. Often, we do like to try something a bit different. But brand owners, particularly for heritage brands, face a big challenge. Familiarity defines these heritage brands, not novelty. Whilst big brands can flex their market muscle to cut through the clutter, smart brand owners also look to their positioning to stand out.
No alcohol brand illustrates this better than Budweiser, a brand that regularly appears in the Kantar BrandZ Top 100 global brand list. As a traditional, iconic US beer brand, it has a rugged, blue-collar worker positioning. There's a strong sense of bonding about the brand, too.
Those with longer memories might recall the famous 'Budweiser True' campaign from many years ago: this was a hugely popular ad featuring young males connecting in a silly, light-hearted way, characterised by their 'wassup' greeting. These were everyday guys in an ordinary situation, bonding and hanging out. A Budweiser classic. You'd be hard-pressed not to mention Budweiser's Clydesdale horses too, featuring in many campaigns over the years.
These themes are well-used for Budweiser. But how does a well-established brand follow this success and stay consistent without becoming boring and predictable? Fortunately, help is at hand.
Emotion holds the key
Emotion offers brands a powerful way to find their difference – particularly in categories where brands are functionally similar. Kantar's NeedScope framework reveals the nature of the emotive needs in a category. From there, brands can occupy potential emotional positioning territories.
Based on psychological principles, these emotional territories give brands a strong, human foundation upon which to build a meaningfully different brand positioning. This is key, as Kantar's brand equity research shows that brands with high meaningful difference grow in value five times more than those without.
NeedScope has identified six principal emotive positioning territories, each tied to a different colour: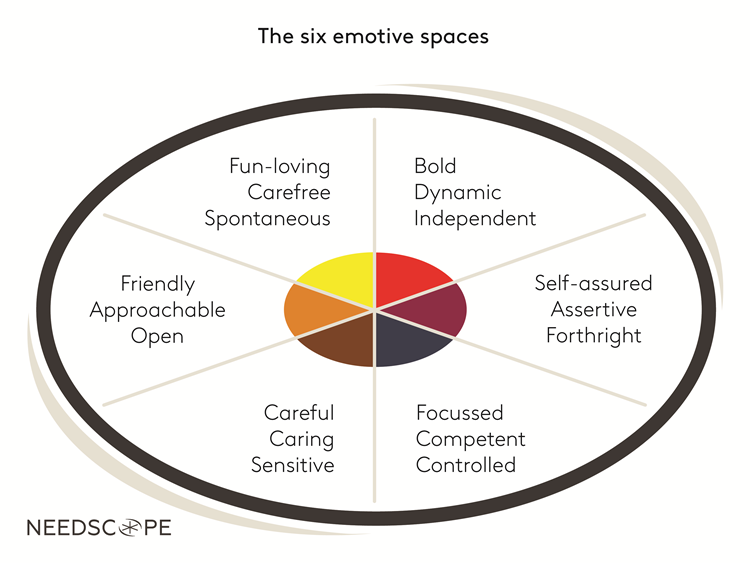 Through this emotive lens we can then view important category themes. For example, what's important in beer? As we've seen, sociability and connection. But on their own, these words don't go far enough in capturing the diverse emotional avenues available for portraying how people can come together over beer.
To illustrate, we recently used our AI Decoder technology to analyse ads from two different beer brands: Corona and Dos Equis. Both portrayed scenes of sociability and connection. But the Corona ad had an air of intimate, relaxed bonding – corresponding to the 'Careful, Caring, Sensitive' emotional territory. Dos Equis, meanwhile, put forth a more assertive, provocative sociability – in line with the 'Self-assured, Assertive, Forthright' emotional territory.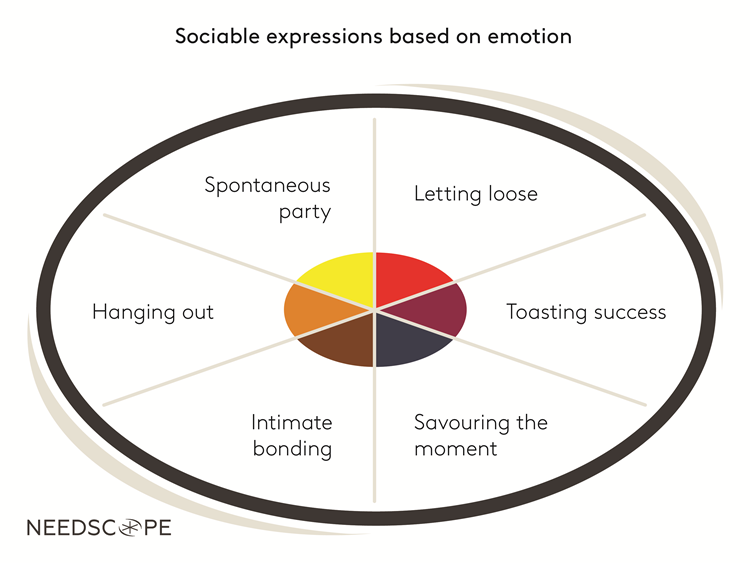 Note that in these instances, neither brand primarily occupies the orange emotional space (Friendly, Approachable, Open) that is most often at the heart of sociability (and which every brand needs to capture in some way, even as they cover other emotional territories). The takeaway, then, is that alcohol brands have more options than you might expect to capture the important category driver of sociability, whatever the dominant emotion in their positioning may be…
Consistency breeds success
It's one thing to tease out the right emotional expressions for your brand. It's another to execute these consistently over time. With so much change in the alcohol category, staying constant feels like a risk! Budweiser once again provides a great example. Its recent campaign 'This Bud's for you' demonstrates this, bringing back an iconic Budweiser tagline from the past while also making a playful pop culture reference ('Six Degrees of Kevin Bacon') by using Kevin Bacon as the ad's narrator. There is a more modern, inclusive feel to this ad, but importantly there's also a consistency in its themes, reminiscent of their earlier campaigns. You see bonding, people coming together. And you also see the familiar Clydesdale 'brand code' via an early cameo.
This blend of new but familiar holds the key to long-term brand building – where one campaign builds on previous ones, refreshing the memory structures for the brand.
Three takeaways for established brands in an age of novelty.
1) Emotion is key. With so many options, alcohol brands must work hard to stand out and be different. Emotion offers a way to build a meaningfully different position. But whatever path you choose, through humour or storytelling, be clear on the emotion in your brand's positioning.
2) Look for the right expression. Brands can be more relevant by tapping into category drivers. But don't make assumptions on what this means. Use the emotional lens to choose the right expression to support your brand in a unique way.
3) Be consistent. It's tempting to mix things up. But for well-established brands it's more effective to look for ways to build on the past and refresh familiar themes for a more modern context.
The Kantar BrandZ Most Valuable Global Brands 2023 report, including analysis on the world's most valuable alcohol brands, is available now at www.kantar.com/campaigns/brandz/global
For an overarching view of a brand's performance, Kantar has launched a new, free interactive tool using BrandZ's wealth of data. BrandSnapshot powered by BrandZ delivers intelligence on 10,000 brands in more than 40 markets, offering a quick read on a brand's performance in a category.