Trust in US online sharing and networking brands suffered as brands attempted to balance their role as platforms for free expression with the need to prohibit objectionable content generated by the presidential election and reactions to the drive for social justice. Despite this, brands such as Facebook, Instagram and YouTube saw their scores in other key areas of brand health continue to show strength.
According to a BrandZ™ analysis, social media brands ranked 67th, just below tobacco and business banking, out of 68 categories measured for level of trust in the US. Diapers rank No. 1.
Multiple factors, including the pandemic, the presidential election and the drive for social and racial justice served as catalysts for change in the online networking space, with new brands and existing brands being impacted by changes in consumer perceptions of them as being Meaningful (meeting needs in relevant ways and/or building affinity), Different (being unique vs. competitors and/or setting trends), and Salient (coming easily to mind).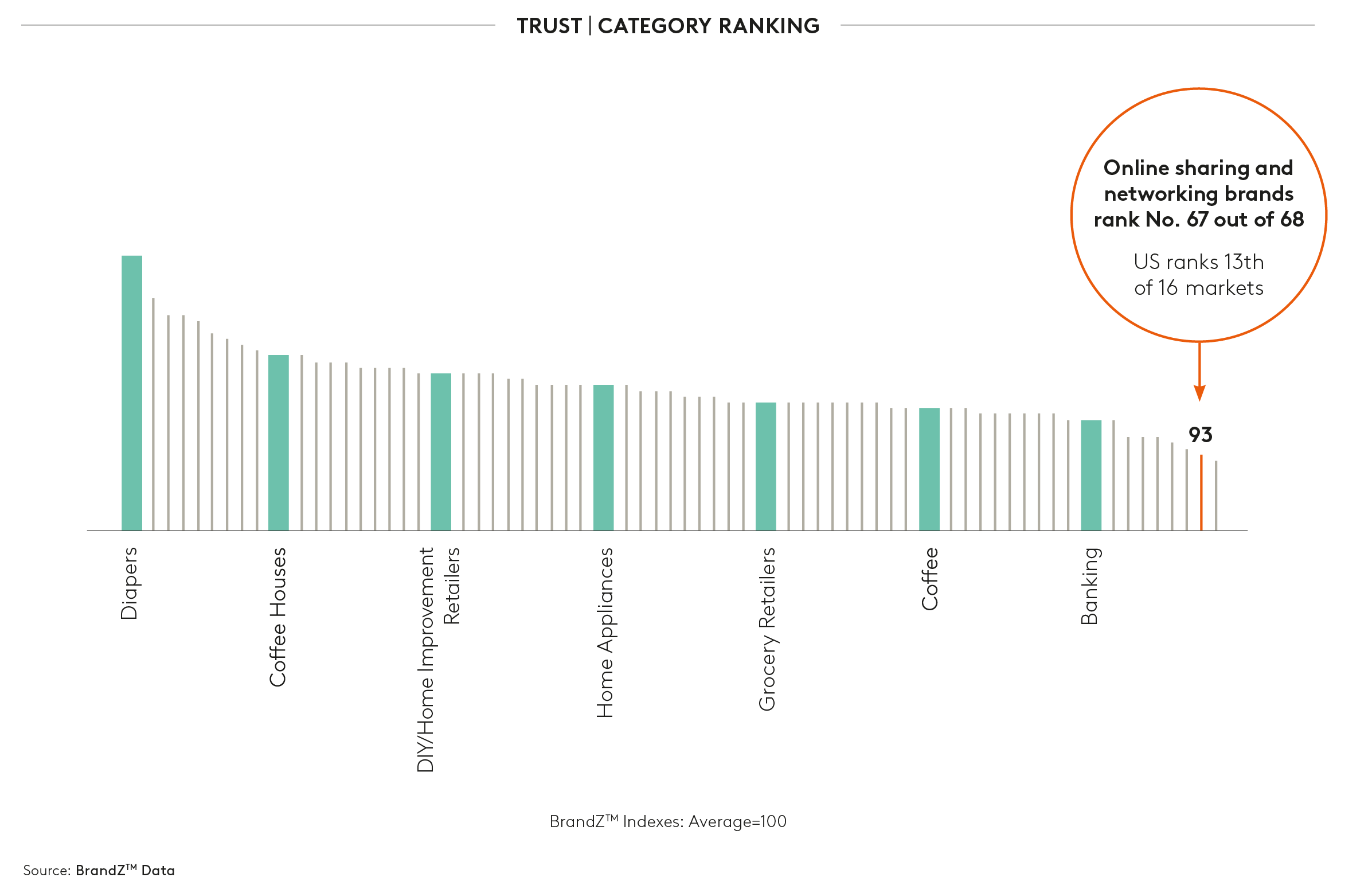 "The online networking landscape is rapidly changing," said Nicole Jones, Senior Vice President, Growth and Strategy, Kantar. "With new brands constantly appearing, and existing brands changing in how consumers perceive them, media and entertainment brands will need to understand in greater depth the diversity of their audiences and develop content that resonates with the audiences they're cultivating."
Instagram in particular, has been benefitting from these changes.
Between 2018 and 2020, Instagram increased in Salience, improving from a score of 84 to 122 (100 is average). Although Facebook remained the most Salient brand, a 19-point decline left it with a strong, but weakened, Meaningful score of 137.
YouTube, which introduced more programming to meet the needs of home-bound viewers during the pandemic, increased both in Salience and in being seen as Meaningful and Different. Brands that score high in being Meaningful, Different, and Salient—the BrandZ™ building blocks of equity—increase faster in market share and value.
Instagram's increases in brand value and equity are an indication of its future promise, according to the report. The brand value of Instagram has increased 565% in just four years. Instagram scored 151, compared with a score of 258 for Facebook, its corporate parent, on the Brand Power Index, a brand equity measurement of a brand's ability to drive current market share. In contrast, Instagram scored 110, compared with a score of 74 for Facebook, on the Brand Potential Index, a brand equity measurement of a brand's ability to drive future market share. An average score is 100.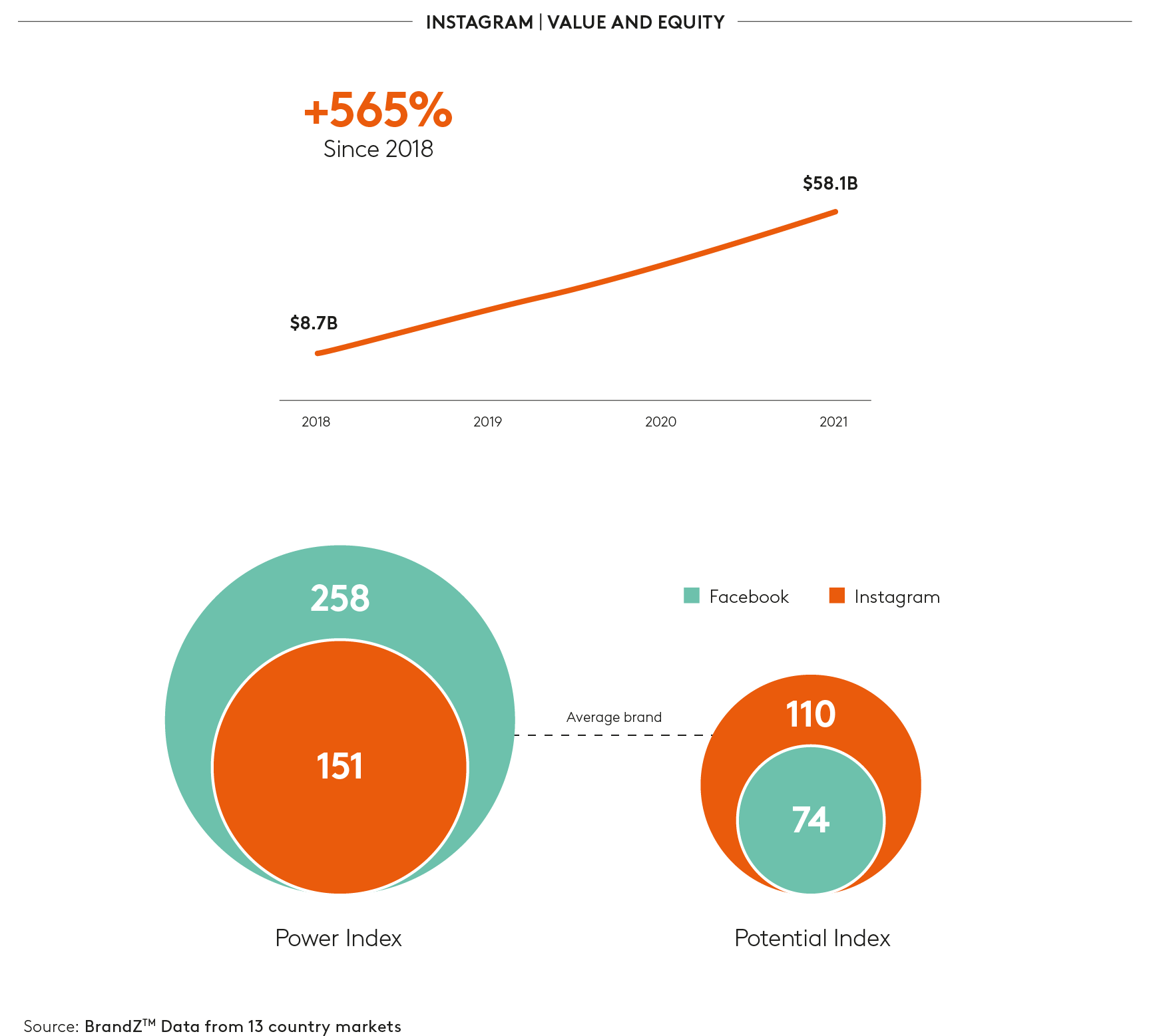 The growth was driven by young users, according to the analysis. Since 2014, Instagram has increased dramatically among young people in being seen as Meaningful, Different, and Salient. In 2014, Instagram scored only 85 in Salience among young people, well below the average brand score of 100. By 2020, however, Salience had increased sharply to 163.
The proprietary BrandZ™ Valuation Methodology uses consumer viewpoints to assess brand equity, and how consumers perceive and feel about a brand as a measure of potential success. The in-depth quantitative consumer research is conducted on an ongoing basis worldwide. Globally, the research covers more than 3.8 million consumer interviews in more than 500 categories, and almost 18,000 different brands in more than 50 markets.
The BrandZ™ Insights 2021 US Media and Entertainment ranking, report and extensive analysis are available online here.