Brand to watch TikTok is the highest new entry in the 2020 BrandZ Top 100 Most Valuable Global Brands ranking. Disrupting the status quo and threatening other video and social media platforms, the short video-sharing app entered the Top 100 at no.79 this year with a brand value of $16.9bn. It also made it into the Top 10 media and entertainment brands ranking, a category worth a total $542.6bn.
The total brand value of the BrandZ Top 100 global brands reached US$5 trillion, an increase of 5.9%, despite the economic, social and personal impacts of COVID-19. Prior to the global pandemic, total brand value of the Top 100 brands was set to increase by 9%.
With more people spending time online during COVID-19 looking for user-generated engaging, entertaining and participatory content, TikTok has helped fill the void with short-form video content and sharing – and has become one of the coolest brands loved by Gen Z. Owned by Chinese technology company ByteDance, it became the most downloaded mobile non-game app earlier this year (over 1.5 billion times via the App Store and Google Play) and currently has over 800m active users worldwide.
Among media and entertainment brands, Instagram had the highest growth in brand value, up 47% to $41.5bn, ahead of Netflix ($45.9bn, no.26) up 34% this year. Instagram was also among the highest risers in the BrandZ Top 100, up 15 places to no.29, ahead of LinkedIn (+31%, $29.9bn, no.43,) up 15 places and Xbox (+18%, $19.6bn, no.65) up 22 places.
The leading media and entertainment brand, Chinese internet services company Tencent (+15%, $151bn), is ranked at no.7 in the global Top 100, while Facebook ($147.2bn, no.8) is the second most valuable brand in the media and entertainment category.
Innovation and creativity were key drivers of growth across all categories this year, but particularly so in media and entertainment. Disney, which is ranked no.22 in the Top 100, recorded an impressive $48.8bn in brand value and is also third in the media and entertainment ranking. Netflix maintained its dominance among streaming services and saw a strong growth in brand value, despite facing fresh competition in the 'streaming wars' from new subscription services Disney+ and Apple TV+.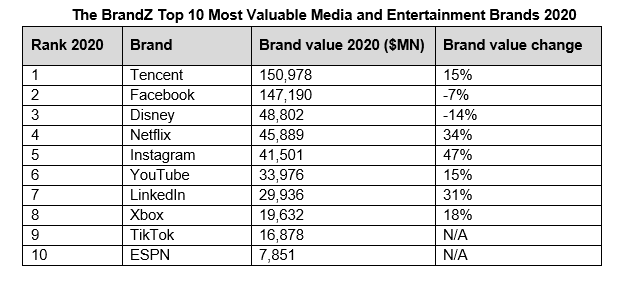 TikTok is one of the most exciting and creative brands we have seen for a while entering the Top 100, and has been a game-changer during the pandemic as people take to the app to share their short videos of precious life moments (and funny dancing). While Instagram was the highest mover among media and entertainment brands and has set the benchmark for TikTok to aim for in future years, it's interesting to see that in terms of brand value TikTok is already ahead of where Instagram was when it first entered our ranking. It's certainly the brand to watch over the next year.
Want to know more?
Read more in our new BrandZ Top 100 2020 report
To manage and improve your brand's performance, explore our range of BrandZ custom reports and data packages available now on Kantar Marketplace