The rate of development in handheld devices, such as mobile handsets and tablets, continues apace. Tech convergence, cloud computing and the rollout of faster 5G networks present manufacturers with fresh opportunities to continue enhancing customer experiences. Recent years have also seen growing competition in Europe and the US from lower-priced Chinese brands, such as Huawei, One Plus and Xiaomi. This has disrupted what had been a near two-horse race between Apple and Samsung for many years and threatening to upset the value equation.
The desire for, and increasing capability of lower cost smartphones, is also a portfolio cannibalisation concern for premium brands. Devices like the iPhone SE and Samsung's A series offer consumers largely the same broad array of apps and cloud services as their high-end counterparts.
Meanwhile, in the face of increasing choice Kantar ComTech Worldpanel data confirms that we are keeping our devices for longer than ever in most markets. Primary device upgrade cycles have extended in Europe by 28% over the last five years – now almost hitting an average of 28 months. COVID-19 presents further challenges to the category. Between 40-60% of smartphone consumers report that they will delay, cancel or spend less on their next purchase in the wake of the global crisis across Europe, North America, Japan and China.
As with other categories, there has been a dramatic shift towards online purchasing, leaving mobile brands with much to do across product, communications and channels to build new loyalty strategies.
People are looking for devices that will last
So, how should device manufacturers address these challenges? Analysis from Kantar's CX+ 2020 Technology, Media and Telecoms (TMT) report confirms that device longevity is key to brand preference, a natural consequence of consumers who expect their devices to last longer and longer.
CX+ also reveals that product design and hardware functionality - and their contribution to an optimal experience - are key to driving brand preference in a category where many consumers still have a strong attachment.
Lower cost devices are more attractive to younger consumers who typically have lower brand loyalty. Greater involvement in the category, however, means that younger consumers place more importance on the branded experience across the journey, and are willing to invest more in their devices and associated accessories. Thus, it is important that brands identify and develop experiences that will tip the scales for this audience.
CX+ 2020 TMT confirms that a desire for quality typically plays into the hands of the established global players, such as Apple and Samsung, where credibility and brand strength continue to drive preference and generate high expectations of both the product and the purchase experience.
This is where brand expectations are lower for Chinese competitor brands. In the CX+ 2020 TMT Index experience gaps are smaller for brands whose promise is well-matched to its delivery. For example, One Plus users in India feel that the brand delivers what it promises, leading to a just a +2pt experience gap and a high ranking. Similar circumstances are driving sales volume of Xiaomi in Europe, especially in Spain where the brand has taken a commanding lead over Samsung.
Xiaomi's Kaizen-style approach is a great example of the benefits of continuous customer engagement used for rapid prototyping and innovation. Building a community between customers and product and channel managers, and encouraging a culture of consumer-centricity is engendering strong levels of advocacy amongst Mi fans.
Innovating the device experience ecosystem is now mission critical
Seamless UX that empowers cross-device compatibility can offer experiences that are truly differentiating. Increasingly, manufacturers need to consider and optimise the total customer experience across a full range of devices, and they may need to develop new partnerships to enable them to effectively manage this.
Samsung's partnership with Microsoft is a recent example of the advantages of such collaborations. For customers there are clear, immediate improvements to their experience. Whether that's the ability to sync and seamlessly transfer between devices via native integration of Microsoft 365 productivity services - or the Xbox software and hardware bolt-on announced with the latest Note 20 phone, designed to enhance the gaming experience on mobile devices.
Such partnerships also confer longer-term benefits, bringing together leading-edge 5G hardware and cloud-based software offers opportunities to co-engineer new and evolved experiences for consumers that drive increased loyalty for both brands.
Essential to creating lasting memories are innovations in the purchase process. Apple's brand consistency across experience touchpoints contributes to their #1 position in the CX+ 2020 Handheld Devices brand ranking and #2 in the overall CX+ 2020 TMT ranking, just below #1 placed Netflix.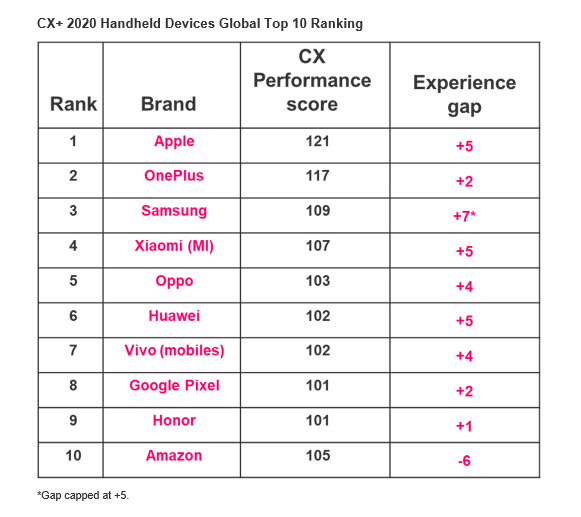 Peak-end theory tells us that how an experience ends is every bit as important as its zenith. So, continued innovation in how device brands and telecoms operators help customers manage and finance upgrades could offer new ways to deliver a positive experience and stimulate repurchase. When offered flexibility via ownership and leasing plans, consumers are much more likely to consider the latest developments in devices, as the world of car buying has demonstrated.
As consumers increasingly seek devices with longevity, brands have the opportunity to deliver to this across the growing customer experience ecosystem. Identifying, optimising and showcasing the moments and connections that really matter to your customers will be critical to create the lasting memories that will deliver brand loyalty and value.
To find out more watch our webinar: Reboot your CX understanding to supercharge growth. Or get in touch.