Four-week grocery price inflation hit a record 16.7% in the 4 weeks to 22 January 2023 according to our latest figures, the highest level since it started tracking the figure in 2008. Overall take-home grocery sales rose by 5.7% during the 4 week period and by 7.6% over the 12 weeks.

Late last year, we saw the rate of grocery price inflation dip slightly, but that small sign of relief for consumers has been short-lived. Grocery price inflation jumped a staggering 2.3 percentage points this month to 16.7%, flying past the previous high we recorded in October 2022. Households will now face an extra £788 on their annual shopping bills if they don't change their behaviour to cut costs.

Amid record inflation, supermarkets are seeking alternative ways to offer customers value. Competition in the British grocery sector is as intense as it's ever been as retailers strive to retain shoppers. The grocers have been doing this by boosting their own-label ranges especially, with sales of these lines growing consistently over the past nine months. January was no exception as own-label lines grew by 9.3%, well ahead of branded alternatives which were up by just 1.0%.

Across the market the move is towards everyday low pricing, with many supermarkets offering price matching and using their loyalty schemes to help shoppers save. As a result of this push, the proportion of spending on promotions has fallen to its lowest level since at least 2008 this month, exaggerating the usual post-Christmas drop off in deals.

Aldi, Waitrose and Lidl's efforts seem to have been particularly well received by shoppers. Our latest customer satisfaction data* shows that Aldi scores best on pricing and overall value for money, while Waitrose stands out for knowledgeable staff, product quality and clean shops. Meanwhile, Lidl delivers on easy access to stores and on-shelf availability.
New year health kick
Despite price rises, many consumers embraced the usual focus on health and fitness that January brings. Many shoppers appear to have stuck with their new year's resolutions. We can clearly see the impact of Dry January in the data, as no and low alcohol beer volumes were up 3% on last year's levels.
Sales of supermarket own-label ranges labelled as plant-based or vegan rose by 21%. Growth was largely driven by existing shoppers of the category rather than new converts, with 3.4 million consumers making a purchase this January which is slightly down on last year. Alongside the pull factor of events like Veganuary, the push element of new regulations on food and drink which is high in fat, salt and sugar could also be having an impact. £10 million less was spent on chocolate deals this January compared with last year, partially as a result of the new rules although we're probably marking the wider impact of the drop in promotions too.
Discounters and Iceland gain market share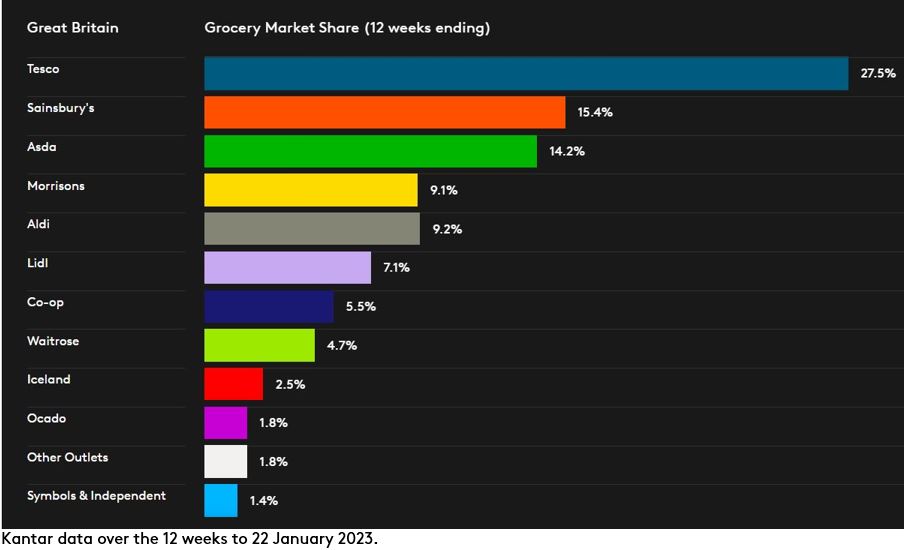 Aldi was the fastest growing grocer for the fourth month in a row this period, with sales 26.9% higher year on year. It now holds 9.2% of the market. Lidl's sales jumped by 24.1% putting its market share at 7.1%.

There was little to split Britain's three largest retailers. Sainsbury's sales increased by 6.1%, just 0.1 percentage point higher than Asda and Tesco, giving it 15.4% of the market. Tesco remains the largest British retailer with a 27.5% market share while Asda holds 14.2%. Although its sales fell by 1.9%, Morrisons' performance has continued to improve for the eleventh month in a row and its market share now stands at 9.1%.

Iceland's share increased by 0.1 percentage point to 2.5%, driven by an annual sales rise of 10.6%. Ocado matched the market's growth rate at 7.6%, well above overall online sales which were down 0.7%. Convenience specialist Co-op has a 5.5% share of the market and Waitrose accounts for 4.7% of total sales.
*The Kantar customer experience service records the levels of satisfaction for more than 100,000 shopping trips every month, covering all retailers and grocers. Top 3 grocers ranked by Net Recommend score are Aldi (17.1), Waitrose (11.6) and Lidl (9.3). Respondents are questioned about the staff, ease of shopping, products and value for money of the trip. The overall experience score, Net Recommend is derived by subtracting the % of respondents reporting negatively about their shopping trip from the % who reported favourably. The data quoted refers to in-store shopping trips only.