Inter-generational loyalty; children continuing the shopping habits of their parents when they set up their own household, is the biggest driver of FMCG unit growth. Brands of the Decade, a new analysis of shopper behaviour since 2012 shows that, in 2021, branded FMCG items were chosen a total of 382 billion times, up 16% compared to a decade before.
Kantar has identified eleven Brands of the Decade - the brands which saw the biggest growth in their respective categories. These brands accounted for 25.1 billion (6.6%) of purchases, up from 19.2 billion (5.8%) in 2012. The growth rate of these brands was 31% over the decade, almost double the total branded market's growth rate. In Cannes to announce the 'Brands of the Decade', Kantar, the world's leading marketing data and analytics company, identified Coca Cola as the most chosen brand in the past 10 years and Vim as the world's fastest growing FMCG brand according to consumer decisions made.
The Brands of the Decade are: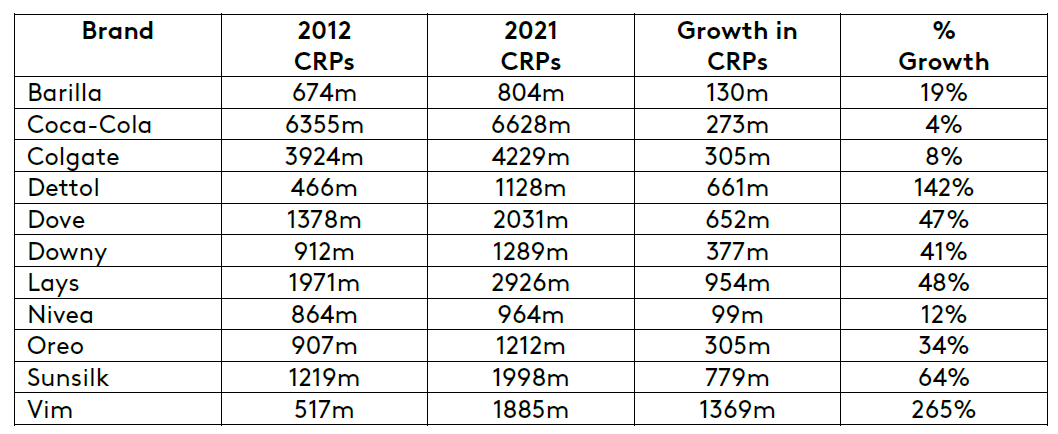 Inter-generational loyalty counts
Kantar's analysis of 10 years of actual global shopping habits uncovers that increasing penetration; the percentage of households that choose a brand, is key to growth. In the decade since 2012, the number of households globally has increased by 17% to ~1.2 billion, as the population has risen and grown-up children have established their own households. Across these 11 brands, growth in penetration accounted for an average of 87% of their growth, meaning that ensuring children establishing their own homes make the same shopping choices as their parents is key to long-term success.
Illustrating this point, shopper recruitment has driven Coca-Cola's success. The number of households buying the brand increased 17% over the decade, in line with household growth, to ~540 million.
Securing a spot in the household's 'go-to groceries' list
One consistent feature across the decade is the average number of FMCG brands chosen per year. This has remained consistent at 55 brands per household. Breaking into this 'go-to groceries' list is key to growth for brands, big and small. The average spend on branded groceries has increased from $730 per year in 2012 to $862 in 2021. Since 2012, the world's biggest brands have been consolidating their presence. In 2021, the average household purchased 3.2 of the 'Brands of the Decade', compared to 2.8 in 2012. However, staying relevant is not guaranteed. Only two of the fifty biggest brands, Dove and Vim, have consistently grown in every year of the past decade.
This global analysis of shoppers' real behaviour over the past 10 years is unique in our industry. It lets us identify and celebrate those brands who have consistently done an outstanding job in attracting and retaining consumers. And it enables us to identify foundational truths to which our industry must adhere.
Increasing household penetration rate; at least keeping up with population and household growth, is the best way to grow and the only way to consistently grow year-after-year. There is finite space in consumers' basket. Securing a spot on the list of 'go-to groceries' – which is unique to each household – is a must. If you're out of the list, you're out of consumer's choice. Congratulations to Coca-Cola and all the other brand on our 'Brands of the Decade' list. Their consistency is a testament to their skills at staying relevant over a period that has seen remarkable change.
To learn more about Kantar's Brands of the Decade, and Brand Footprint, the underlying data analysis visit www.kantar.com/brandfootprint.