Spend on groceries in urban China was up by 3.1% during the 12 weeks to 7 October 2022, compared with the same period last year. This growth was mainly driven by shoppers in the east of the country, where value sales rose 5.2% year-on-year. Consumers maintained their stockpiling behaviour as COVID outbreaks continued, with those in the east spending the most per trip.
Modern trade growth stagnates – and diverges
Value sales in hypermarkets and large supermarkets fell by 4.1% and 4.5% respectively compared to a year ago, while in small supermarkets and convenience stores value rose by 12.5% and 9% respectively, driven by growing baskets and an expanding consumer base.
Sun Art Group held an 8.1% market share in last 12 weeks and maintained its leading position, yet lost 0.5pts in their value share compared to last year. In the latest trading report, the group reported a 2.2% drop in revenue and 0.2% drop in Same Store Sales Growth (SSSG). Meanwhile, the offline revenue of its new 2.0 store transformation achieved a double-digit growth. Yonghui Group followed in the second place, with 5.6% market share. Thanks to the expansion of Sam's Club, Wal-Mart Group gained 0.2pts share year on year and became the third largest retailer, holding 5.3% share of the national market in last 12 weeks.
Lockdowns drive further ecommerce growth
Spend on FMCG via the ecommerce channel grew by 7.5% in urban China compared with the same period last year, driven by consumers in upper-tier cities accelerating their demand for online shopping as lockdown created the need to keep their pantries stocked. Almost three quarters (71.6%) of urban Chinese households purchased FMCG through ecommerce platforms in the 12-week period.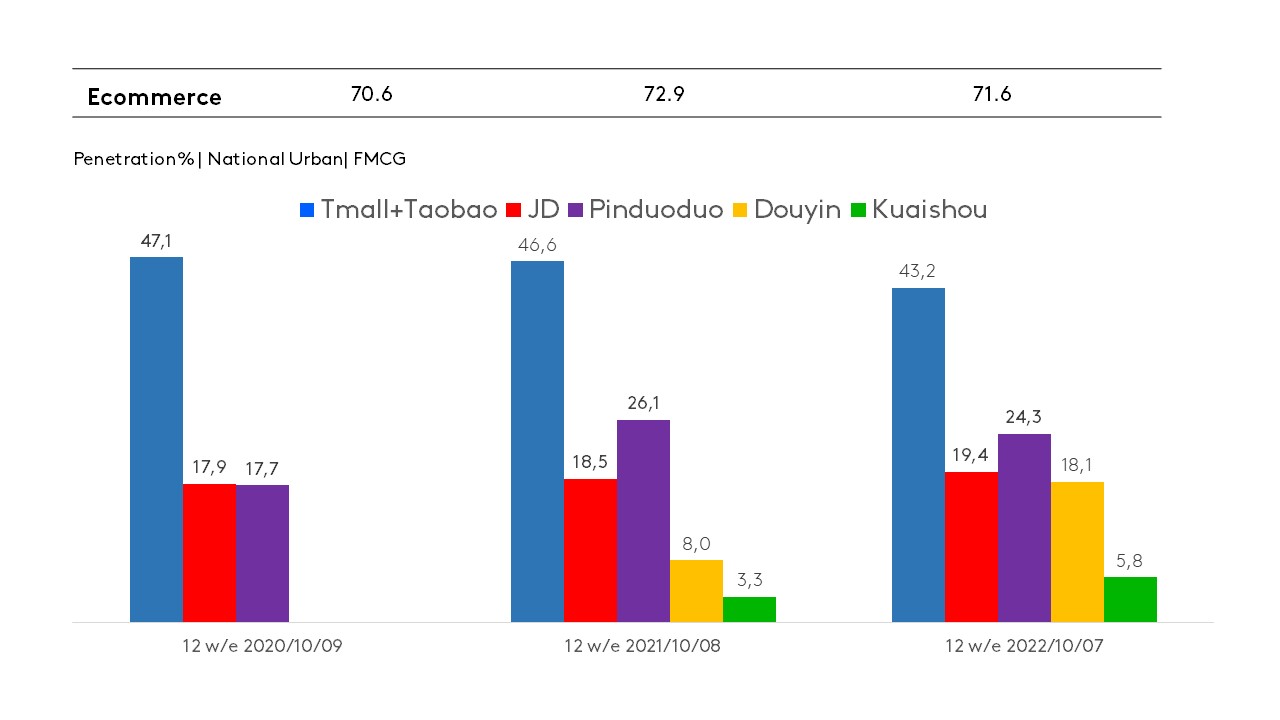 Alibaba Group leads the core players, despite losing 2.8% market share compared to the same time last year, dropping to 37.1%. JD Group gained 0.3%, growing its share to 15.9%, while also increasing its consumer base. The expansion of social commerce platform Pinduoduo appeared to retrench: its market share fell to 9.7%, representing a loss of 1.3%.
Meanwhile, the short video platforms are developing rapidly by attracting new users, and Douyin's penetration is catching up with that of JD: 18.1% of urban Chinese households placed orders for FMCG on Douyin in the past 12 weeks, more than double the figure from last year. Both Douyin and Kuaishou are expanding their market share rapidly, year on year.
For China's influential Double 11 online shopping festival this year, platforms focused more on strengthening connections with consumers rather than only on making sales. This proved effective: Alibaba reported that more than 300 million users watched its Taobao livestreaming in the lead up to the big day, for example. In addition, O2O platforms played an active part in Singles' Day promotions, fuelling growth for the bricks-and-mortar stores.
If you would like to learn more about the evolution of China's FMCG market, please get in touch with our experts or access our data visualisation tool to explore current and historical grocery market data.