Coffee makes us all brighter, and it's doing the same for the Out-of-Home (OOH) sales of snacks and non-alcoholic drink consumption: the value of OOH coffee purchases is up 25% year on year in Q3 2021.
The easing of restrictions around the world through July, August and September encouraged people to spend more time out and about, and helped boost overall coffee sales by 15% (OOH and In-Home).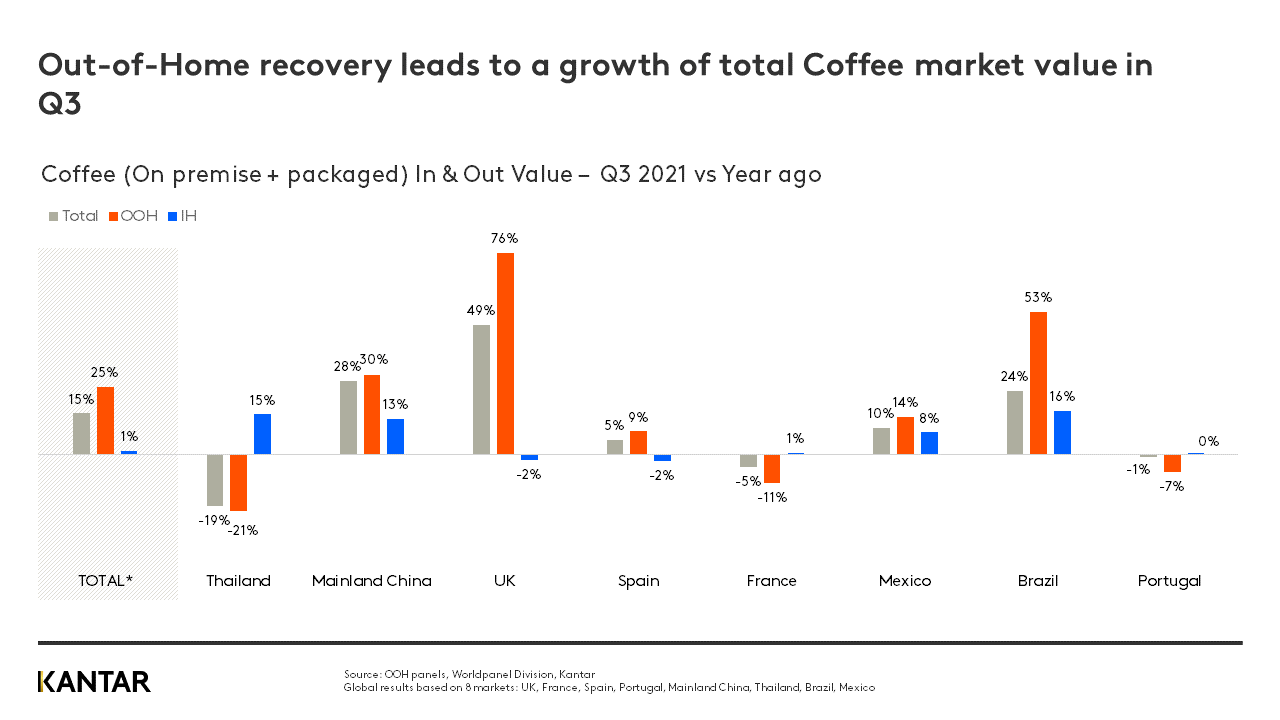 The biggest successes were seen in the UK, where OOH coffee sales were up 76%, and Brazil, up 53% year on year. The picture wasn't uniform, however, with Thailand, France and Portugal recording drops of 21%, 11% and 7%, respectively.
Nevertheless, the strong global growth experienced by coffee – a key driver for a 13% rise in all OOH spend on snacks and non-alcoholic drinks globally – was the most significant change in the third quarter or 2021. With overall in-home consumption of snacks and non-alcoholic drinks up by 1%, the pattern seen in Q2 has continued.
However, there is still significant opportunity for growth for coffee, with OOH share vs in-home still down compared to 2019. In Q3 2019, OOH took 70% of total value for coffee (both on premise and packaged) but in Q3 2021 it was just 64%. This is a dramatic improvement on the same period in 2020 (when it stood at 59%) but it demonstrates the continued room for improvement.
The markets that are lagging the most in terms of OOH share compared to 2019 are Mexico, which is 14 percentage points down. and Portugal, which is 12 points down.
The big opportunity for OOH coffee to rebuild to pre-pandemic levels lies in bars and coffee shops. While other OOH outlets such as impulse (vending machines and gas stations, for example) or modern trade (hypermarkets, supermarkets and convenience stores) have maintained their share, bars, cafes and coffee shops – the biggest category – are still sitting at 39% of the total value globally, three percentage points down on the same period in 2019.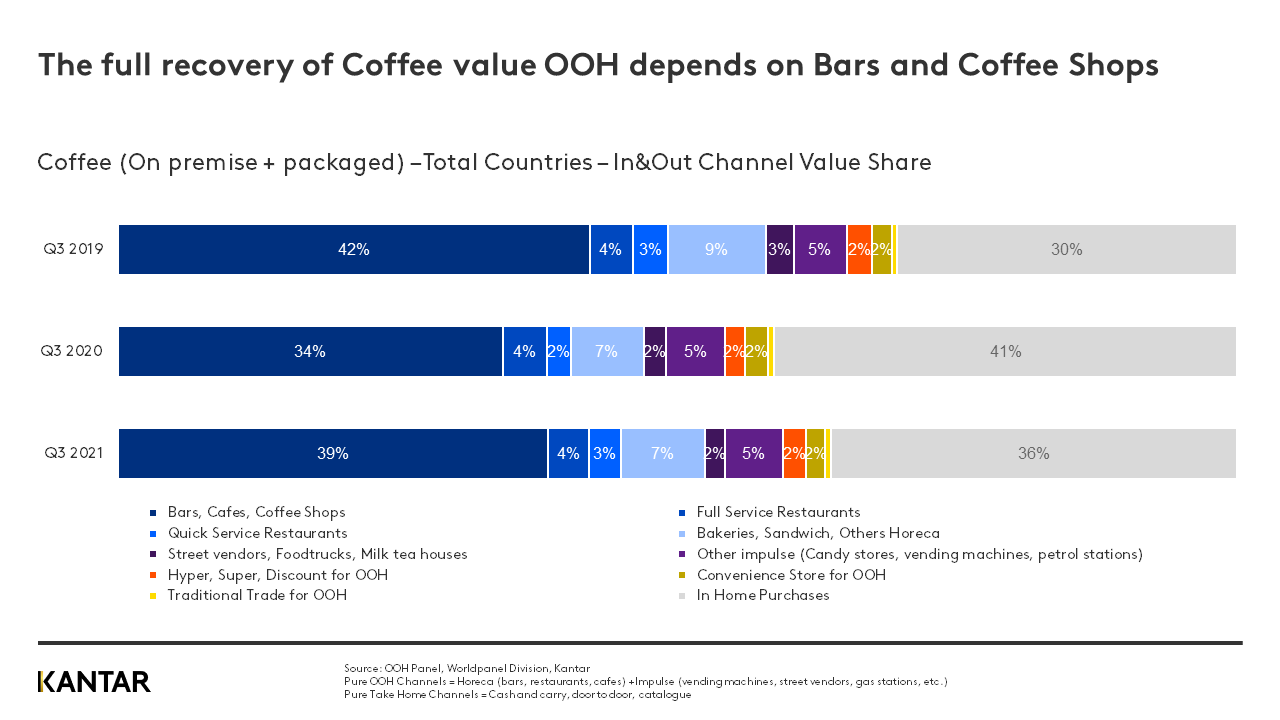 Other key findings from the Q3 FMCG outlook include:
The UK has led the FMCG? sector in growth with overall value for snacks and non-alcoholic drinks consumed OOH up by 66% year-on-year. In-home was static, helping to drive total value up 14%.
Mexico struggled with OOH spending?, which was down 20%. Nevertheless, in-home was up 13% and helped to deliver a static performance year-on-year.
For the full year to the end of September 2021, the impact of lockdowns and restrictions put the OOH business in decline, with total value in the eight markets that we track down 4%. In-home has benefited from stay-at-home orders around the world and is up 4% over the same period.
Mainland China is the only market where total value from sales of snacks and non-alcoholic drinks out of the home has recovered to pre-pandemic levels in Q3, contributing 48% of total value, compared to 46% in Q3 2019.
Full recovery for OOH snacks and non-alcoholic drinks requires better performance from bars, coffee shops, full-service restaurants and impulse outlets. In Q3, bars, cafes and coffee shops took 9% of total value compared to 11% share for the same period in 2019.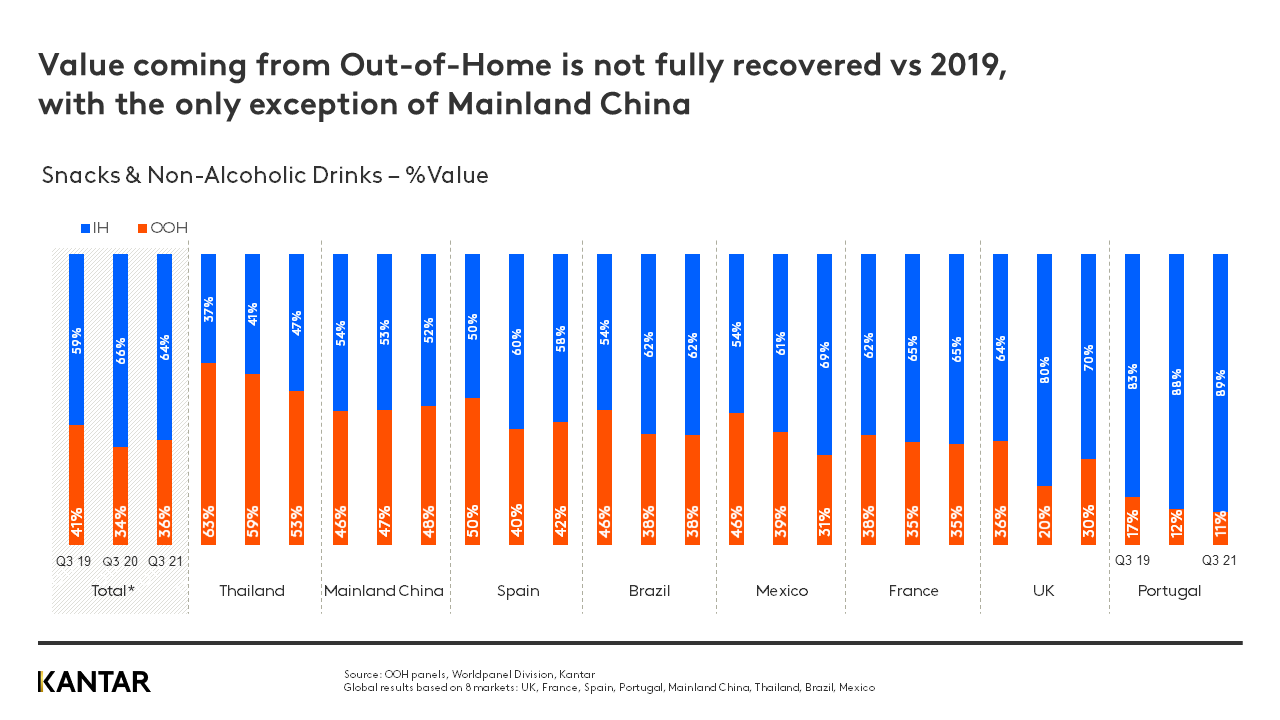 Find out more about the global snacks and non-alcoholic drinks market by downloading the full Q3 Out-of-Home barometer.