Greater freedom to explore the outside world post lockdown has seen the value of snacks and drinks sales out of home (OOH) rise 49% around the world (Q2 2021 vs Q2 2020), while in-home consumption has retained its lockdown gains.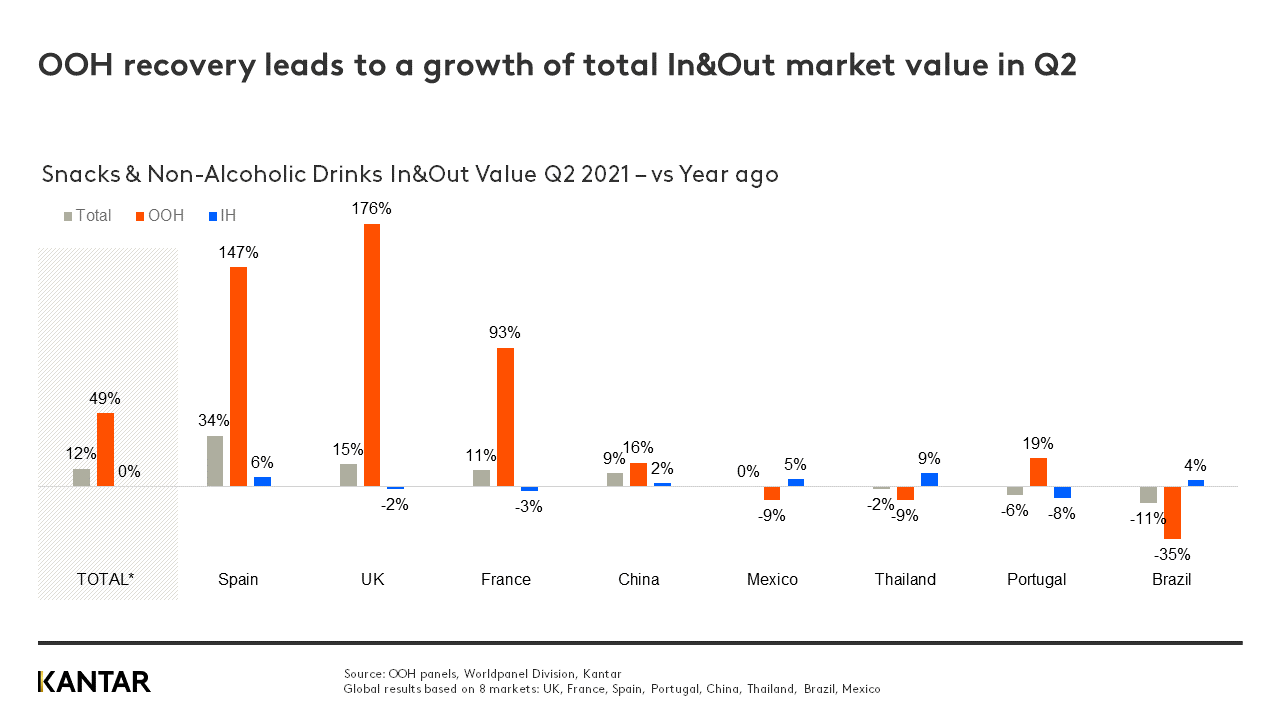 There is still plenty of room to grow further in Q3, notably via the Horeca sector, which includes bars, cafes and coffee shops, and is the channel with the biggest opportunity to rebuild its value share.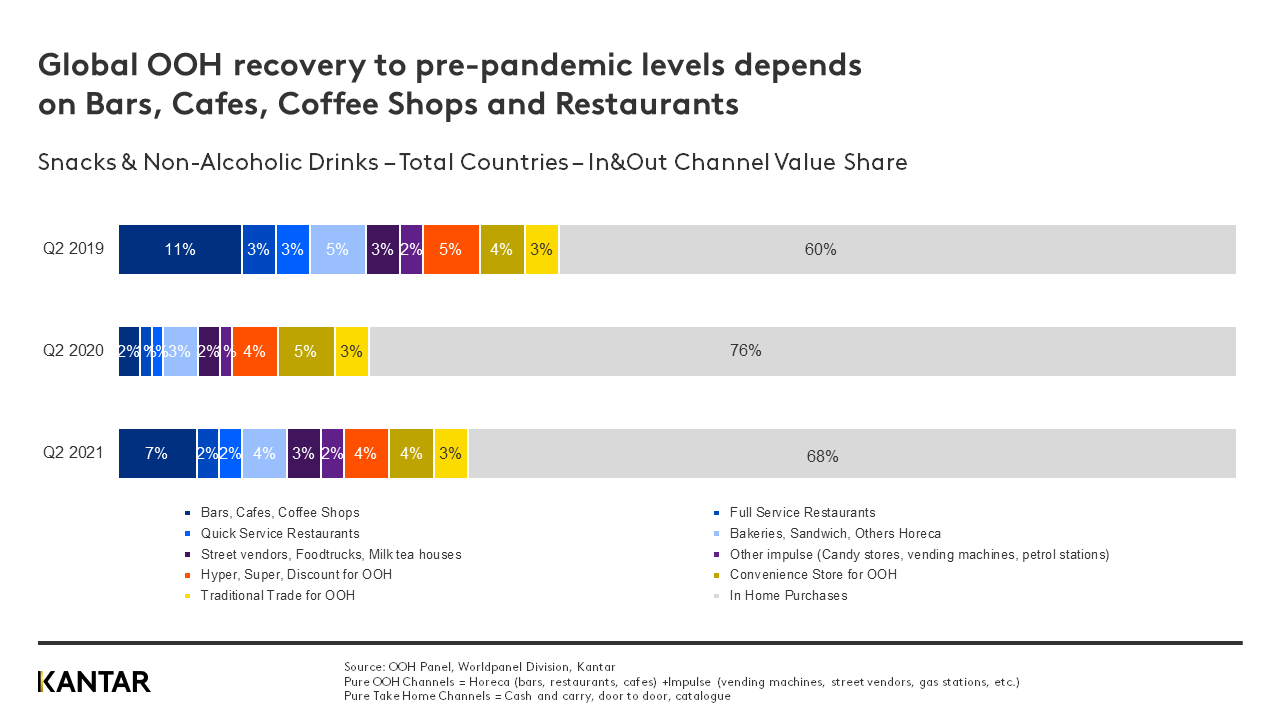 Analysis of the Worldpanel Division's OOH FMCG panels around the world has found that Q2 2021 saw a stunning rebound, with total quarterly sales of $30.7bn. The recovery from the extremes of lockdown in Q2 2020, which more than halved OOH consumption globally, has been led by European markets. Markets such as the UK and Spain have seen OOH value grow by 176% and 147% respectively.
Coffee and soft drinks drive the recovery
Total sales of non-alcoholic drinks by value were up by 67% year on year for OOH, compared to a rise of 1% for in-home consumption. Snacks have been more resilient through the lockdowns but were still up 29% for OOH, with a slight drop in in-home snacking (-2%).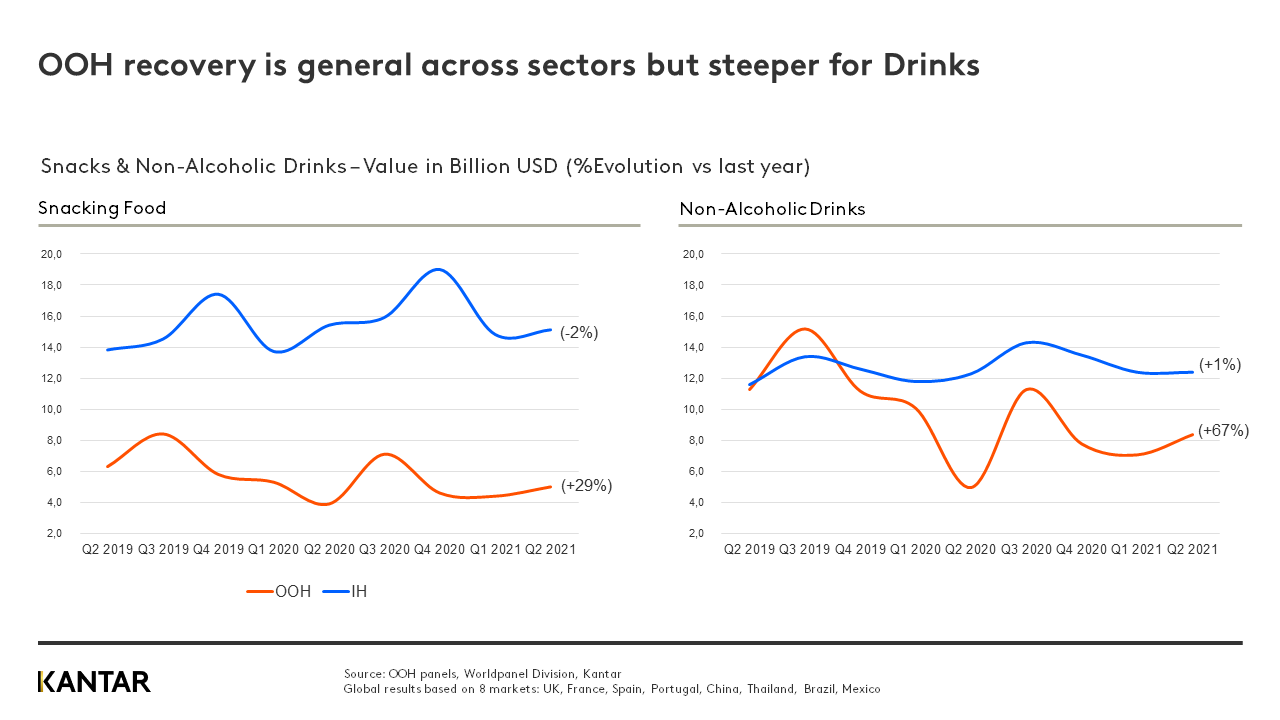 The big winners have been coffee (+150%) and soft drinks (+63%), which have been the fastest-growing categories for OOH globally... without hitting growth in take-home purchases.
The 150% increase in OOH coffee sales globally (USD2.8bn in Q2 this year, or USD1.7bn more than Q2 2020) was largely led by Europe, which owned 93% of the consumption growth.
On the way to pre-pandemic levels
Despite these rises, out-of-home consumption still has some way to go before it gets back to its pre-pandemic share of the total market. Consumers are still visiting one less OOH channel each quarter than they were pre-pandemic. The biggest gap can be seen in Brazil where consumers made just 2.4 visits on average in the last quarter, compared to 3.5 in Q2 2019.
While OOH share by value is now at 33% globally, up from 24% in Q2 2020, this is still substantially below the figure for Q2 2019 when it accounted for 41% of global snacks and non-alcoholic drinks sales. Spain, for example, with its tradition of consumption outside the home, is now at 36% share for OOH compared to 47% pre-pandemic.
The opportunities for growth are even greater in Latam and APAC, which have yet to even match last year's performance. In Thailand, we see OOH consumption taking a 54% share compared to 59% a year ago. Similarly, in Latam, both Brazil and Mexico are seeing OOH share continue to fall year-on-year (29% compared to 39% and 34% compared to 37% respectively).
The only market where OOH numbers are higher than pre-pandemic is China, where OOH consumption is now 49% of the total market compared to 47% in the same quarter of 2019.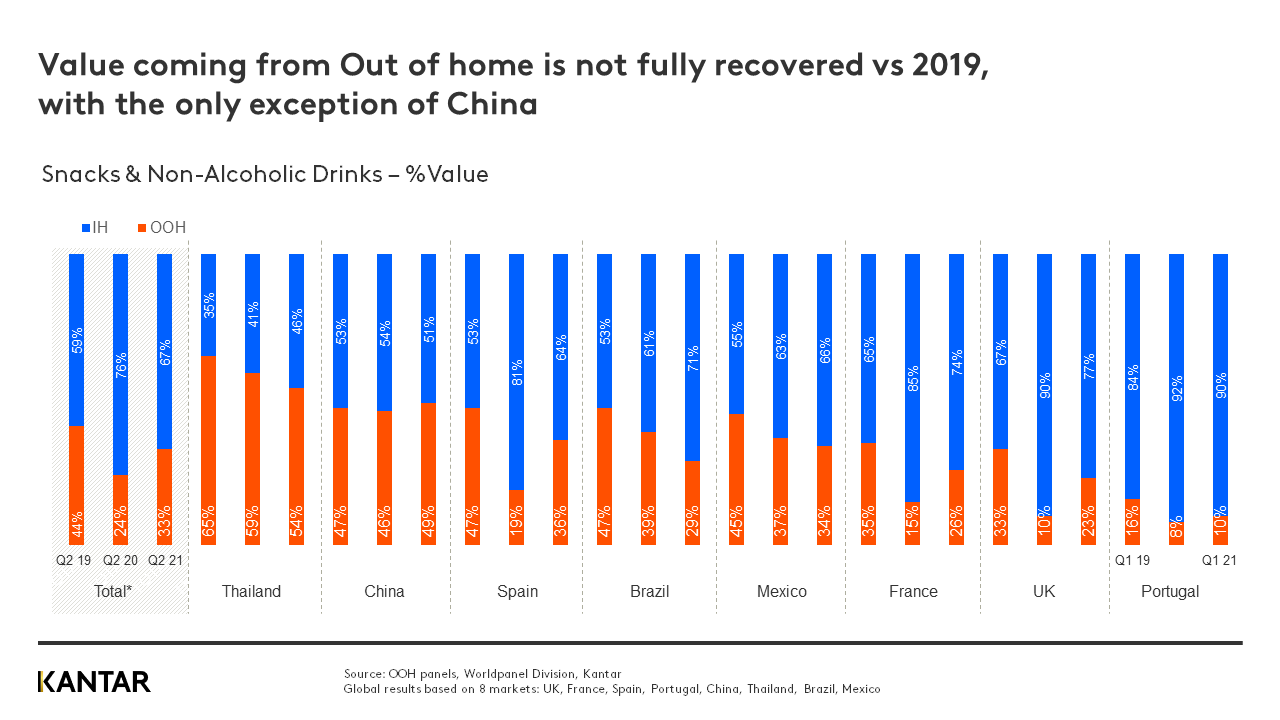 Horeca will take the lead on Q3 growth
In the third quarter of 2021 all eyes will be on the Horeca sector, which will be critical in driving OOH back to pre-pandemic levels and increasing the size of the snacks and non-alcoholic drinks sector overall. Q2 did see strong growth in value sales in Horeca – up 146% year on year and 440% in the UK – but its share of the OOH market remained down by seven points on Q2 2019.
The best performing channel globally during this second quarter was the UK's Quick Service Restaurant sector, which even outperformed 2019. The combination of affordability, well developed take-away and meal delivery options, and its versatility in terms of different consumption occasions helped drive value up by 60% year-on-year and by 45% compared to the pre-COVID-19 Q2 2019.
With food service reopening, strong growth was also seen in Full-Service Restaurants, particularly the independent ones. These are still recording sales that are well below pre-COVID-19 levels; however, we expect to see even more impressive growth rates in this channel in the coming months.
If you'd like to find out more, download a deck with more insights and reach out to our experts.