2022 closed with a total growth of 4.6% in FMCG for in-home and out-of-home as a result of a combination of different factors. The first half of the year was driven by the recovery of out-of-home consumption, which grew by 11.8% compared to 2021, while inflation and the fear of a recession dominated the second half of the year.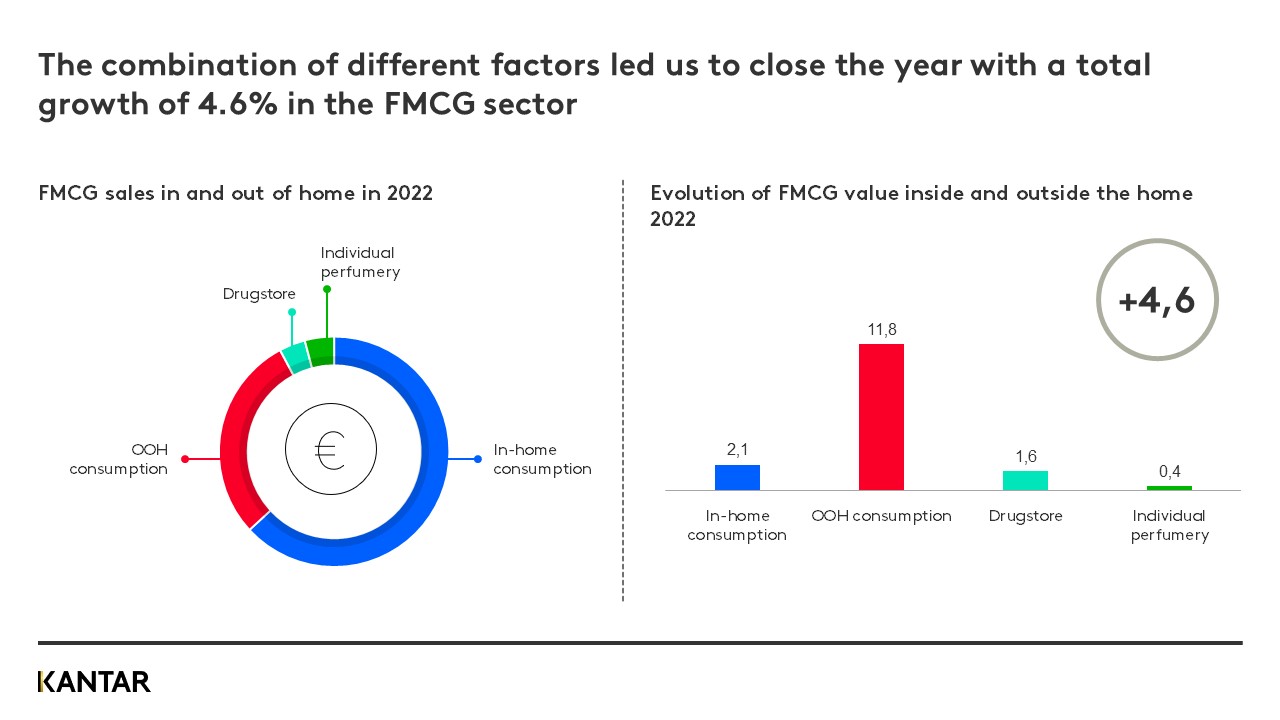 Faced with rising prices, consumers are starting to consider alternative products, both inside and outside their usual retail chain. Almost half (49.5%) of households say they shop in different stores to take advantage of the best prices, which is up 3.9 points on 2021. Meanwhile, retailers are seeking to maintain their market share and stay price competitive by promoting their own brands, which has increased market share by 3.1 points since 2021 to reach 41.4%.
However, promoting own brands does not guarantee market share gains for retailers. Other factors determine retail performance, such as proximity to customers and a wide enough product range that enables shoppers to buy everything they need in one store.
Some of the trends observed over the last few years have intensified in 2022, but people are also changing the way they shop in response to rising prices. Both will shape the dynamics of retail in the months to come.
Purchases in large-scale retailers grew by 2.3% in 2022, to the detriment of traditional retail, which decreased by -7.5%. The chains that are gaining importance as a destination for fresh produce have grown market share. Limited assortment has benefited from this situation and increased its market share to 36.3%, 1.5 points higher than in 2021.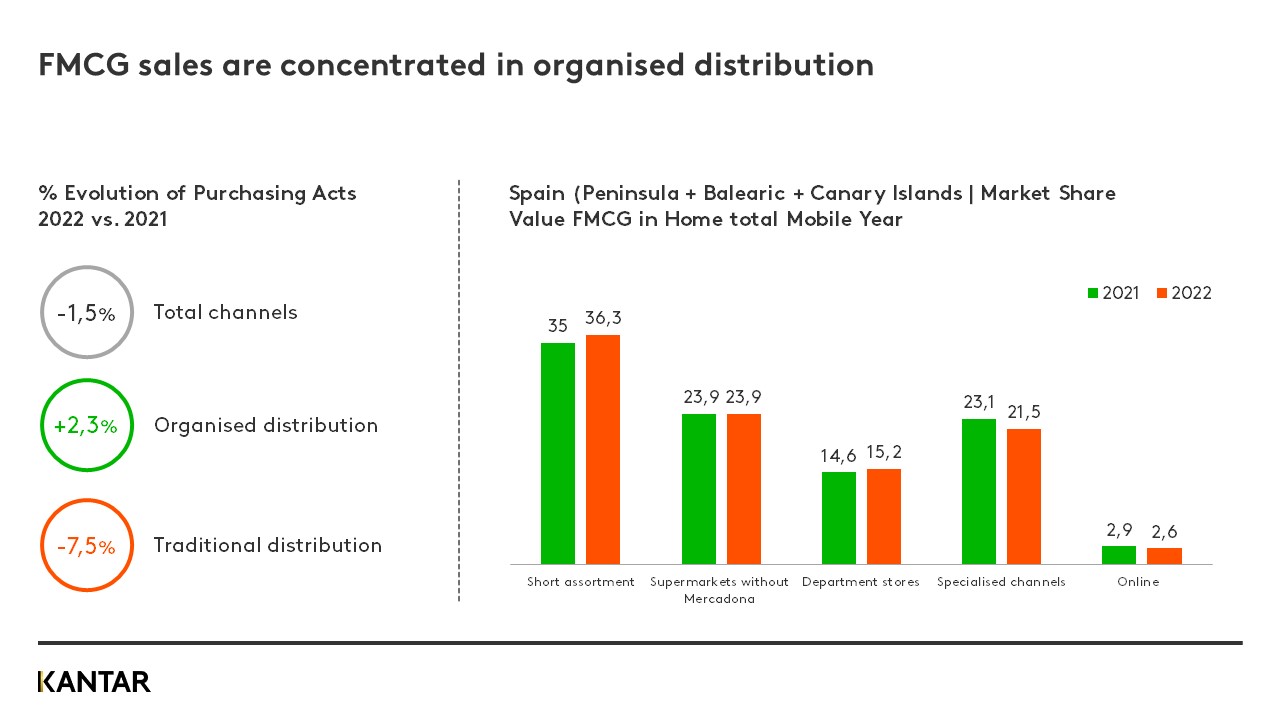 As a result of high inflation during the second half of the year, households have been forced to buy less to reduce their expenditure and this poses a new challenge for large chains. Promotions will continue to be decisive for shoppers, but they will have to be adapted as rational shopping becomes more prevalent.
Large chains grow beyond the price struggle
Mercadona, Carrefour and Lidl continued to lead retail growth in 2022 with 25.6% 9.7% and 5.8% market share, respectively. However, as people are shopping around for deals, this has meant that all chains have gained shoppers and penetration.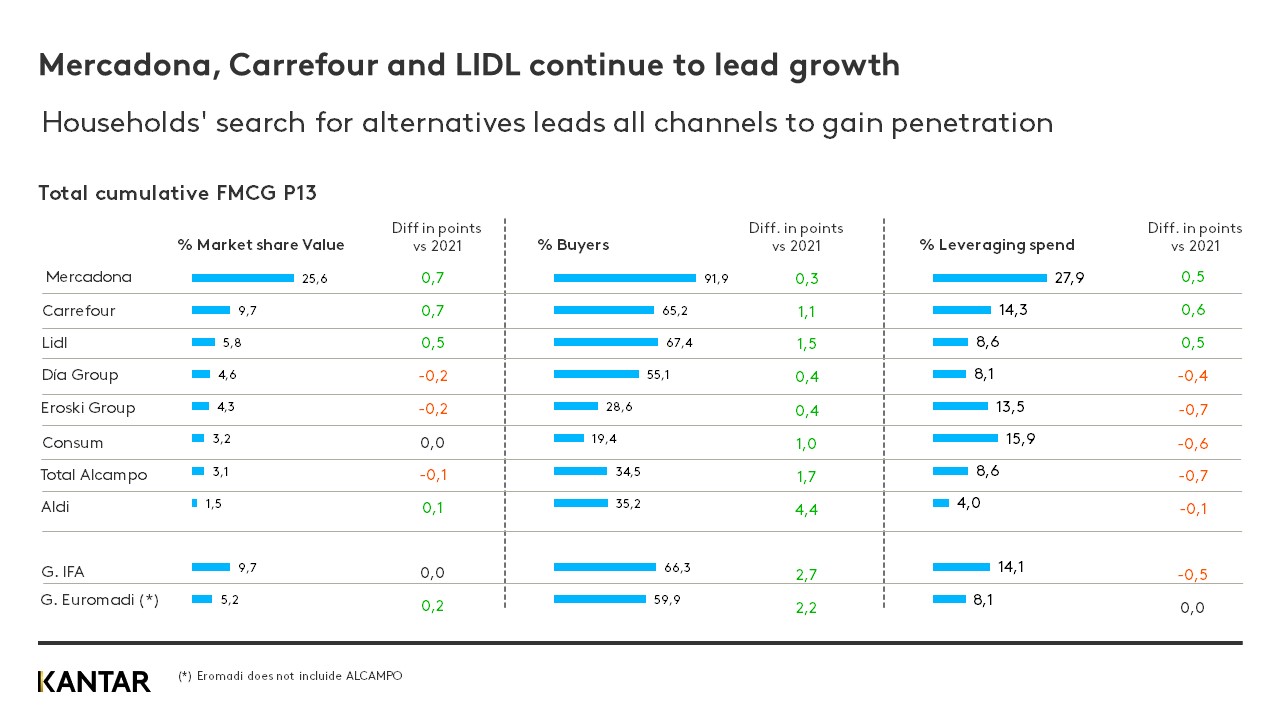 The performance of the different chains' has varied throughout the year, according to the stage they are in. For example, Mercadona had a strong first half in 2022, while Carrefour and Lidl performed better in the second half of the year.
Mercadonas' performance during the first half of the year and management of fresh produce has nudged its market share up 0.7 points versus 2021. However, its growth slowed in the second half of the year as its customers have shopped around for alternatives outside the chain.
Carrefour is becoming more popular due to the convenient location of many of its stores close to homes, offices and busy areas, which has increased its market share by 0.7 points. However, the chain has to find ways to enhance its multi-channel capabilities and adapt promotions so it can continue gaining share while customers are buying less.
In the German discount segment, the growth of Lidl and Aldi continues to be driven by store openings. We predict that their success will depend on their ability to continue to tempt back shoppers. Lidl is enjoying continued growth with market share up by half a point as it competes to become shoppers' preferred retailer and strengthen its position among young households and families.
On the other hand, DIA (fourth chain, with a 4.6% market share) has consolidated its development strategy based on proximity, although its performance over the coming months will be conditioned by its sale of stores.
Regional chains, which account for 16.7% of the market, continue to gain market share as the main alternative to the large chains. Regional chains can take advantage of the current retail situation to continue to grow and stand out from their competitors using their fresh produce and convenient location of their stores.
One of the changes we have seen in 2021 is that shoppers are returning to brick and mortar stores. This has caused ecommerce to decline to 2020 market share levels (2.6%), although this is still well above pre-pandemic levels (1.9%).