Worldpanel's Entertainment on Demand study in Spain uncovers the following behaviours within the Video on Demand (VoD) market between January to March 2023:
Between January to March 2023, the number of VoD-enabled households that subscribe to at least one video streaming service in Spain fell to 11.9 million, down -292k from the previous quarter, representing 64% of Spanish households
4% of Spanish households took out a new streaming subscription service in the first quarter of 2023, with Amazon Prime Video accounting for 34% of all new subscribers
Sky ShowTime had a strong launch capturing 1 in 3 new adds in the first quarter of 2023
The Last of Us on HBO Max was the top title over the quarter, followed by Spanish series La chica de nieve on Netflix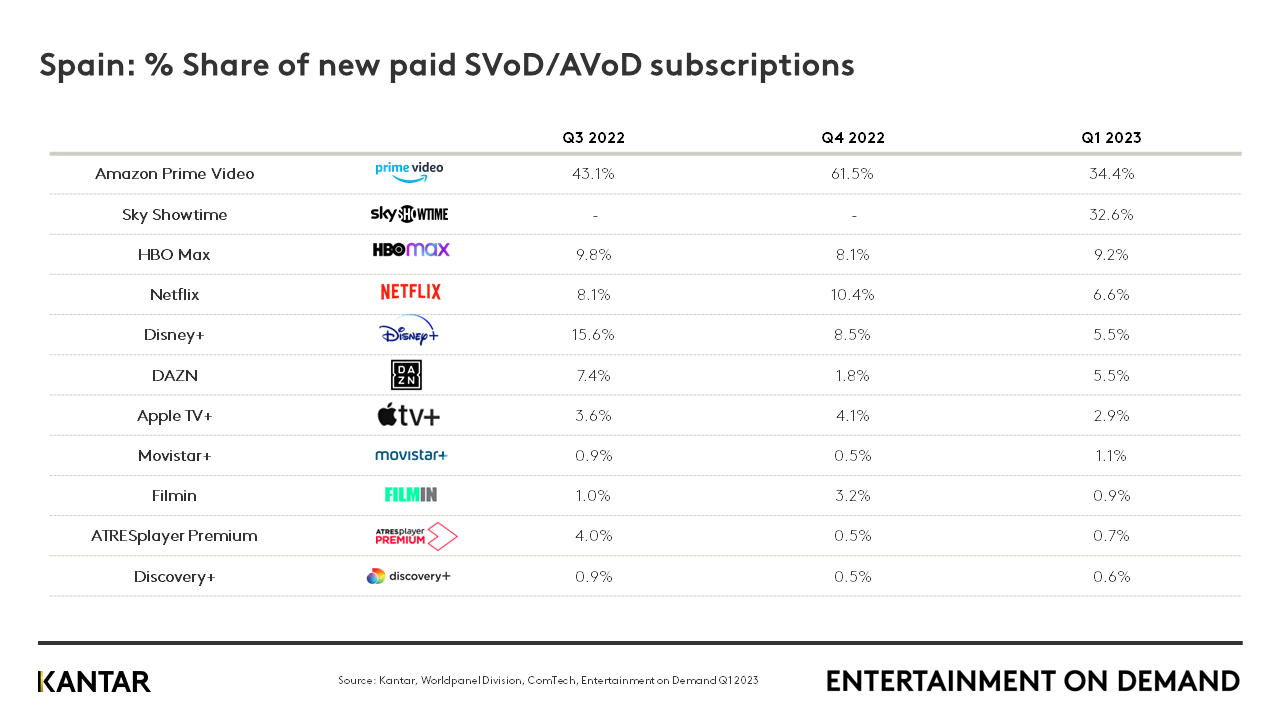 Netflix's crackdown on password sharing causes immediate user plunge
In a major move to clamp down on password sharing, Netflix launched its highly anticipated crackdown in Spain in Q1 of 2023. The immediate result was a loss of over 1 million users of the service, causing an instant impact on the company's bottom line.
Netflix hopes that in time, many of these users will return to the service under a paid subscription model, but the current trend shows that this is far from guaranteed. The instant effect is that fewer eyes are on the screen for Netflix, and the company has seen churn almost triple in the quarter compared to the previous period, with close to half of those churning saying they will not pay for the service.
Interestingly, there is no strong demographic skew to those who cancelled, signalling a more outright rejection of the password sharing clampdown. In a worrying sign for the next quarter, 10% of remaining Netflix subscribers say they plan to cancel their plan in Q2 2023, which is well above the average seen in previous quarters.
Dominic Sunnebo, global insight director at Kantar's Worldpanel Division comments: "There are of course inherent risks with clamping down on password sharing, particularly when back in 2017 Netflix was seen to be actively encouraging it. Some users were expected to be lost in the process but losing over 1 million users in a little over a month has major implications for Netflix and whether it decides to continue with its crackdown globally. Monitoring the next few quarters to see how many of these consumers decide to re-subscribe will be vital to Netflix strategy in this space."
Sky Showtime captures one in three new subscribers
Sky Showtime, a new entrant to the Spanish subscription-based video on demand (SVoD) market, had a successful launch in a highly competitive environment, capturing almost one in three new subscribers in the first quarter of 2023. Sky Showtime replicated the HBO Max launch offer and offered half-time pricing for life for those who signed up during the launch period, which resonated strongly with consumers, with 69% saying value for money was a key reason to sign up to the new service.
The hit show Yellowstone proved a major draw for new subscribers and was the #1 most enjoyed show across all services amongst new Sky Showtime subscribers.
Prime Video tops share of new Adds
Despite the launch of Sky Showtime, Prime Video just held onto its #1 spot in new subscriber adds, with 34% share. The Lord of The Rings, the Rings of Power continued as the top title driving sign ups to Prime Video in Q1 2023, an uninterrupted run of 9 months, signalling enduring pay back from the budget busting title.
Prime Video's investment in its streaming interface is starting to pay real dividends, with Prime Video now seeing a greater proportion of subscribers happy with its 'ease of use' than Netflix, with Q1 2023 the first time this trend has been observed.
Well over half of lost Netflix users in the quarter held a Prime Video subscription, meaning Amazon remains well placed to see a gain in engagement over the coming quarters.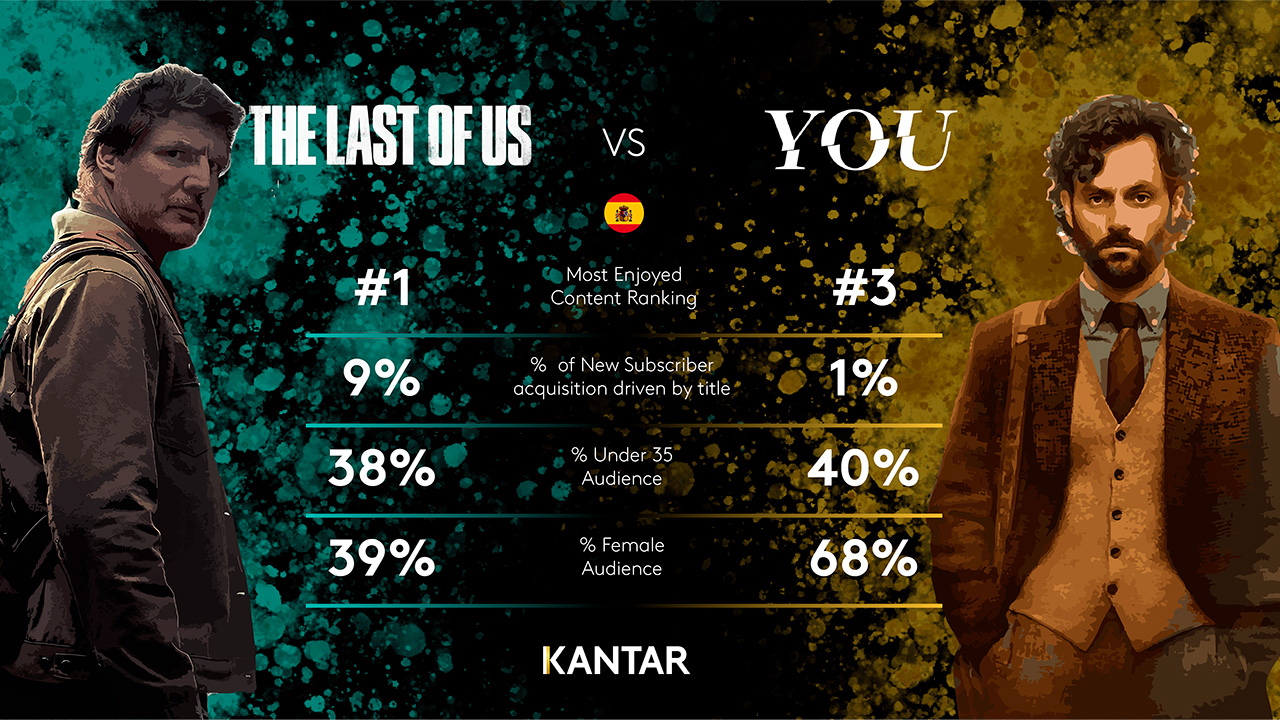 Spanish Content Challenges Hollywood
Two out of the top five most enjoyed SVoD series in Q1 were Spanish titles, with La chica de nieve at #2 and Entrevías at #4. Both titles were on Netflix, indicating Netflix's investment in Spanish language content.
Despite a difficult quarter for the US giant, the Spanish titles' success suggests that Spanish content could compete with Hollywood in the Spanish SVoD market.
Access the interactive data visualisation tool for more information.