The pandemic has upended many markets, but the global market for sweet and savoury snacks and hot and cold drinks to be consumed out-of-home has been hit harder than most.
The good news is that data for the first quarter of 2021 shows the first signs of a recovery, particularly in China but also for some channels in parts of Europe, potentially heralding a return to more traditional patterns of consumption.
In the year since the pandemic started the sector has lost 30% of its value globally. That's a loss of around $2bn per quarter during the high outbreak months for the drinks and snacks industry across the 11 markets that we monitor.
And while it's possible, and even probable, that some of these losses have been made up by additional purchases for in-home consumption, the full value of the out-of-home trade hasn't been transferred.
In 2021, however, the global snacks and drinks business is showing signs of a slow recovery as consumers start to resume more normal patterns of behaviour, bringing with them a greater need for drinks and snacks on the move.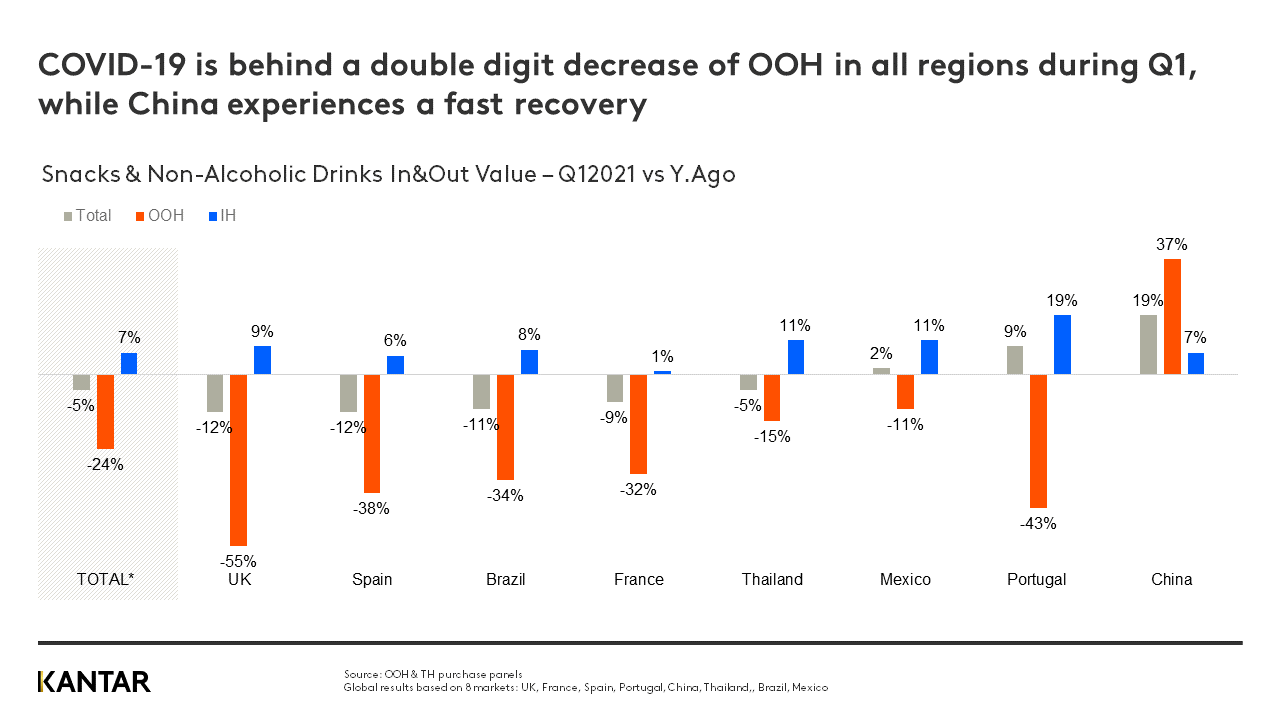 The first signs are to be seen in China, where cafes, coffee shops, milk tea houses and traditional retail have all been doing well in recent months. Coffee shops and bars were indexing 139 in Q1 2021, where 100 was the value of business in Q1 2019. Next to improve have been street vendors, food trucks, milk tea houses, indexing 125. Sales of ice cream (up 20%), coffee (up 24%) and soft drinks (up 18%) are now up on pre-pandemic levels.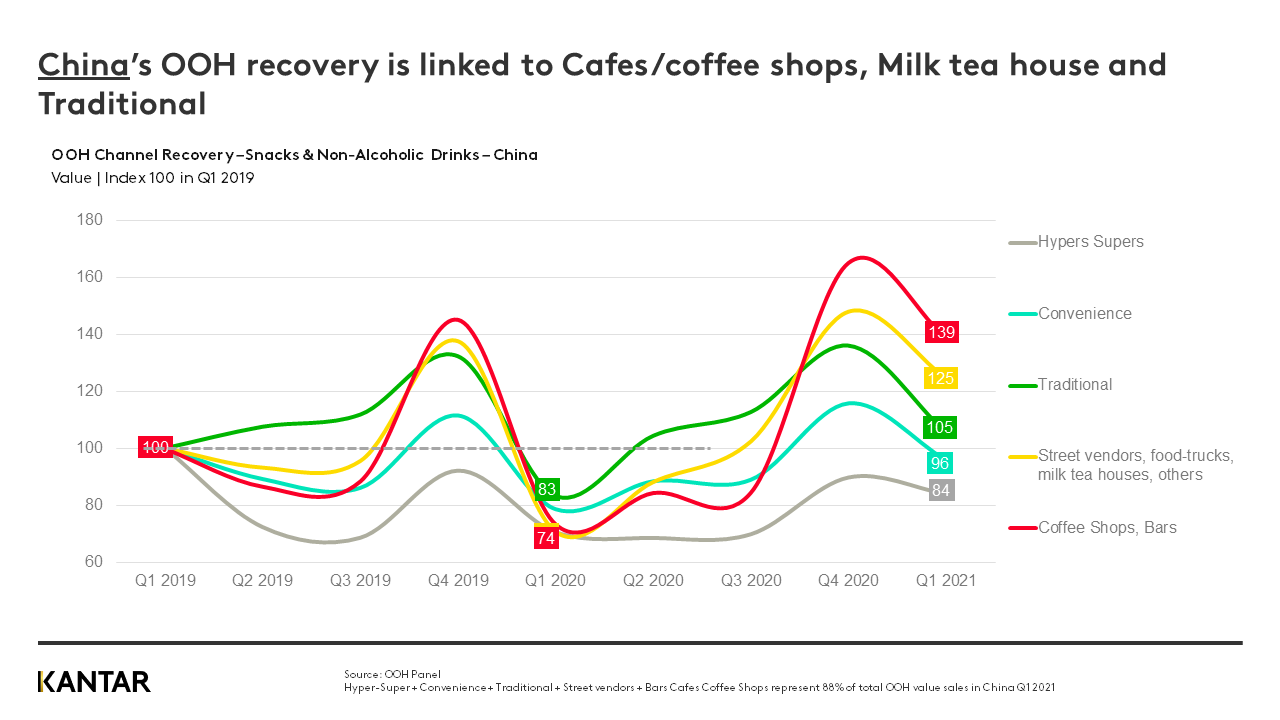 Even in Europe the green shoots can be seen. In the UK quick service restaurants are now indexing 105 compared to Q1 2019 while in France, bakeries – the key channel for out-of-home indulgence – are up to 115.
These early signs of a return to business as usual represent a major change from the peak of the pandemic. Mandatory lockdowns in Europe during 2020 and the early part of 2021 translated into huge penetration drops in Spain, France and the UK, for example, with only one third of buyers remaining out and about at some points.
Globally bars, cafes and restaurants lost five percentage points of share between Q1 2020 and Q1 2021, creating an opportunity for Modern Trade and it picked up an extra six-point share of value globally in Q1 2021 compared to Q1 2019.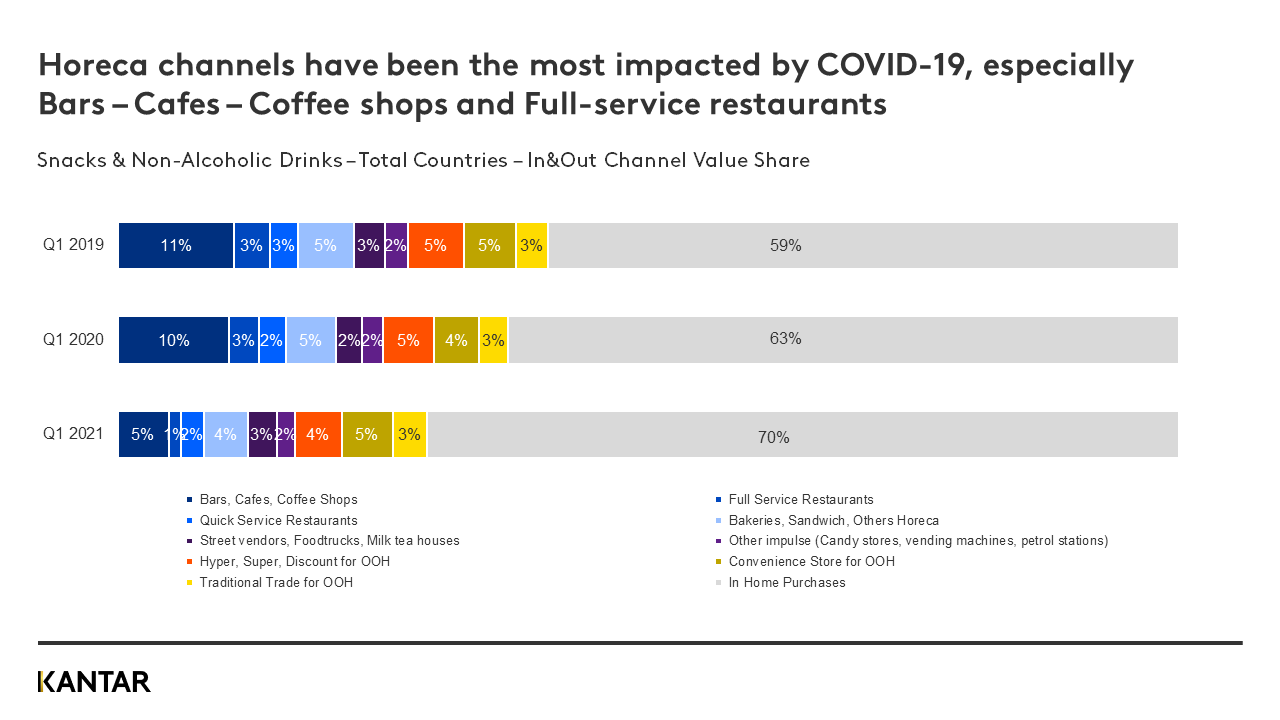 This had a particular impact in Europe, which briefly adopted a channel choice that's more redolent of Asia or Latin America. Globally, only 16% of total OOH snacks and drinks spend occurs at Modern Trade but that level rises to 50% in the case of Mexico, Thailand or Indonesia and it's over a third of total sales in China.
As we await the data for the second quarter of 2021, which should show the recovery of OOH developing further as summer comes and people are out and about more. This early data as well as what we are currently seeing in China suggests that the pattern of rebuilding will focus on impulse purchases first before extending to bars and restaurants.
Download the full deck to find out more.