Worldpanel honours the global brands that have demonstrated their strength and adaptability at its Most Resilient Brands 2022 Awards event at Cannes Lions 2023. The accolades recognise those brands that flourished in the face of a challenging economic climate by attracting the most new buyers.
Kantar's Worldpanel division analysed the shopping behaviour of more than one million households globally and the performance of 37,000 global FMCG brands between 2021 and 2022 to develop its ranking of the 50 FMCG brands which recruited the greatest number of new shoppers. The top 50 brands achieved an average year-on-year sales growth of 8%, almost double the global grocery industry growth of just 4.8% during the same time period.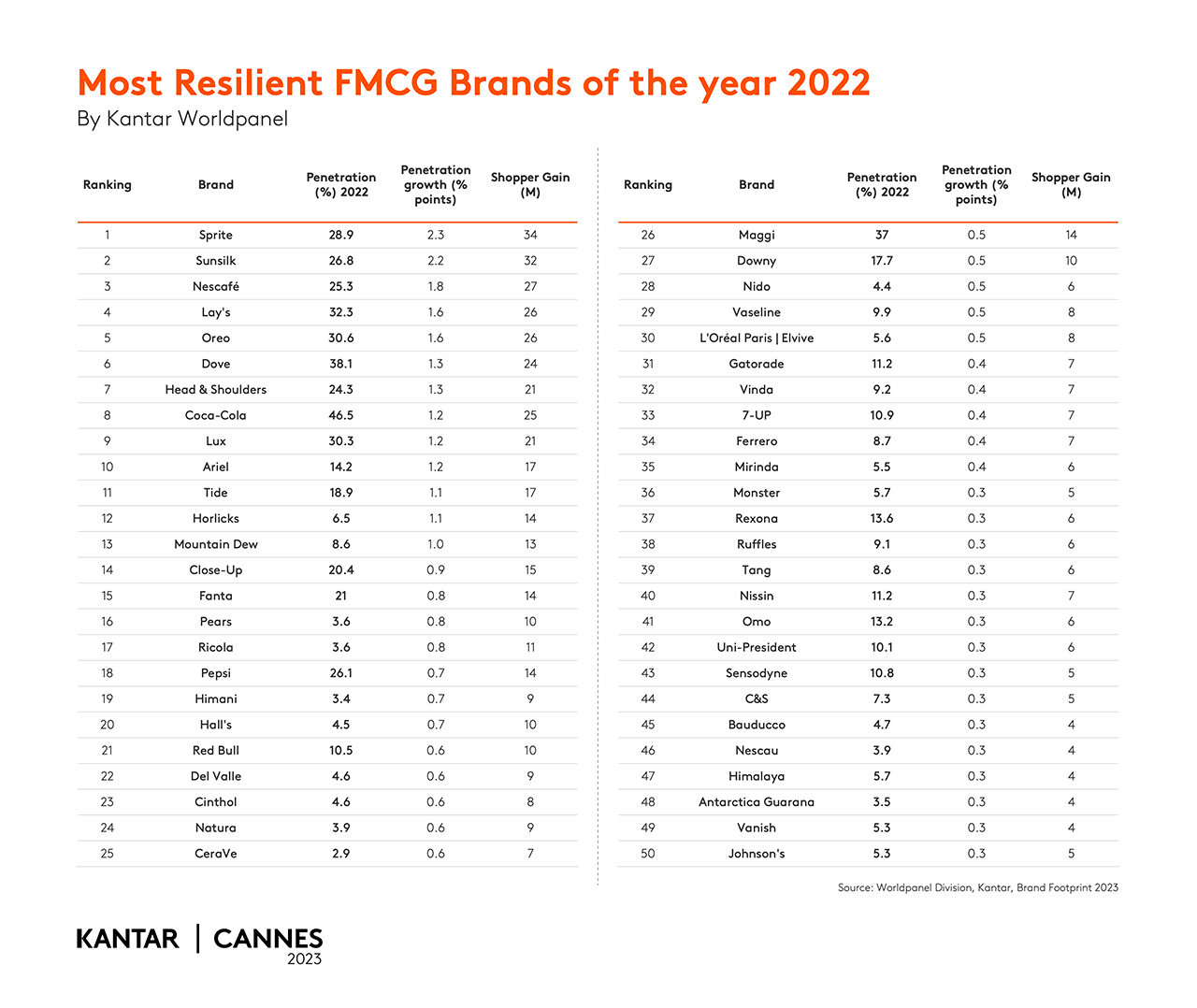 Six of the Most Resilient Brands 2022 are being recognised in a special ceremony at the Cannes Lions event, including the top two brands in the ranking: Sprite and Sunsilk. Both attracted more than 30 million new shoppers between 2021 and 2022; an achievement previously only matched by Dettol during the height of the pandemic. Representatives of Sprite (#1 in the ranking), Sunsilk (#2), Lays (#4), Oreo (#5), L'Oréal Paris Elvive (#30), and Vanish (#49) are accepting awards in person at the event.
Commenting on the award winners, Guillaume Bacuvier, CEO, Kantar, Worldpanel Division, said: "Surpassing 30 million new shoppers in a year is an impressive feat, and speaks volumes about the resilience of our top two brands, Sprite and Sunsilk. These two household names have taken different routes to success, with Sprite focussing on a new global platform that encourages shoppers to choose the brand more often, and
Sunsilk invests in targeted innovation that meets consumers' specific needs in particular markets. Both set an impressive benchmark for success for FMCG brands."
Sprite Sparkle
Sprite has succeeded by investing in a new global campaign, "Heat happens" – referencing the physical and emotional heat of everyday life and inviting consumers to cool down with a Sprite. This, coupled with strong local activation, a refreshed visual identity and new easier-to-recycle packaging resulted in consumers choosing the brand more often, with the brand recruiting 34 million new shoppers year on year.
Innovating for growth
An important theme among the winning brands is innovation as a growth driver. L'Oréal Paris' Elvive (number #30 in the ranking) transferred expertise in skincare to a new category, launching hidra-hyaluronic variants which offer extended hydration for up to 72 hours. The brand boosted its shopper base by 21% as a result. Sunsilk (number #2) relaunched its "Seda Boom" range in Brazil. The range uses technology to maintain the finish of frizzy, curly, and wavy hair. The launch was announced on TikTok, working with more than 50 content creators on the platform and using the hashtag #FocaNoSedaBoom. The brand added 32 million new shoppers over 12 months and has grown penetration by 2.8 points in the process.
Defending core markets and expanding presence
The ranking also demonstrates how brands succeed through defending their core markets while expanding into new ones – particularly the "Big Five" markets – India, China, US, Brazil, and Indonesia. Three brands that master their geographical strategy are Fanta (#15), Pepsi (#18), and Sprite (#1). These beverage brands not only have a big presence in a broad range of territories, but they also command attention and loyalty in populous markets.
Samsung leads the smartphone pack
Worldpanel's experts also developed a ranking of the Most Resilient Smartphone Brands 2022. Representatives of Samsung, in first place in the smartphone ranking, will also be accepting an award in person at the event. Samsung acquired 8 million shoppers between 2021 and 2022, more than double that of its largest competitor, and more than 175 million consumers now have a Samsung smartphone across eight of the largest markets in the world.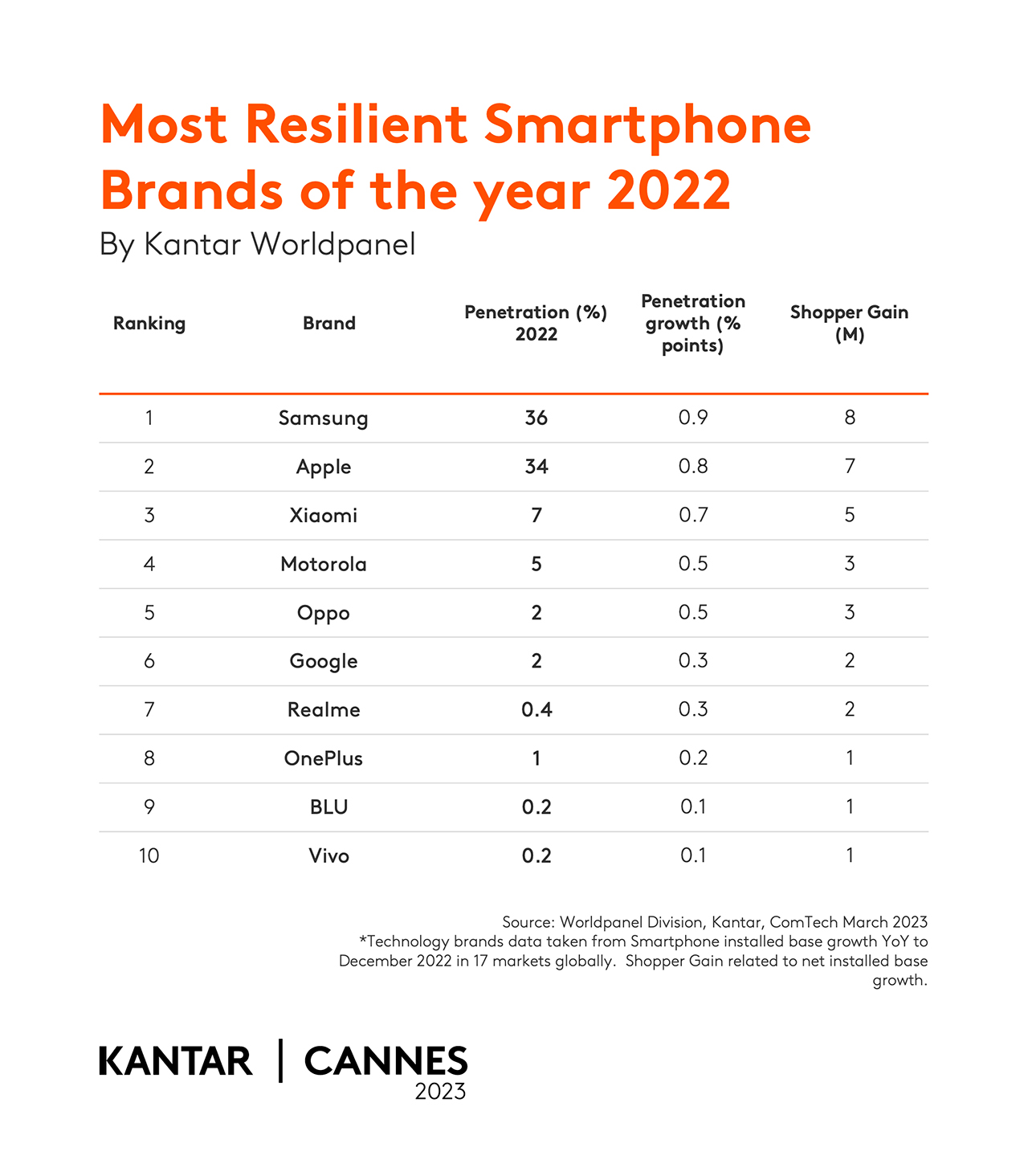 Enlarge image
If you would like to learn more about how Most Resilient Brands thrived in a high-pressure environment, fill in the form below to download the paper and get in touch with our experts.