COVID-19 led to a $22 billion fall in out-of-home (OOH) FMCG spend in 2020. Value sales continued to suffer through Q1 of 2021, but then rose as consumer mobility increased, growing 19% in Q4 compared with a drop of 25% in the same period the previous year.
This boosted the value of the total in-home and OOH market by 6% year-on-year. While the picture is positive, looking at the evolution of OOH spend over time reveals that it is still 10% lower than the quarter before COVID-19 hit.
The rebound is also reflected in brand performance. Whereas 18 of the world's 20 most chosen OOH beverages and snacking brands saw a decline in 2020, just 10 dropped in value in 2021, and eight actually grew. Looking at consumer reach points (CRPs), the beverages category lost 17% of its total OOH CRPs in 2020, slowing to just 2% in 2021.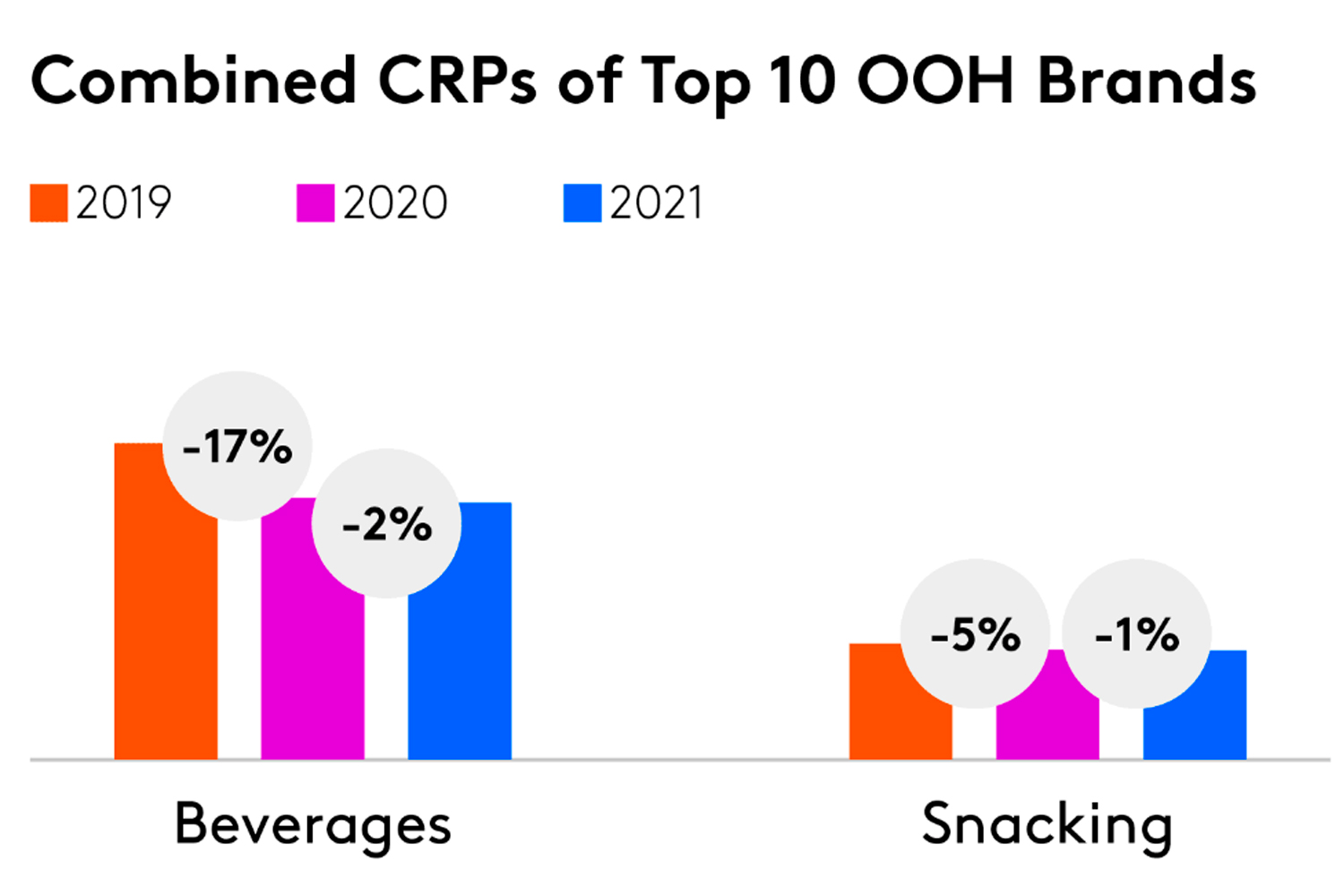 Source: OOH Purchase Panels, Worldpanel Division, Kantar
Across these two sectors there were two standout brands. Red Bull successfully won consumption moments between meals, and added zero-sugar variants to win more shoppers. Lay's performance was truly impressive: despite salty snacks recovering more slowly than the other OOH categories, it ended 2021 with more CRPs than it had in 2019.
Top 10 Most Chosen Out-of-Home Non-Alcoholic Beverages Brands 2021
Top 10 Most Chosen Out-of-Home Snacking (incl. Ice-Cream) Brands 2021
Access the Top 20 Most Chosen Global OOH Brands report and ranking to discover how the pandemic is continuing to impact out-of-home brand performance. For a deep dive on Red Bull, and reasons behind the brand's success, head here.