The number of GB households that subscribe to at least one video streaming service in Great Britain fell as the cost-of-living crisis led some GB households (particularly younger households) to deprioritise entertainment. 16.9 million or 58% of households now have at least one paid subscription, down -215k, quarter-on-quarter, Kantar's Entertainment on Demand study in Great Britain also identified the following dynamics within the VoD market for the three months to March 2022:
1.51m subscription video on demand (SVoD) services were cancelled by households in Q1'22, up from 1.04m the previous quarter and 1.20m a year ago. More than half a million cancellations were attributed to 'money saving'
Streaming service penetration rate for GenZ households fell slightly for the first time, down to 74.6% compared to 75.4% in Q1 2020 and a peak of 75.8% in Q4 2021
Just 3.0% of households in Great Britain signed up to a new video streaming subscription in Q1 2022, compared to 4.2% during the same period in 2021
The proportion of consumers planning to cancel SVoD services and stating the primary reason as 'wanting to save money' has risen to its highest ever level at 38%, up from 29% in Q4'21
Amazon Prime Video's 'Reacher' was the most enjoyed SVoD title in Q1'22, followed by Ozark and Inventing Anna from Netflix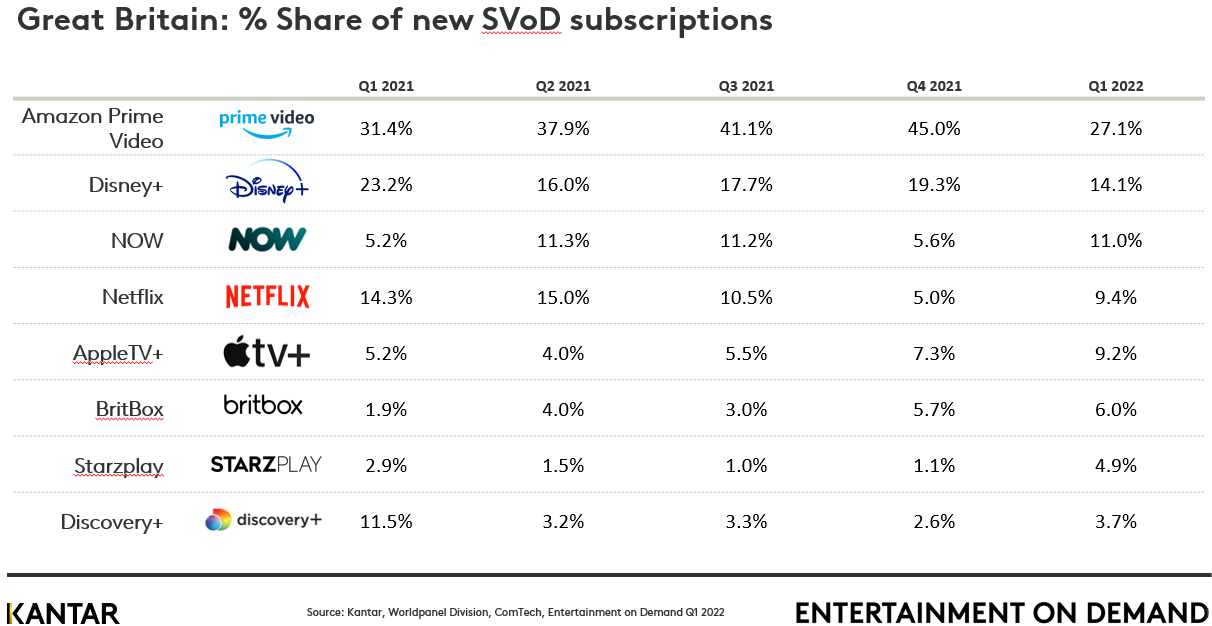 Inflation bites
With inflation in the United Kingdom hitting 6% during the first quarter of 2022, and further rises in energy and fuel costs likely, we have evidence that households are starting to seriously prioritise where and how their disposable income is spent. The overall household penetration rate for GB's streaming market declined for only the second time ever. Churn rates increased almost across the board, but there was a clear difference in scale of attrition outside of Netflix and Amazon. Netflix and Amazon can be seen to be 'hygiene' subscriptions for Brits; the last to go when households are forced to prioritise spend. Disney, NOW, Discovery+ and BritBox all saw significant jumps in churn rates quarter on quarter. The reasons behind churn also indicate inflation is top of consumers' minds, with 1/3 of those who cancelled an SVoD service in the quarter saying it was 'to save money', a jump from 28% the previous quarter. Furthermore, planned SVoD service cancellation is rising, with 'wanting to save money' the driving factor accounting for 38% of planned cancellations in Q2. This is reinforced by the lowest ever rate of new subscribers - just 3.0% of households signed up to a new SVoD subscription over the quarter, down from 4.2% a year earlier.
With many streaming services having witnessed significant revenue growth during the height of Covid, this moment will be sobering. The evidence from these findings suggests that British households are now proactively looking for ways to save, and the SVoD market is already seeing the effects of this. As a result, it's now more critical than ever that SVoD providers demonstrate to consumers how their services are indispensable in the home in what has become a heavily competitive market. New marketing and content acquisition strategies will likely need to be deployed to support this and avoid further churn.
Subscription Importance
As the number of players in the GB SVoD market increases, the relative importance each subscription plays in a household is becoming crucial. GB homes that subscribe to streaming services now subscribe to an average of 2.4 services, up 0.1 on Q4 last year. In times of financial uncertainty, services need to be indispensable in subscribers' minds. Homes that subscribe to streaming service Netflix is consistently ranked #1 in importance regardless of what platform it is put up against. For the likes of Disney+, the implications are significant, as it must turn its attention to replacing existing services households subscribe to, not always being an incremental addition.
AppleTV+ on Oscars Momentum
The drivers of consumers taking out new SVoD services continue to concentrate on specific shows/films – in just 12 months the number of consumers stating they signed up to a service to watch a specific show/film has risen from 30% to 36%. Prime Video remained #1 in share of new subscribers over Q1'22, but saw share down significantly on the holiday quarter, as Netflix fought back after a tough Q4. Prime Video can however celebrate the success of its TV series, Reacher, based on Lee Child's Jack Reacher novels, which was the most enjoyed streaming show across Great Britain in Q1'22, marginally ahead of Ozark in 2nd spot and Inventing Anna in 3rd. Disney's The Book of Boba Fett took 4th position. AppleTV+ also secured its highest ever new subscriber share in GB, up to 9.2%, with momentum likely to continue after its recent success at the Oscars.
Content accolades offer huge value to SVoD services, demonstrating that their original production investments and creative capabilities can outshine Hollywood. While Netflix has won numerous awards for its films, Apple made it first to the Oscars, which could drive further growth for Apple TV+ as consumers take out a subscription to find out what made CODA so impressive.
Netflix Ads?
Netflix financial reporting for Q4'21, highlighted lower future guidance than many analysts had predicted and resulted in significant downward pressure on its share price. Talk soon turned to what Netflix must do next in markets where it is nearing peak penetration. Advertising is an obvious route for driving revenue growth, but one Netflix has historically strictly shied away from. However, Netflix CFO Spencer Neumann added fuel to the fire by saying in March "it's not like we have religion against advertising". Kantar Entertainment on Demand data across Great Britain shows Netflix subscribers' attitudes to advertising are softening, with 44% now stating they don't mind seeing on streaming services if it makes them cheaper, a significant rise from 38% at the same point in 2021.
As SVoD providers look at different strategies to sustain revenue, advertising could be a logical option. In the US, NBCUniversal's Peacock service has seen success with a multi-tiered model that incorporates advertising at a lower to consumers. As households tighten their purse strings, many could potentially welcome a similar model from their favourite SVoD provider in Great Britain.
Access the interactive data visualisation tool for more information.