As we approach Christmas, economic worries now concern more than half of the global population, up from 39% of people in May. The most concerned nation worldwide is the UK, where inflationary worries dominate (55%).
Kantar's Global Issues Barometer is a detailed analysis of 11,000 people's attitudes in 19 countries (representing 68% of global GDP), as they cope with the tempest of global crises. The study uses open-ended questions to gather peoples' real opinions and Kantar's TextAI technology to interpret and analyse the responses. Asked to spontaneously share their concerns, 55% of people globally mentioned the war (+4% pts), followed by 50% mentioning the economy and 35% climate and environmental issues. Whilst the majority of countries cluster around a similar group of top concerns, the UK is also concerned about work and unemployment issues; China and the Philippines are worried about Covid; and violence and crime is a top 3 issue in the US, Nigeria and South Africa.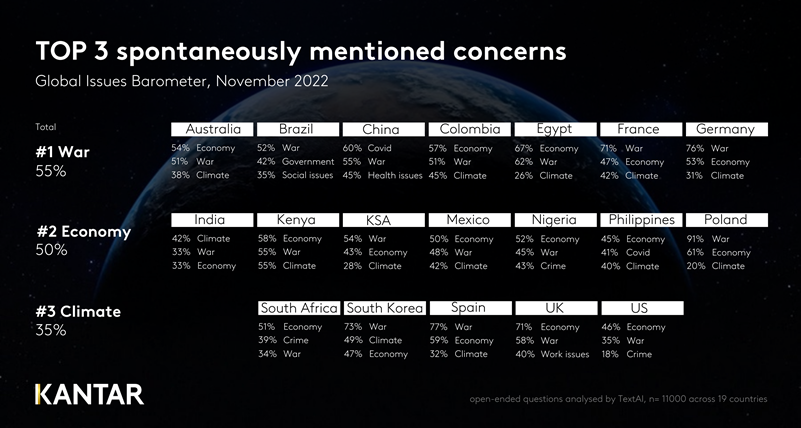 Ways to manage the rising cost of living
After 6 months of the cost-of-living crisis, 53% of people struggle to meet their monthly outgoings. 7 in 10 people worldwide expect inflation will rise further. To cope with their financial struggles people are cutting back on general expenditure (27%), looking for promotions (26%), shopping in cheaper stores (22%), making shopping lists (22%) and setting and sticking to spending limits (20%). Luxuries small and large, entertainment, holidays and eating out are all being sacrificed to help people save:
•
Luxury items (55% will deprioritise when making savings),
•
Entertainment activities (46%),
•
Holidays (46%)
•
Visiting restaurants coffee shops and eating out (44%).
In contrast to established economies, people in developing countries are taking more steps to reduce spending and are more likely to consider all solutions for saving money on fuel and energy including) taking public transport (+21% pts vs established countries), cycling more (+19 pts vs established countries) and walking more (+13% pts vs established countries).
Job security and mental wellbeing
Job security is high but compared to September's research, but feelings of job security may be slightly eroding, especially for those in their prime working years. Concerns are expressed more in countries such as the US, where insecurity has risen from 12% to 16%, as well as in Germany, where insecurity has risen from 9% to 12% and in China, rising from 15% to 22%. Globally, one in five under-25s feels vulnerable about their job.
Brits, Germans and Europeans in general feel much more pessimistic than other parts of the world. 45% of Germans and Brits feel more pessimistic than those around them. Despite the global ongoing crisis, people across the world try to be optimistic (73%), with more optimistic people in KSA, Nigeria and Colombia and pessimistic moods in Australia. Women experience more financial distress and a lower sense of well-being.
Discussing the findings of the 4th wave of Global Issues Barometer research,
Sarah King, VP of research at Kantar
, observed "People expect support from businesses they deal with, so brands that use this situation as cover for opportunistic price rises may well lose shoppers or damage their reputation. Economically, people remain watchful and careful. A small minority have been living at the edge for some time with little room for manoeuvre and for them it is particularly hard, but they are not typical. For the vast majority, things are harder than they were, and almost everyone has had to make some adjustments but people are coping. They are not panicking, but they are very careful and all kinds of purchases are under scrutiny. Anything defined as luxury – whatever that means to people – will be vulnerable right now, but it may be that people are saving up their treats for end of year festivities. All these high-cost treats are relative luxuries and it is not surprising that they are top of the list if cut backs have to be made."
To learn more about Kantar's Global Issues Barometer, explore the data and request more information, please
click here
.