Kantar recently conducted a global online survey to connect with hybrid workers. We explored sentiments towards hybrid working, as well as the impact flexibility has on physical and emotional health.
We also investigated shifting lifestyle trends due to remote working, looking at questions like:
How are hybrid workers breaking up their day?
Are hybrid workers' primary payment methods for food and beverages changing?
Are remote workers snacking more between meals at home? What are they snacking on?
Here's some of what we found
More workers take dedicated breaks when working remotely
Compared to when hybrid or remote workers are/were on-site, 35% say they take more dedicated breaks when working from home. 42% say they take the same dedicated breaks. Younger generations claim they take more dedicated breaks (4 of 10) compared to older generations (3 of 10).
All generations see similar changes in exercise and daily steps. 41% of hybrid workers are exercising more when home and 36% take more daily steps. However, Gen-Z respondents claim they are taking more daily steps (43%) when home than Gen-X (31%).
People go to brick-and-mortar stores less often
All types of physical shop visits, whether to stores or to buy coffee or lunch, decrease with remote-working, though the difference with store purchases is slight. Globally, 28% report a fall in in-store shopping, whether during breaks or before/after work, but 24% report an increase.
The difference is more marked for purchasing coffee (30% shop less when working from home versus 23% shop more) and especially purchasing lunch (38% less, 19% more). The reverse, as might be expected, happens with online shopping. 50% of respondents report shopping more online while remote working, with only 8% saying they do so less. Younger generations are more likely to report an increase in shopping, whether online or in-store.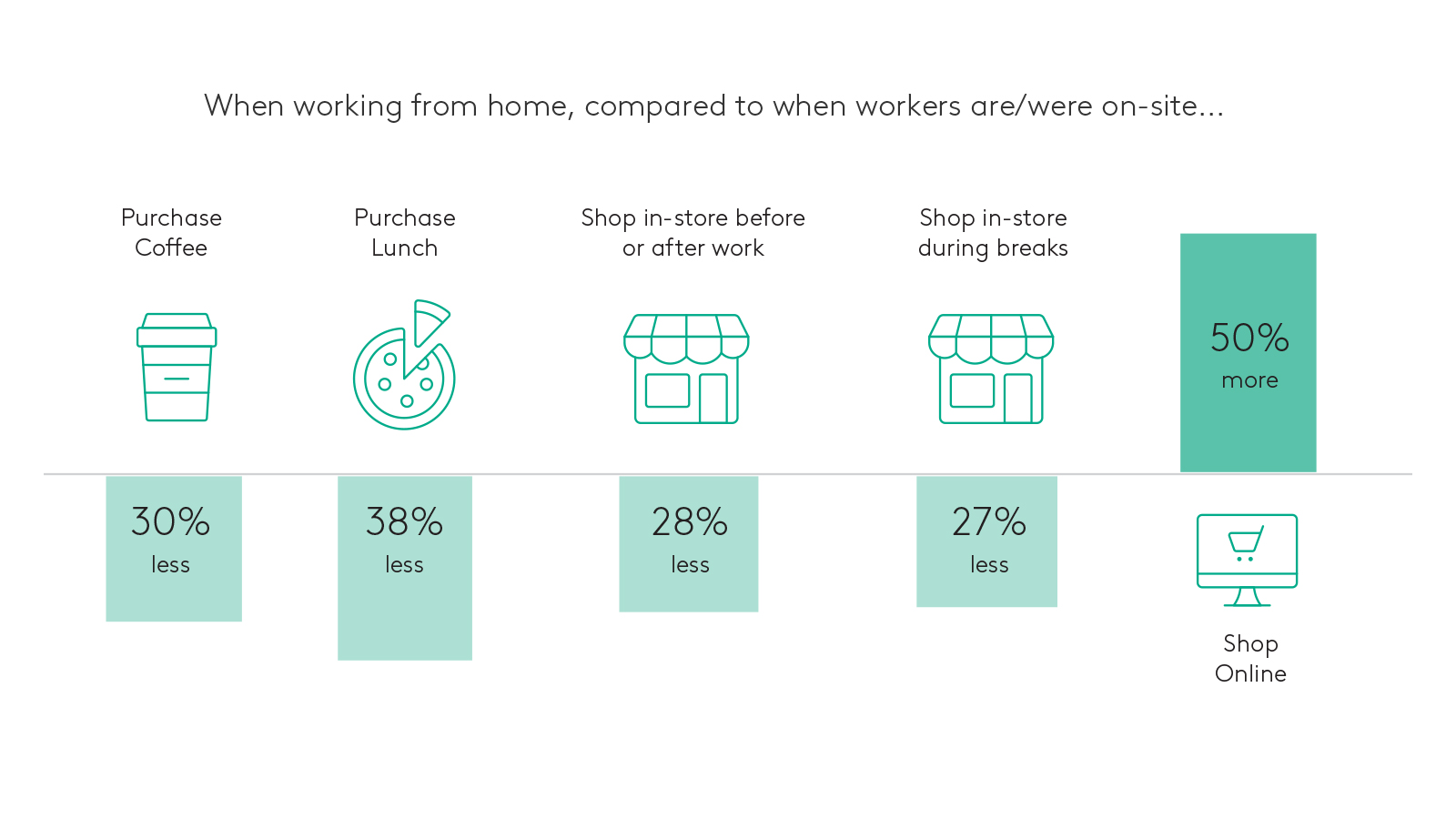 More hybrid workers order lunch via a mobile app
49% of respondents globally use a mobile app to order lunch, 15% order by phone, and 28% buy in-person. Roughly 56% of people between the ages of 18-40 are likely to us a mobile app, while only 38% of Boomers are using mobile apps to order lunch. Older generations are more likely to buy lunch in-person (37% of Boomers versus 20% of Gen-Z).
Differences between countries are much more extreme. The proportion ordering lunch with a mobile app in India, 83%, is almost three times the proportion in the UK, France or Germany, at roughly 30%. These European countries are most likely to order in-person, with 48% of French respondents visiting a physical store for lunch.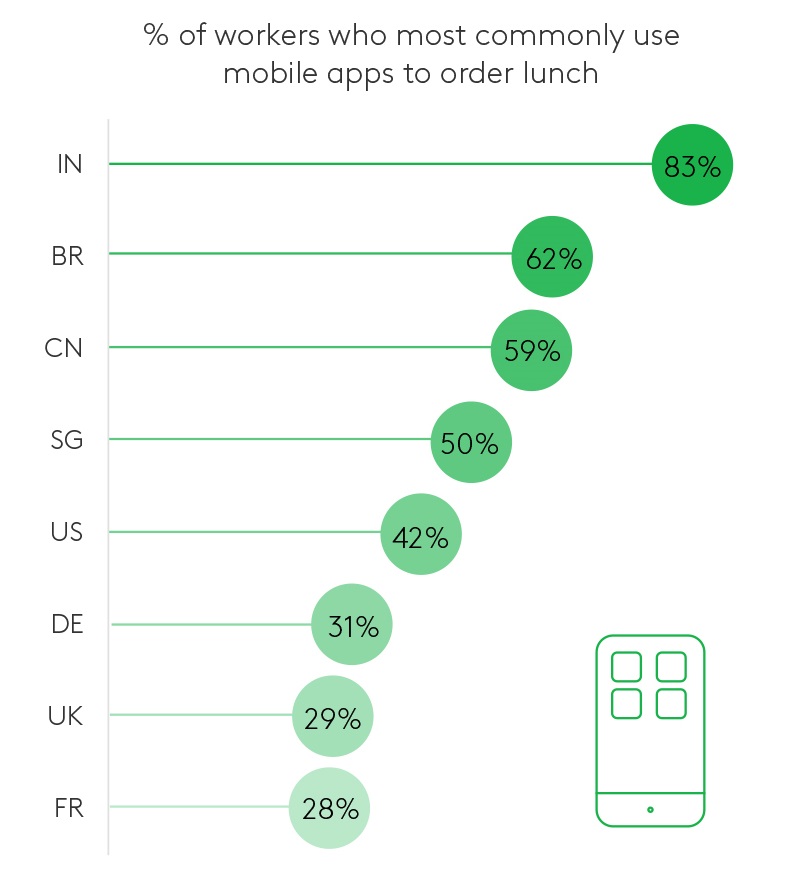 Perhaps surprisingly, the proportion of respondents who use cash to purchase lunch is consistent across the generations, at roughly 20%. For the remainder, credit cards are more popular for older respondents (30% of Boomers compared with 18% of Gen-Z), with digital payments showing the reverse (62% of Gen-Z, falling to 46% of Boomers).
Digital payments are far more common in China and India, at roughly 85%. France and Germany, despite being neighbours, show marked differences here. 45% of German respondents pay for their lunch with cash, as opposed to only 13% in France, where 59% use credit cards – the highest of any country and compared with only 10% in Germany.
Workers snack more working from home
When comparing working from home with being on-site, there is an overall higher incidence of snacking between meals, with 41% globally reporting an increase and 13% a decrease.
While working from home, younger workers are more likely to snack on chips and crackers than older ones (30% of Gen-Z versus 13% of Boomers). A similar pattern, though less extreme, is true of sweets (20% versus 12%). Older workers are more likely than their younger counterparts to choose dried fruit and nuts, but fresh fruit is eaten as a snack by about a quarter of respondents across all ages. Indian respondents are most likely to snack (only 4% say they don't), with those in Singapore being most disciplined (22% not snacking).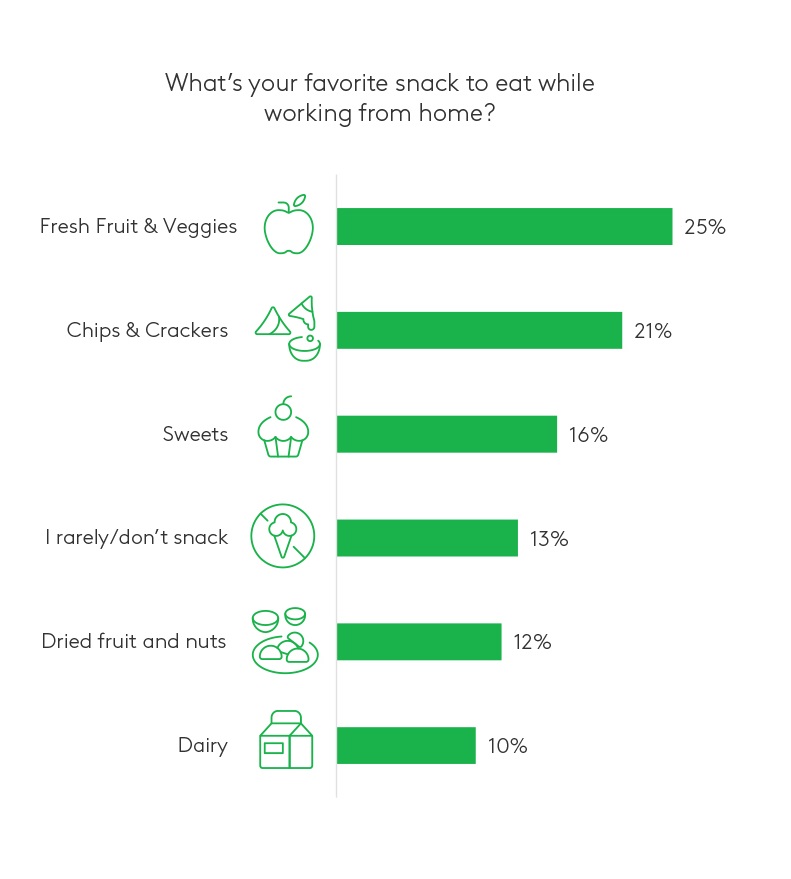 Loungewear in, business smart out
Respondents are likely to dispense with smart attire and shoes and opt for loungewear when working from home. 58% of workers say they wear loungewear more often compared to when they are/were on-site. This is the highest in Brazil (86%) and lowest in Singapore (33%). Remote workers are less likely to style their hair and put on makeup.
However, when working remotely, people are more likely to shower and brush their teeth when getting ready for work. Globally, 30% report to showering more when remote, and 28% say they brush their teeth more when remote. This might illustrate the time pressure many workers are under when leaving home for on-site work. This is seen the highest in younger generations.
Get more answers
For more findings from this study, access the complete Community Report: Connecting with Hybrid Workers. Find additional generational and country-specific answers on sentiments toward hybrid working, changes in shopping behaviours and payment methods due to hybrid working, and hybrid working's impact on lifestyle, health, and more.
About this study
This research was conducted online among 7,985 full or part-time workers (whose job function could be performed remotely at least part-time) across eight global markets: US, UK, France, Germany, India, Singapore, Mainland China and Brazil between January 14-15, 2022. All interviews were conducted as online self-completion and collected based on controlled quotas evenly distributed between generations and gender by country.
Respondents were sourced from the Kantar Profiles Audience Network.